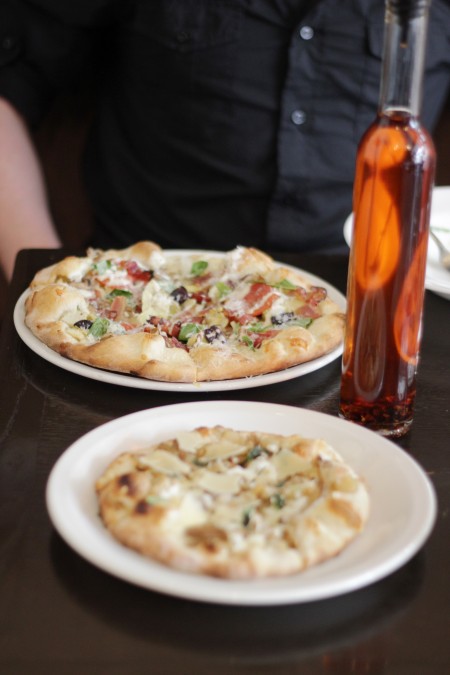 I'm gonna say it. I'm declaring the best pizza in the city. Don't get be wrong, there's a load of pizza options in the HRM and certain occasions call for certain pizza pies. But the one pie that will always satisfy any craving is undoubtedly Morris East's wood fired pizza. Sure there's other delicious wood fired pizza in the city but Morris East's creative use of local ingredients will always put them in my number one spot. Add to that awesome atmosphere, inventive cocktails, and a killer staff and you have one winning combo.
I've already professed my love for Morris East on several occasions. Like here (our first time) and here. And I stand by the statement that if I could eat but one pizza for the remainder of my days, it would be the Pear at Morris East. Red wine poached pears, blue cheese, shallots, prosciutto, and tarragon aioli. Life complete. But on our most recent lunch visit, I knew I needed to branch out. After reading the menu, it was an easy decision. I mean how could I resist a pizza with Oulton's blackened pulled pork AND crackling? Exactly. But it gets better. Local apple chutney, Old Growler gouda and crispy sage take this pizza to a whole new level of deliciousness. Pear I think you've met your match. Brent's Capricciosa pizza was also a flavour explosion of tomato, mozzarella, artichokes, mushrooms, olives, rosemary maple bacon, parmesan and chili caesar aioli.
I bet you're craving some pizza right about now. Good thing for you they're open for lunch and dinner plus I hear they make a mean weekend brunch. Also, in case you haven't heard, they're working on opening a second location on Larry Utek sometime in the summer. Suburbanites, prepare to be wowed.