You know what's been taking the world by storm lately? No not bacon. Not gourmet burgers either. FYI, that trend hit the rest of the world WAY before Halifax. Give up? It's ramen. Not the packaged 50 cent Mr. Noodles of your student days but rather the expertly designed bowls of tender noodles swimming in delicious meat infused broth. Just look at the success of the Momofuku empire and tell me you don't want to slurp those noodles right into your pie hole. And pork belly with my noodles? I'll take two.
Though it may not seem like it, I've lived a rarther sheltered food life. I do, after all, live on the East Coast. We may have loads of amazing food here but sometimes the variety of ethnic food is, shall we say, limited. Without a local ramen joint for years, I had no idea of it's complexity or the many ramen varieties let alone what even constituted "ramen".
Then I found that video. Sometimes you just need things simplified.
Armed with my new found ramen knowledge, it was finally time to get in on the action. With but one ramen resto in the city, it was high time to pay Truly Tasty Ramen & Dumplings a visit.
Unlike a lot of other ethnic restaurants in the city with their dusty rose carpets and sad food photo adorned walls, Truly Tasty is quite nice. Modern decor and minimalist design sets a simple yet comfy atmosphere. It certainly wasn't what I was expecting. The menu is similarly minimal with but a few bowls of ramen, some dumplings, and a couple Japanese appies. It being our first time, might as well go with the House Special ramen. Wait a minute, you're out of pork belly? Excuse me while I go cry in the bathroom. BBQ pork will just have to suffice.
Within minutes our steaming bowls arrived accompanied by sides of bean sprouts in sesame oil, crispy fried garlic, and chile oil. Now, like I said, I don't know a damn thing about ramen. So in depth descriptions and comparisons to the great noodle bowls of the world ain't happening. What I can tell you is that I loved it. The broth was super flavourful, the stuff that long simmering's made of. The pork was melt in your mouth tender, possessing it's own slightly sweet, almost 5 spice flavour. Some of Mr. Ramen's friends were also present, namely corn, green onions, and a soft boiled egg. And we all know how I feel about #putaneggonit. There was also tree fungus and pickled ginger which I pretty much enjoy on just about anything. Missing however was the infamous fishcake, Ms. Naruto. Damn, I really wanted to meet her. Regardless, I slurped up every last bite, even adding all the sides to create a more savoury, spicy broth.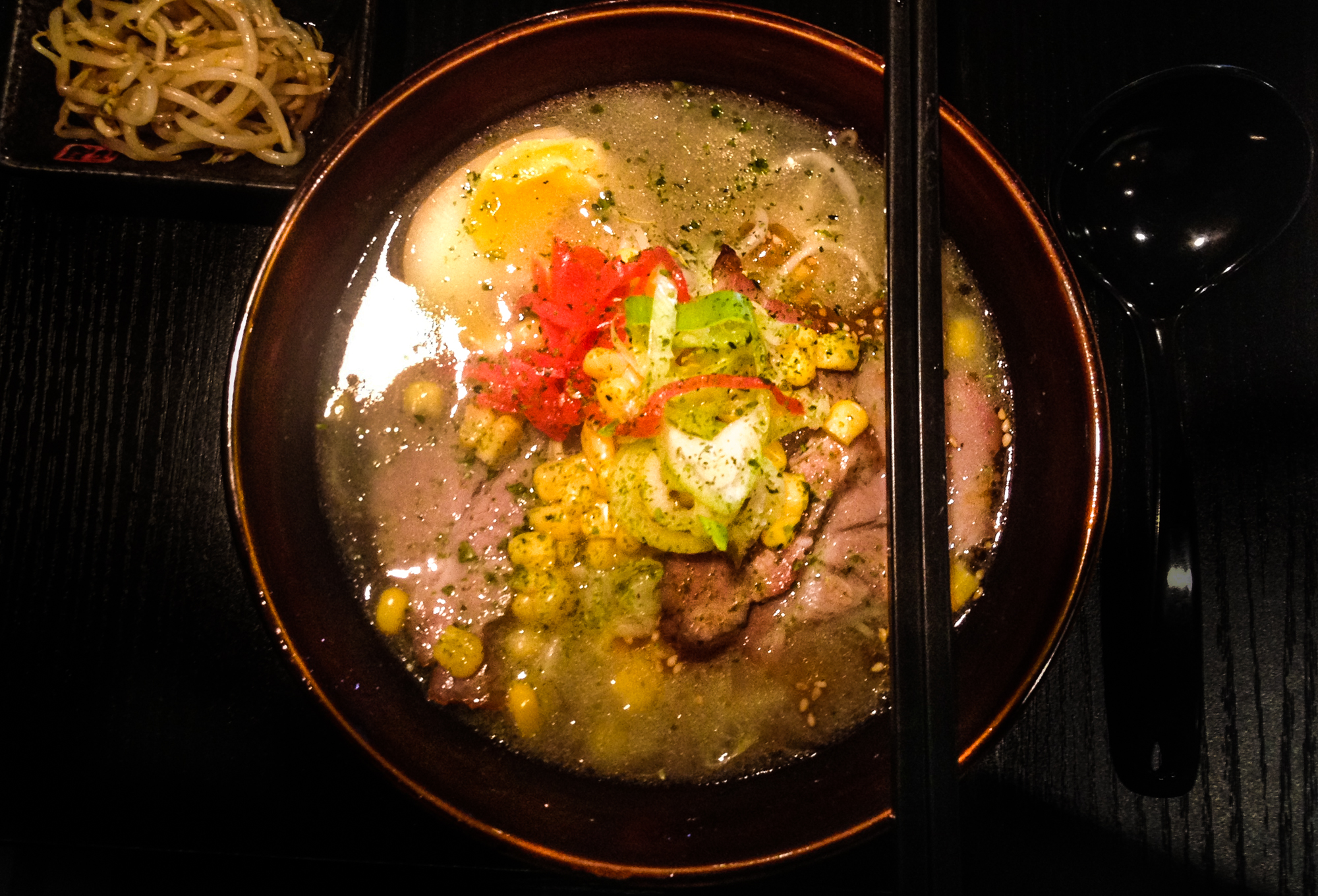 Word on the street is that a second ramen joint Tako Ramen and Sushi has just opened in the suburbian land of ethnic food, Clayton Park. With the ramen obsession in full effect, you bet I'll be making the trek soon.
Let's call it research but I also watched the ramen movie of all ramen movies, Tampopo. Set in Japan in the 80's, it follows a truck driver who stops at a small town noodle shop then vows to help the widow-run shop become the best in town. Cuz it's the trucker you trust to teach you the ways of the ramen right?! You've going to wanna head to the nearest video store and rent this one folks. Filled with completely random scenes exploring the love of food (and boy do I mean RANDOM), it truly speaks to the art of ramen. Big thanks to an instagram friend @chezwu for suggesting it.
Then there's the whole Mind of a Chef series with season 1 featuring David Chang which I could easily watch on repeat. Jumped right on down that ramen rabbit hole and I'm never looking back.