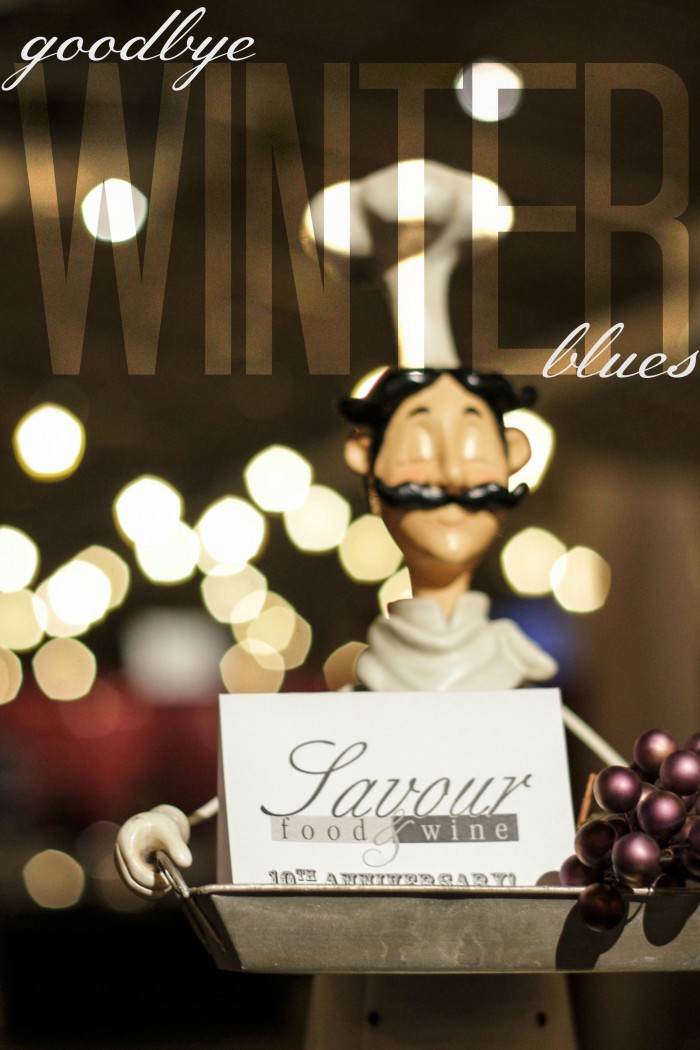 It's that time of year. Time to brave the cold temperatures, throw caution to the slushy sidewalks, and enjoy all the food and wine Nova Scotia has to offer.
Goodbye Winter blues. Hello food and wine.
In it's 11th year, The Restaurant Association of Nova Scotia's Savour Food & Wine Festival has long been the food event of the year here in Halifax. Unlike the month long culinary event of year's past, the 2013 festival runs from January 30th to March 6th, giving you more than 30 reasons to come out of that Winter hibernation, at least for a night.
It all kicks off tonight with the cocktail event of all cocktail events. Last year's inaugural Imbibe: A Cocktail Story was fantastic. Let's just say there was much imbibing, Now that many of the city's restaurants and bars have upped their cocktail game, tonight's event is sure to put last year's to shame. We are stoked. Obviously.
February is the perfect month to let one of the city's amazing chefs do the cooking and I don't just mean for Valentine's Day. All month long Dine Around brings you 3 course, fantastically priced, prix-fixe menus at some of your favourite restaurants. A couple years ago, I enjoyed the Dine Around dinner at Chives and, let me assure you, it's a sweet deal.
The culinary students of NSCC's Pastry Arts Program bring their chocolate game at Decadence: Chocolate, Wine & Cheese. On February 6th join the students for a study in – you guessed it – chocolate, wine & cheese. Nothing but delicious.
Though unofficial, the festival also encompasses the 7th annual Nova Scotia Ice Wine Festival. Running from February 7th -16th, experience "Winter in Wine Country" with award winning ice wine, local food pairings, and a visit to the gorgeous Annapolis Valley.
You wine aficionados also won't want to miss an exclusive tasting of some of the world's top wines served with a little jazz on the side when the Rare & Fine Wine Show hits February 21st.
Lastly, the whole festival finishes with a bang March 6th when the Savour Food & Wine Show fills the Cunard Centre with local chefs, brewers, wine makers, and a load of us eager food lovers. Now grown to over 75 vendors, it's a veritable culinary jackpot of our province's best. This year's addition of local products like the incredible cheese produced in the province will no doubt compliment the current offerings well. Perhaps this year we will see less sliders. Please? Not that a good slider isn't amazing but rarely are they mind blowing. Regardless, Savour represents a unique opportunity not only to experience an array of Nova Scotia's restaurants, vineyards, and breweries all at once, but also the chance to meet your favourite local chef or producer.
Put on those stretchy pants because this Winter you've got a lot of eating and drinking to do.