Last night the 11th annual Restaurant Association of Nova Scotia's Savour Food & Wine Show hit the Cunard Centre. People came out in droves to get their taste of the city's – and province's – best. With some familiar faces and a whole string of new vendors, I am beyond thrilled to report that this year was off the hook.
In fact, I'd even go so far as to say it was the best year yet.
Everyone seemed to be in the highest of spirits, the food was varied and exciting, and, the best part, there were no sliders in sight. Well, I may have seen one in there somewhere. I've always thought the Savour Food & Wine Show represented a chance for restaurant to show us what they got, entice us to visit their restaurants with but the tastiest of bites. This year it really rang true. People brought their A game.
From the amazing truffled mushroom spaetzle from Morris East to a deconstructed chai latte dessert from the gastronomic geniuses at Atlantica, there was no shortage of interesting plates to sample. While there were far too many booths to visit, there were certainly a few notable standouts. The stuffed trotter from Ratinaud French Cuisine was wonderful. It takes some gusto to serve pig legs to a room full of hungry folks and they really nailed it. 2 Doors Down rocked some local fish tacos not too mention some of the best dressed chefs there. We're talking red plaid people. Vanilla poached lobster on beef tenderloin from the crew at The Five Fishermen was equally as delicious but c'mon, it's vanilla poached lobster. Another seafood stunner was the scallop hot dog from Jason Lynch at Le Caveau. With the perfect pairing of bacon marmalade, kraut and tarragon aioli, it was easily the best hot dog ever. The Stubborn Goat Gastropub also shined with its smoked meatloaf on mash, showcasing a current menu item unlike many of the other vendors. Though there was wine and drink a plenty, the Disaronno, Wild Turkey, ginger beer and angostura cocktail shaken up by none other than Jeffrey Van Horne was by far the best drink of the night.
But for me, I think the best in show had to be Front & Central. Hanging pieces of duck prosciutto dipped in a savoury yet slightly sweet pistachio granola were then dropped onto a plate smeared with parsnip puree held by an awaiting guest. It was not only engaging but incredibly delicious. Leave it to Dave Smart and NSCC's Peter Dewar to put the fun back into food. So popular was this game of catch the prosciutto that they even ran out.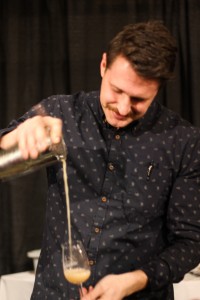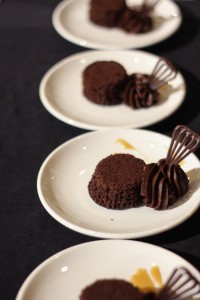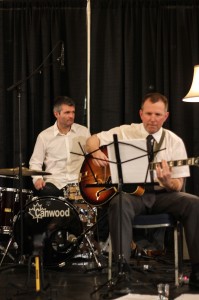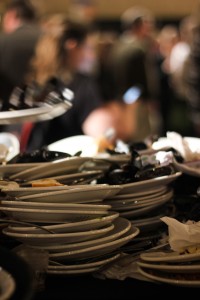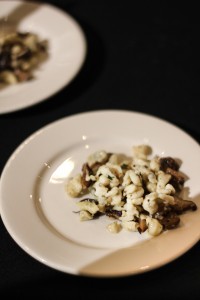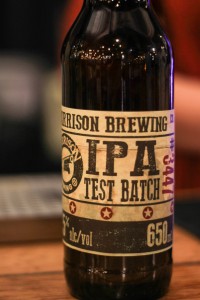 It's not just about the eating and drinking however. Leave it to some incredible food and wine to bring out the best in people. Laughing crowds moved seamlessly from one booth to the next, never really forming a line. There wasn't a frown in the house. Great tunes from the newly formed Prohibition Jazz Band also set the tone for the evening. Maybe I happen to know them and this is a shameless plug but maybe, just maybe, the night wouldn't have been the same without them.
Savour is also about the company you keep. And mine was the best. Though I had arrived to find several local blogging friends, we had soon been split up. It's odd that in a room this size – large but not massive – I didn't once run into them. But with the Food Wife in tow, a new friend from the newly established blog Strut and Cut and a chance to catch up with loads of chefs, producers, and friends, we took on Savour and won.
I couldn't have asked for a better night.