While some of you may have thought I'd gone loco with that last post, I have simply been experimenting with flavour. Anchovies, capers and dates do, in fact, work well together in a great balancing act of umami, salty, and sweet. I'm such a flavour junkie that I'm constantly looking for more. I guess there's worse addictions to have.
Today, however, it's all about simple. I can't imagine there's anyone in word that doesn't love the smell of warm banana bread baking away in the oven. We all grew up with that smell didn't we? Whoever first took some rotten bananas and turned them into breakfast heaven is a god damn genius.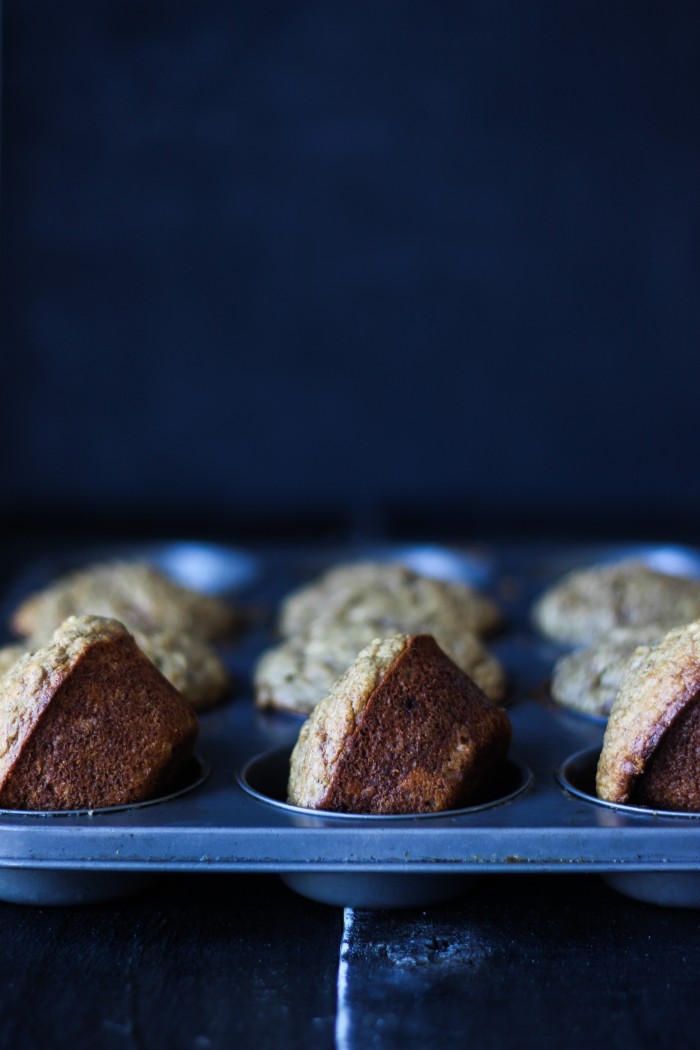 There's nothing crazy or different about these muffins. I didn't jam some bourbon in there or make a crumbly brown butter topping though that would have been delicious. It's hard sometimes not to get carried away. Have you seen the food world lately? New exciting recipes hit the web in increasing numbers everyday. That's not to say I don't love it. I do. I'm addicted to it.
Sometimes, however, simple is exactly what you need. A simple banana bread muffin to take you back to your childhood.
That doesn't mean these aren't incredible. Easily the most moist and flavourful banana muffins I've ever made. Thank you fellow blogger, Two Peas & Their Pod for the inspiration. Healthier than the average muffin, they're a true testament to adding nutrition without sacrificing flavour. Whole wheat pastry flour, flax and yogurt all equate to less fat and a world more fiber. Plus, you just used up those rotten bananas, you kitchen goddess you. Bonus points if you bought those blackened bananas at the grocery store for less than half price.
Like I always say, don't stress if you don't have the exact ingredients. Channel your inner Julia and make them your own. Yes, it is baking and changing the ingredients will alter the results but that doesn't mean you don't have some room to play. Use a blend of white and whole wheat flour. Add a handful of frozen blueberries or some chopped dark chocolate. Add a tablespoon more flax. Use a 1/4 cup less sugar. Use different spices. Substitute sour cream for the yogurt. Hell, throw some Frangelico in there instead of the vanilla. It will all still result in deliciously moist muffins. Best of all, you'll gain that confidence you need to ditch the processed crap and get your hands dirty.
Here's to keeping it simple. No crazy ingredients. No mixer. No stress. Just the aroma of freshly baked banana bread and a morning done right. The only problem is not wanting a second and a third and a fourth….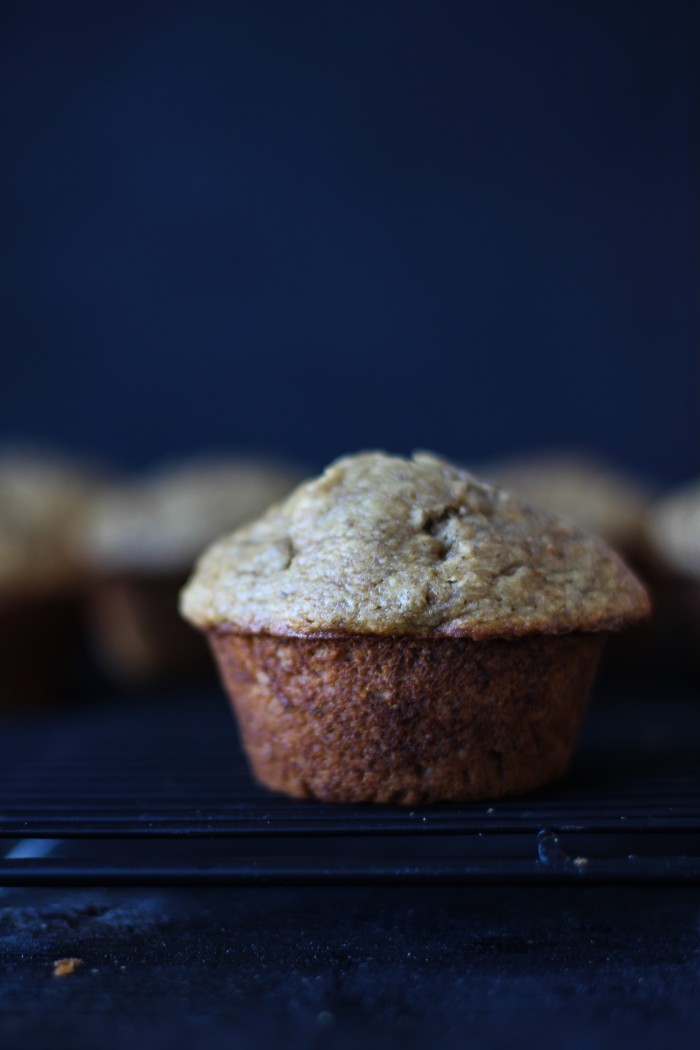 banana bread muffins
2014-03-06 08:40:40
Yields 12
Ingredients
2 cups whole wheat pastry flour
2 tablespoons flax meal
1 teaspoon baking soda
1 teaspoon baking powder
1/2 teaspoon salt
2 teaspoons cinnamon
1 cup brown sugar
5 very ripe bananas, mashed
1 egg
1/4 cup oil (coconut, vegetable, olive)
1/2 cup plain yogurt
1 tablespoon vanilla
Instructions
Preheat oven to 350. Grease a 12 muffin tin with butter.
Mix together dry ingredients. Don't worry if there are a few chunks of brown sugar. They make for delicious bursts of flavour later. Combine wet ingredients until well mixed. Fold the dry ingredients into the wet just until combined.
Pour into prepared muffin tin. Bake until toothpick inserted in the centre comes out clean, about 20 min. Let cool a few minutes then remove from tin.
Notes
A commercial white whole wheat flour or a blend of whole wheat and white flour could replace the pastry flour.
If your bananas are going rotten before you get a chance to use them, for the love of god put them in the freezer. A quick zap in the microwave and you're ready for muffin gold.
Adapted from Two Peas & Their Pod
eathalifax http://eathalifax.ca/