In spite of the fact that I don't really partake in any Winter activities and I happen to prefer way warmer climates, I think I may have just fallen in love with Winter. Well, perhaps love is too strong a word.
Though some find the local market selection a little boring when Winter rolls around, I, on the other hand, am digging it. All those hearty roots, ridiculously versatile not to mention downright delicious any way you cook them. Celeriac, or rather celery root, is at the top of my list.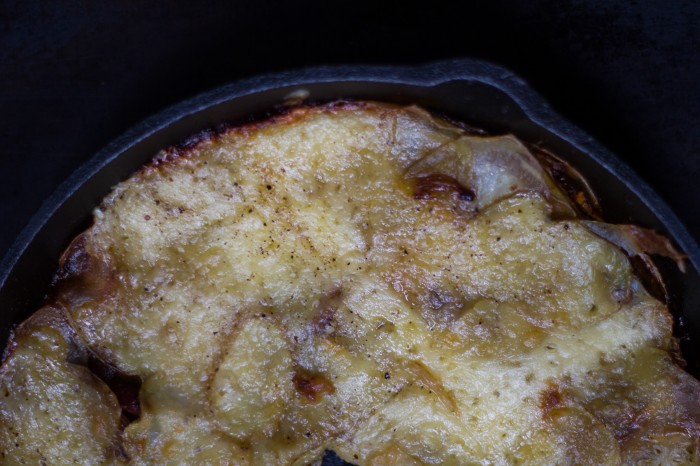 Modelled after a French tartiflette, this gratin gets celeriac in addition to the potatoes plus onions, smoked bacon ends from the boys at Getaway Meat Mongers, a bit of cream, and Canadian Fleur en Lait cheese instead of the traditional Brie-like Reblochon. I first tasted tartiflette at none other than our local French charcuterie shop, Ratinaud. It was legit. But lardon, potatoes, cream and cheese? I mean c'mon. The French really have food nailed.
This dish brought tartiflette to a whole new level. Maybe it was the celeriac. Maybe it was that sweet, fruity semi-soft cheese made in Ontario. Or just maybe there was no way this couldn't be irresistible. Be warned, however. This celeriac gratin is rich and cheesy with just the right amount of greasy. If you can resist eating it all straight out of the skillet, it's perfect as a main for 3-4 alongside a nice big salad. Either way, celeriac will have you on team root vegetable in no time. I imagine many of the Winter roots – beets, sweet potatoes, squash – would be equally delicious layered between cheese and bacon. It's exactly the kind of comfort food to keep you warm all Winter long.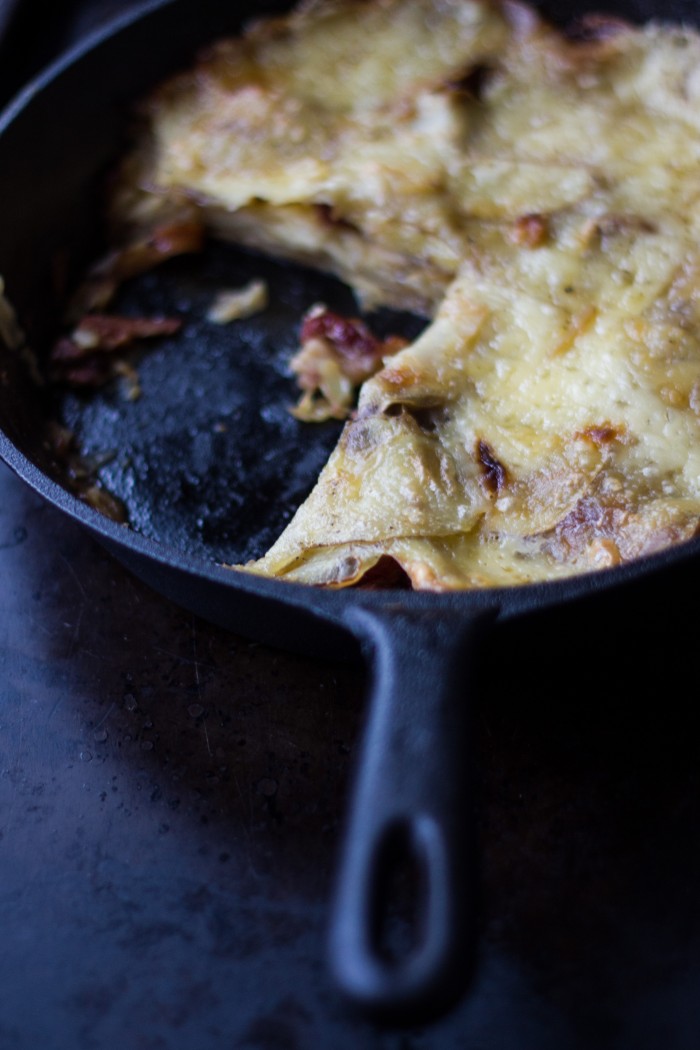 celeriac gratin
2014-02-18 14:49:53
Serves 4
Ingredients
1/2 cup chopped bacon ends, panchetta or 4 slices bacon, chopped
1 onion, thinly sliced
2 large Yukon Gold potatoes, washed
1 large celeriac, peeled
200 g Fleur en Lait cheese, sliced
1/4 cup whipping cream
salt and pepper
Instructions
Preheat oven to 350. Heat a 9" skillet over medium high heat. Add the bacon and onions. Cook until the onions brown. Remove from pan.
Thinly slice the potatoes and celeriac using a mandolin, knife, or food processor. Starting with the potatoes, cover the bottom of the skillet followed by a layer of celeriac. Add 1/3 of the bacon onion mixture. Add another layer of potatoes, celeriac and another 1/3 of the bacon onion mixture. Next layer on half of the cheese. Add another layer of potatoes, celeriac, and onions. Finish with a layer of potatoes and celeriac then the remaining cheese. Pour the cream around the edges of the pan. Sprinkle with salt and pepper.
Bake covered for 30 minutes until a fork will easily pierce through the potatoes. If desired, broil uncovered an additional few minutes to get the cheese golden brown. Serve immediately. This is also big time tasty cold or reheated.
Notes
If slicing the potatoes and celeriac by hand, the dish will likely take longer to cook. Alternatively, you could boil the potatoes and celeriac until almost tender to really speed things up.
eathalifax http://eathalifax.ca/