Food Revolution Day 2014 has come and gone. While I sadly was unable to participate on the day itself, with Sobey's support I was fortunate to host Canada's Biggest Potluck in the days preceding. It was an evening of food, friends and celebrating in the love of cooking.
I tell you, when food bloggers potluck, they really potluck. Despite not assigning courses or coordinating dishes, it all worked out beautifully. Gluten free chocolate cake, lemon white chocolate blondies, rhubarb apple crisp, walnut cake with lime curd, lentil salad, caramelized onion dip with fresh homemade bread, mac n' cheese, spinach salad with avocado and bacon, Israeli couscous and olive salad, even these gin mussel shooters from the Food Wife. It was a veritable feast. Everything handmade with about as much love as you could possibly imagine.
Initially I had a hard time deciding what to make for the potluck but opted to whip up some of my favourite Spring inspired crostini as an appetizer before all had arrived: pea puree, prosciutto and mint, roasted cherry tomatoes with ricotta, basil, and balsamic reduction, and thinly sliced radish on top of creamy ricotta. But in order to address the concept behind Food Revolution Day, I wanted something that would get us excited about cooking. That something was pie.
There was a time when our grandmothers could simply make pie. Flour, water and most likely shortening came together by feel. The skill was passed down from mother to daughter, generation after generation. More intuition than skill, it was the same for bread, biscuits, even cakes. Not only have we lost the most basic of cooking skills – or perhaps the mere confidence to even start – but we're losing these skills that were once so inherent. There were no cookbook shelves to confer, no internet to search. Cooking then was as important as farming or preserving. It was how you fed your family, how you survived.
It's not that I personally have a special connection to pie eventhough that rolling pin was in fact my grandmother's. I am certainly no pie connoisseur. I just wanted to make something that connected me to those who came before. Filled with seasonal fruit or, in times when the preserves were long used up during those cold Winter months, simply buttermilk. Even in times of poverty, there was pie. I happen to think that's pretty special.
I decided if I was going to get my hands dirty making pie, so was everyone else. So was born the hand pie station.
Though I wouldn't normally invite guests over with the butcher's block blanketed in flour, the hand pie station was a huge success. It was a way for us to get our hands dirty together, to connect with our food on a deeper level. As we mingled and ate, local Nova 7 wine in hand, one by one we'd make our way over to the butcher's block to try our hands at our own customized pie. I could not have been happier.
Will full bellies and happy hearts, the evening concluded with an honest discussion of our own culinary stories, food insecurity and our society's over reliance on processed foods. I felt grateful to be part of a community so passionate about cooking from scratch and passing on our cooking skills through blogging. It reminded me how lucky I am to be surrounded by such inspiration. To all my fellow bloggers, thank you.
It is exactly the kind of inspiration seen throughout the world this Food Revolution Day. Millions of people came together, united in the goal to "get cooking, share your love of food, and inspire others to get excited too." Whether it was a potluck to help raise over $25 000 for the Children's Aid Society's Toward Independence Project, participation in Jamie Oliver's live cooking demo or simply gathering your friends and family around the table, we showed the world that cooking is a skill we are no longer willing to give up. But it shouldn't stop at one day a year; we need to make Food Revolution Day our every day. We must pass on our cooking skills to our family and friends. We must make real food the basis of all our meals. We must understand the effect highly processed food has on our health and well being. Together we can bring back cooking.
Though I can't give a recipe for the hand pies as I prepped toppings aplenty, I will however share the spelt shortcrust pastry recipe. It was indeed another Jamie Oliver recipe from Jamie at Home though I decided to hit it with whole grains by using spelt flour instead. It is the perfect example of how healthy and delicious are not mutually exclusive. Our toppings included lightly sweetened cream cheese, rhubarb vanilla compote, strawberries and raspberries. If you're planning on hand pies, you could even opt for whatever jam or preserve you have on hand. Get those hands in some pie crust and make your grandmother proud.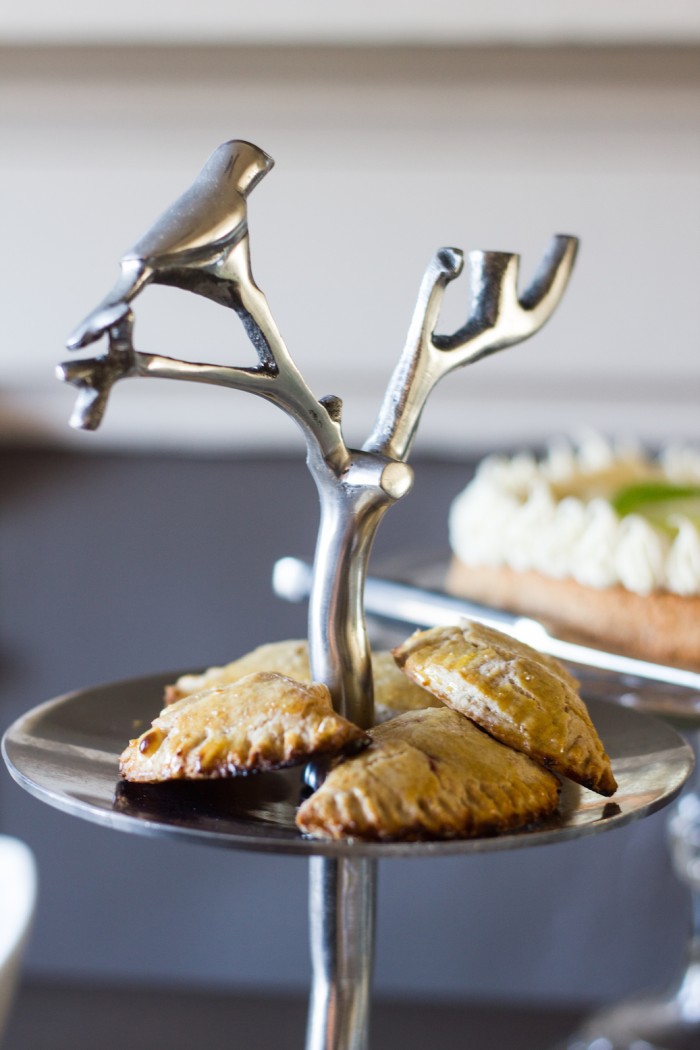 spelt shortcrust pastry
2014-05-20 15:19:42
Ingredients
3 1/2 cup spelt flour
1 cup icing sugar
pinch salt
zest of 1 lemon
1 cup + 2 tablespoons cold butter, cubed
splash milk
Instructions
Sieve 3 1/4 cups of the flour onto a clean working surface. Sieve the icing sugar over top followed by the pinch of salt. Roughly mix using your hands. Work the butter into the flour mixture using your hands. Ideally you want a crumbly mixture with big chunks of butter remaining. Mix in the lemon zest and eggs. Add enough milk, gently kneading, until your dough just comes together. If you need more flour use the remaining 1/4 cup. Roll the dough into a flat circle and gently flour it. Wrap it in plastic wrap and refrigerate til use, at least 1/2 hour.
Notes
Makes two 9" pie crusts, one pie with a double crust, or a bunch of hand pies.
If you're planning hand pies, we brushed them with an egg wash, sprinkled them with raw sugar then baked them at 425 for about 9-10 min.
Adapted from Jamie at Home
eathalifax http://eathalifax.ca/
Disclaimer: I was compensated for my involvement with Canada's Biggest Potluck and promoting Food Revolution Day. I would do it again in a heartbeat.