Hands up how many of you eat the same Christmas dinner year after year. Yeah, I thought so. Growing up it was turkey stuffed with potato stuffing, carrots, potatoes, and turnip. Nothing crazy, everything boiled and mashed with a good dose of butter. I'm not saying there is anything wrong with tradition, on the contrary. It's comforting to gather around that table, each smell, every forkful evoking memories of your childhood.
I'd wager many of you already have squash on your holiday table. Lucky dogs. I love everything about squash and rarely leave the market without one. While simply slicing up that squash and roasting it with some olive oil, salt and pepper will do the trick, you could also mash it up with a whole slew of ingredients. There is certainly nothing revolutionary about what I did. I simply recreated the flavours of squash ravioli without all the work of, you know, squash ravioli. Creamy roasted squash with but a touch of nutmeg and maple syrup gets all cozy with decadent sage brown butter, walnuts and goat cheese. That sweet potato casserole bordering on dessert just met it's match.
A huge bonus is that this is easily prepared a day in advance. Simply throw it in the oven before dinner, say 15 min, then take it straight to the table, garnished with the nuts, goat cheese, and sage. I imagine it'd be great with pecans or hazelnuts as well as pretty much any cheese. Well perhaps not mozzarella or cheddar, more like ricotta, gouda, parmesan, pecorino or I bet even blue.
Squash, welcome to the table.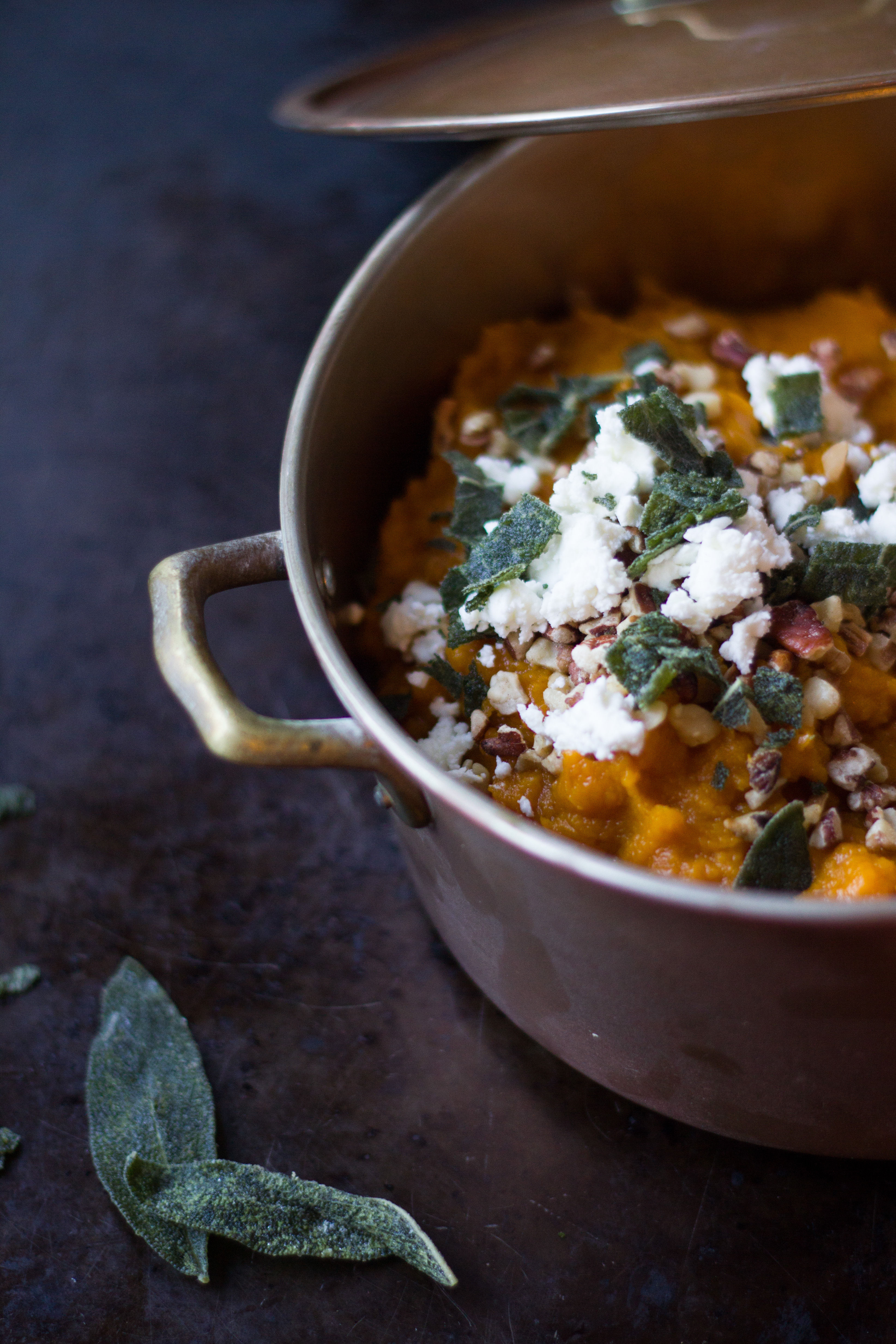 squash casserole with sage brown butter, walnuts & goat cheese
2013-12-12 07:04:44
Serves 6
Ingredients
1 medium acorn or butternut squash, halved and seeded
1/4 cup butter
10-12 sage leaves
1 teaspoon maple syrup
pinch nutmeg, freshly grated if you got it
salt and pepper
70 g goat cheese, or as much as you want
1/4 cup walnuts, toasted and chopped
Instructions
Preheat oven to 400. Place squash cut side down on a baking sheet. Roast until soft, about 45 min. Remove. Scoop out squash, discarding skin.
In a medium sauce pan, heat butter over medium heat. When the butter is bubbling, add sage. Fry until crispy and starting to darken. Remove from butter to a paper towel lined sheet. Roughly chop. Continue cooking the butter until it takes on a nutty aroma and there's brown bits on the bottom. Remove from heat.
Whip, beat or mash the squash until the desired consistency. Add nutmeg, maple syrup, and brown butter. Season to taste with salt and pepper.
When ready to serve, put the squash in a small casserole dish, preferably something that can go right to the table. Reheat in a 350-375 degree oven til hot throughout. Top with walnuts, crumbled goat cheese, and crispy sage.
Notes
Squash comes in a million different sizes. Use your judgement: add more or less ingredients as needed.
Some squash is also more watery than others. You may need to drain off any liquid after mashing.
eathalifax http://eathalifax.ca/