There I go again, spending days away from the blog when all I really want is a simpler life where I can spend time in the kitchen and share it all with you. Life just isn't on my side lately and well, it hasn't been for quite some time now. I'm constantly reminding myself that it will get better but honestly there are days when it's hard to believe. One day at a time I guess. At least today is filled with sunshine from that gorgeous Spring day out there. There may also have been some incredible orange tarragon scones this morning. At least Monday isn't looking so bad after all.
I had originally planned to share this recipe last week when it graced out dinner table but then obviously life happened. Dinners for us are inspired not only by our seasonal produce but also by flavours found in cuisines the world over. Sure, our Nova Scotian cuisine is flavourful in it's own right with the sweet blueberries at the height of the season, the salty Atlantic kissed seafood and the molasses baked beans of our childhoods. But what would we do without the aromatic spices of India or the salty Mediterranean olives or the umami rich Asian dishes? I'd probably die of culinary boredom. A week in our life means Mexican carne asada tacos one night and Korean bibimbap the next. Obviously we have our pizza and pasta go-tos like anybody else but we simply love the variety that comes from exploring different cuisines. Sometimes I even think I may have some sort of dead taste bud syndrome, forever needing more and more flavour. There is nothing I hate worse than bland food, especially if I'm paying for it at a restaurant.
There is just so much flavour to be found everywhere. Take this Indonesian fried rice. Have I been to Indonesia? Nope. Would I kill to go there? Probably. The only problem is that I'd want to eat everything. I guess it's time to set the record straight. I haven't been anywhere. No pizza in Naples. No croissants in Paris. No ramen in Japan. I'm a total foodie fraud. Though there was that 8 month stint in Australia and New Zealand. It was the first time – and hopefully not the last – I ever travelled. It was easily some of the best times in my life. It was there that I first encountered nasi goreng, the supposed national dish of Indonesia. It wasn't even a little Indonesian restaurant that turned me onto this flavour powerhouse but rather a package of noodles. Yup, processed, packaged, sodium laden noodles. This wasn't your average North American Mr. Noodles. I actually hate that shit. Love the noodles – ramen in fact – but those salty seasonings just don't cut it. The ones I fell in love with in Auz were different. Packed full of balanced flavour and served with their own little packet of crispy fried onions, I was immediately impressed. Let's however get one thing straight. It's not like I was choosing to eat Mr. Noodles day after day. Backpacking means living on the cheap. There were no fancy hotels, no six course meals. For the most part, we ate fresh produce from the market, homemade sweet potato curry, and said noodles.
On those rainy days with Brent at work and my cooking shift already finished for the day, I'd put on a movie in the tent – that's where we lived for 6 of those 8 months – and get to work on my humble noodle dinner. Don't tell but I totally fired up the small camping stove in the tent with a door open of course. Anyway, those noodles became as much a part of that trip as days spent on the beach. Actually called mie goreng, the taste of those noodles stayed with me. I even recreated the rice version during my last few years planting. I'd fry up pile after pile of rice on the giant flat top, adding in soy sauce, honey, curry, and tamarind for a totally bastardized version. Bastardized or not, those planters ate that shit up. I've even been asked for the recipe.
These days with a pantry piled high with exotic ingredients, I went to work creating the real deal. I mean not that I'll know if I get it right but when it's this flavourful who cares really. So flavourful is this dish in fact that I'm keen to eat just this for dinner. That's a big deal since I generally don't go for rice. Ask Brent. He's even been known to beg for a side of rice with dinner. Unless it's a creamy rich risotto or some sticky vinegary rice served alongside sashimi, I'm just not a rice person. That was until this dish made it's way into the rotation.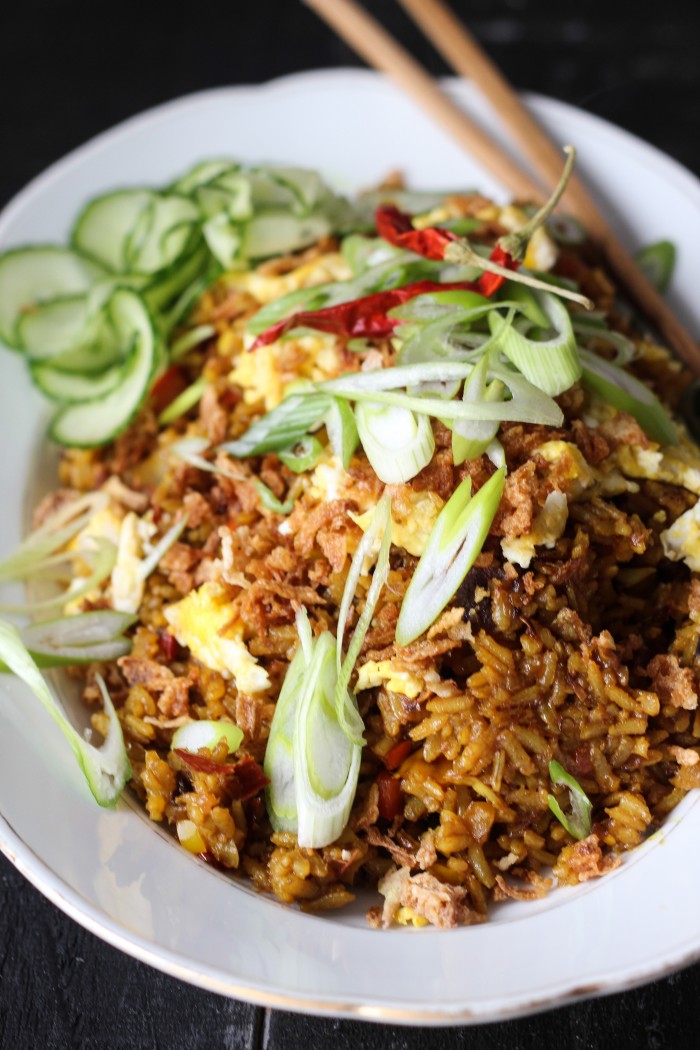 Though not entirely vegetarian, nasi goreng makes for a quick, one pot meatless meal. If you happen to have leftover rice, you've got dinner in mere minutes. It's apparently traditionally served with chicken and shrimp but with this much flavour I'm cool with just the eggs. Fried or scrambled, you'll want to #putaneggonit for sure. One word on ingredients. Both dried or fresh red chillies and tamarind can be found in most grocery stores. With but some soaking, the sweet and sour dried tamarind fruit is used in loads of dishes including the popular pad thai so I suggest you get acquainted. On the other hand, shrimp paste, the sweet soy sauce kecap manis (if you opt to buy it), and fried onions are an Asian market find. If you're in Halifax, Tian Phat on the Bedford Highway is like my candy store. Packed full of interesting ingredients, you'll find all you need to cook up everything from Thai to Vietnamese for mad cheap.
If you're into flavour like us, this dish hits almost all of them: salty, sweet, sour, spicy and umami. It's even awesome cold the next day. Perhaps some day I'll get to taste an 'authentic' nasi goreng but until then I'll keep exploring in my own kitchen.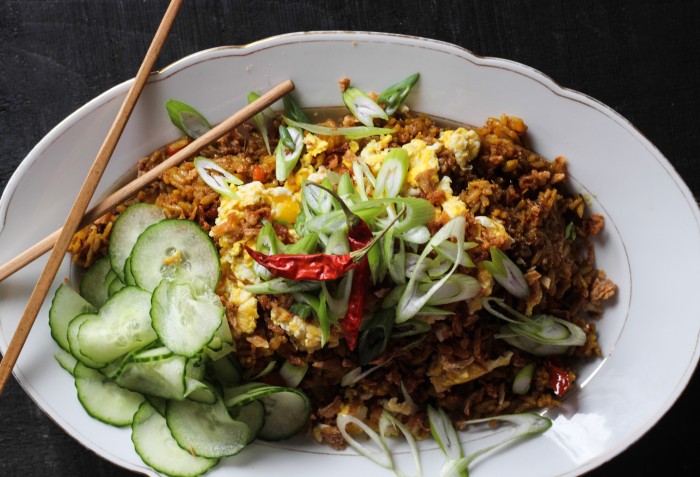 nasi goreng
2014-04-04 07:33:04
Ingredients
2 cups cooked brown rice
3 cloves garlic
1" piece ginger, peeled
4 red chillies, dried or fresh
2 tablespoons tamarind, soaked in hot water
1 tablespoon shrimp paste
1/2 teaspoon turmeric
1 tablespoon coconut oil
1 shallot, diced
1/2 red pepper, finely diced
2 tablespoons kecap manis (see below)
salt and pepper
2 eggs, beaten
2 green onions, thinly sliced
1/2 cup crispy fried onions
thinly sliced cucumber to serve
kecap manis
1/4 cup soy sauce
1/4 cup brown or palm sugar
Instructions
First, make the keycap manis. Bring the soy sauce and sugar to a boil over medium high heat. Reduce heat and simmer until thickened and reduced by half.
If using dried chillies, toast them in a dry pan until slightly charred. Soak in hot water until soft, about 10 min. Slice open and remove seeds. Roughly chop. If using fresh, simply deseed and chop. To make the seasoning paste, mash together garlic and ginger in a mortar and pestle. Add the chilies, shrimp paste, tamarind, and turmeric.
Heat oil over medium high heat in a wok or large skillet. Fry shallots and red pepper until soft, about 3 min. Add the seasoning paste and fry another 3 min. Add in the rice and kecap manis, stirring to coat rice in the seasoning. Fry until the rice is hot throughout. Season to taste with salt and pepper. Remove from pan. If necessary add a half teaspoon oil to the wok. Once hot, add the eggs. Cook until set, slightly scrambling.
To serve, layer rice on a platter or bowl, Top with egg. green onions, fried onions. Serve with a side of thinly sliced cucumbers.
Notes
Serves 2-4 depending on whether you serve it as a main or a side.
Nasi goring is also traditionally made with shrimp and chicken and sometimes served with tomato wedges. I happen to love it with some thinly shredded cabbage as well.
eathalifax http://eathalifax.ca/