More and more these days I think about a simple life in the country. Hens laying eggs out back, a full garden, a life spent quiet and happy with Brent and perhaps some little ones running around. I never thought I'd be yearning for the simple country life but here I am. As I delve deeper and deeper into the food scene, I find myself wanting to really understand where my food comes from, to learn those skills our ancestors held dear. Like preserving or farming or even foraging. If you knew how much food we could eat that's growing in our fields or parks or along our coastline, you'd be blown away. Even the Japanese Knotweed, the invasive species that is literally everywhere, can be eaten. We can eat weeds people. But yet here we are living in a world where we hit our lawns with pesticides and ignore the food growing in our own backyard. Crazy right?
I for one want to know as much as I can. I want to feel the satisfaction that comes with growing my own food. I want to have the confidence to identify all those edible plants. I mean how cool is it to make something delicious with something others consider a pest? Damn cool I say.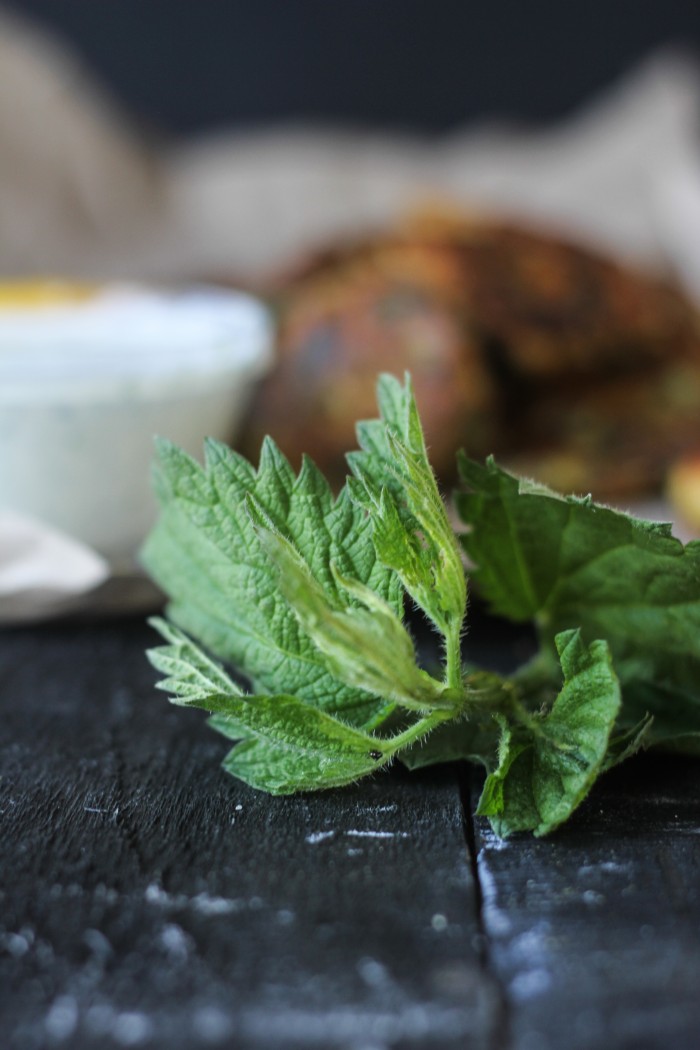 And so, enter stinging nettle. It's one of those things I've heard about but only recently started eating. I've seen it in several markets and decided it was time. Stinging nettle, or rather urtica dioica, is a flowering plant found all other world that, you guessed it, stings the bejeezus out of anything that touches it. Well, honestly I didn't find it that stingy though I wasn't the one picking it either. It's long been used as medicine, drank as tea or eaten as food. Nothing scary there. Generally you soak or blanch the nettle to get the sting out before consumption but apparently some folks fancy a little mouth sting. The World Nettle Eating Championship in the UK sees participants pick and eat as much raw nettle as they can. Now that's just cray.
Likened to a mild cross between spinach and cucumber, there are loads of recipes on the big ol' intranet for nettle, most notable soup and pesto. My first bag of nettle got made into gremolata, a roughly chopped condiment of lemon zest, garlic and usually parsley. It was lovely on some grilled salmon. But then last weekend I hit up the Historic Brewery Market to find one of my fav stalls, Four Seasons Farm, back for the Spring/Summer season. Besides the awesome greens, they had giant bags of nettle for mad cheap. I kind of had to.
So, it was back to the drawing board. I haven't been able to indulge my cookbook lust for a long time now so I turn to the library. Lately, I've been quite taken with the books Jerusalem and Plenty from Yotam Ottelenghi. Fresh ingrediens and mad flavour make both these books home runs. If you're looking for a few to add to your collection, I'd put my money on these. I've tried several recipes thus far and they're all awesome. And like I said, this isn't some sponsored post. I just love these books. I mean, hell, the Ottolenghi team has several restaurants, cookbooks, even an online store with preserves and spices. If that ain't enough to convince you, here's a small glimpse into their philosophy:
It's full of harmonious contradictions: it's vibrant and bold yet familiar and comforting; it's beautiful to look at yet close to its original form; it's full of surprising drama yet always comes together as one; it's noisy yet peaceful, lip-smacking yet warm, simple yet daring.
Totally my style.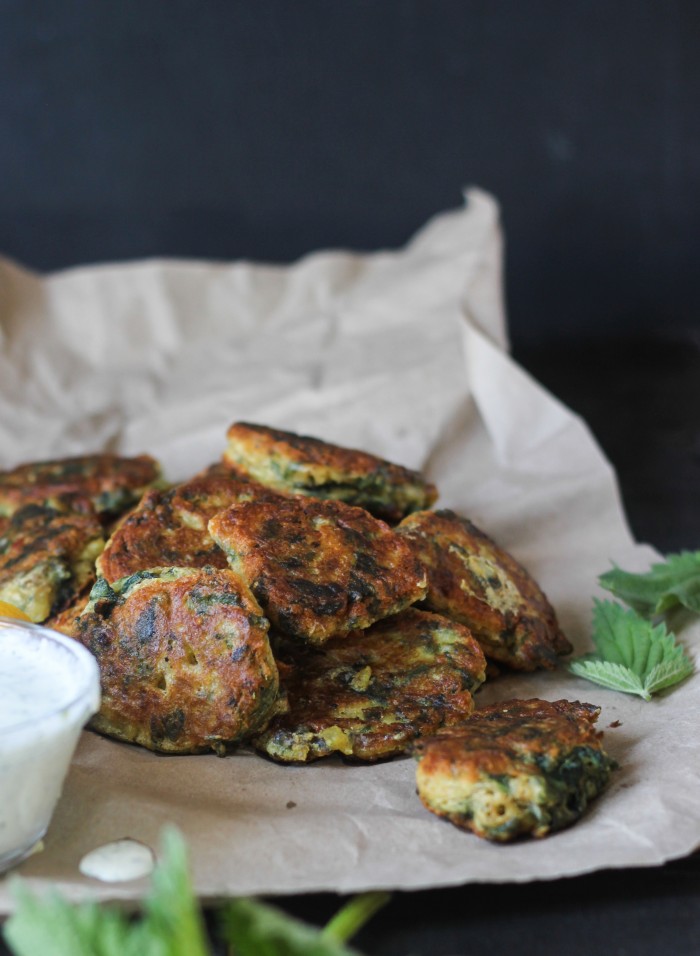 These stinging nettle fritters are based on a recipe for leek fritters in Plenty, the vegetarian of the two, so in no way is this some amazing recipe I dreamt up. It's essentially the same with nettle in place of the leeks and the omission of parsley simply because we didn't have any. Man, were these some good. Though I've made fritters before – and I guess 'fritter' is simply anything fried – these were a new experience. Crispy outside, soft and fluffy inside. Perfectly savoury with just the right balance of spice. Though if you want to make something that tastes like nettle – where you'd recognize it as nettle – this isn't it. This could easily be spinach or any other green for that matter. But if you're looking to make something delicious whether it's nettle or leeks or spinach, then this is a winner.
In the book, he also whips up a dipping sauce with yogurt, sour cream, lemon, cilantro and parsley. I'm sure it would have been delicious. I went with yogurt, lemon, cilantro, tahini, and garlic because that's what we had. Simply mix or buzz it all together in a food pro and bam, dipping sauce. There are a few steps but nothing super complicated.
If you're looking for other ways to use nettle, think spinach. Once it's soaked or blanched, you can pretty much go nuts. Nettle frittata, nettle soup, nettle pizza, anything. I also highly recommend heading over to Kitchen Vignettes for Aube's nettlekopita recipe including a swanky video. That's spanakopita – the delicious spinach and feta phyllo parcels – with a good dose of nettle instead. With more than half the bag of nettle awaiting my next move, this may very well be it. Or perhaps nettle cordial. I guess you'll have to wait and see. And for the record, nettle is mad nutritious. If you're looking to get in the nettle game though, you better act fast since the leaves can generally only be eaten in Spring. Tick tock people.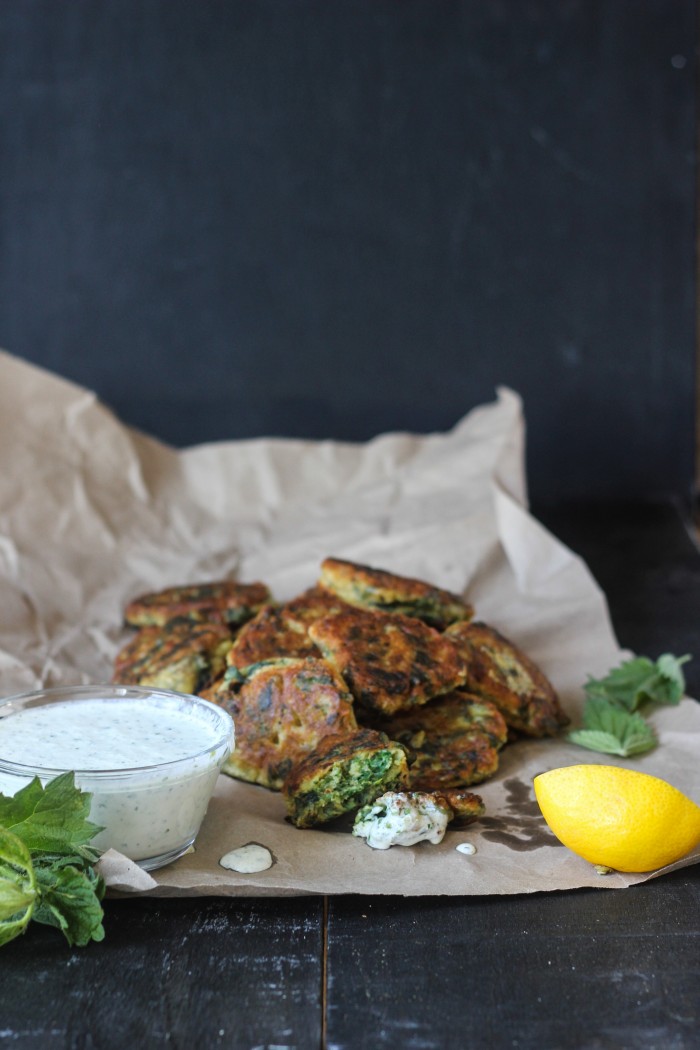 stinging nettle fritters
2014-06-03 12:39:30
Serves 4
Ingredients
6 cups stinging nettle, washed
1 tablespoon oil
1 medium sweet onion or 5 shallots, diced fine
1 red chilli, seeded and chopped
1 teaspoon coriander
1 teaspoon cumin
1/4 teaspoon cinnamon
1/4 teaspoon tumeric
1 teaspoon sugar
1 egg white
1/2 teaspoon salt
3/4 cup flour
4 teaspoons baking powder
1 egg
2/3 cup milk
4 tablespoons butter, melted
Instructions
Fill a medium sauce pan with water and bring to a boil. Blanch the nettle about 3 min. Drain.
In a skillet, heat oil over medium heat. Sauté the onion until soft and translucent, about 5 min. Remove from heat and let cool slightly. Place the onions in a large bowl along with the red chilli, the spices, the sugar and the salt. Roughly chop the nettle and mix in.
In a second bowl, beat an egg white til soft peaks form. This takes but a few minutes with a whisk. Gentle fold it into the nettle mixture,
In a third bowl, make a batter with the egg, milk, flour, baking powder and butter. Gently mix it into the vegetable mixture.
In a large skillet, heat enough oil to cover the bottom of the pan over medium heat. When hot, drop the batter (about 2 tablespoons or more) into the pan, making a few fritters to fill but not overcrowd the pan. Fry until crisp and brown, about 2-3 min per side. Remove and drain on paper towel. Repeat with remaining batter. Serve warm with dipping sauce of your choice on the side.
Notes
I recommend frying a bit of batter to check for seasoning. I did add salt to my batter to suit my palate and I suggest you do the same.
Because they're all fried and delicious, I'd likely pair them or follow them with a refreshing salad and some grilled meat or fish.
Adapted from Plenty
Adapted from Plenty
eathalifax http://eathalifax.ca/