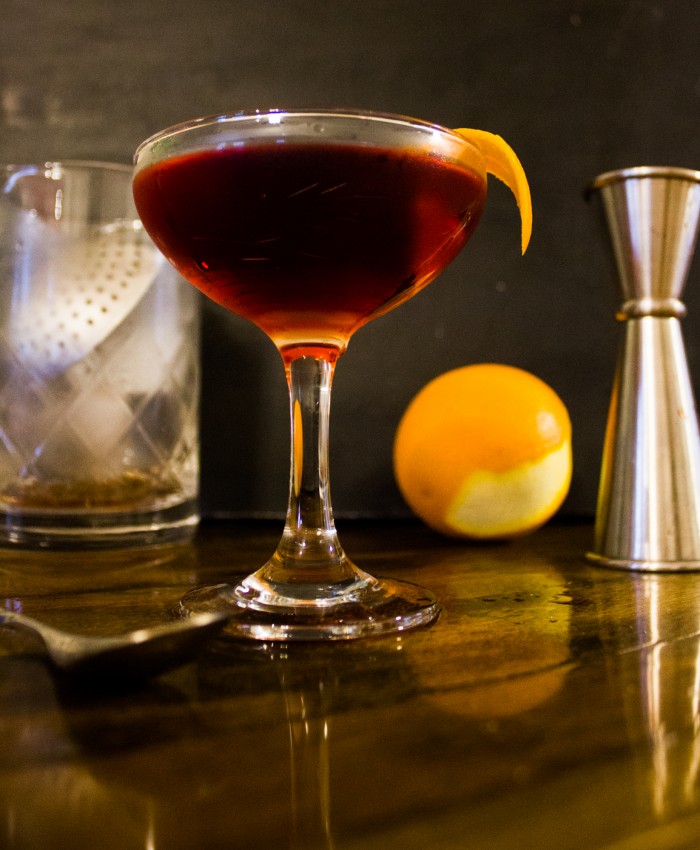 Ok here we go I am finally giving in and writing a guest post for Eathalifax. As the resident beverage director, most things drink related in our home are my responsibility. Not a bad tradeoff considering Kathy is a much better cook than I, and that I am OBSESSED with all things coffee (my kitchen counter can attest to this). But this post isn't at all about coffee, it's about a new obsession Cocktails! And what better place to start than with a staple here at the home bar, The Negroni.
It's generally agreed upon that the negroni came to be some time around 1920 in Florence Italy, when count Cammillo Negroni walked into Café Casoni and ordered an Americano with gin instead of soda from the bartender Fosco Scarselli. It is a simple yet delicious classic, consisting of equal parts gin, campari and sweet vermouth. Many variations exist; namely the Boulevardier, which utilizes bourbon instead of gin and the negroni Sbagliato with prosecco replacing gin. One can also swap vodka for gin, cynar or aperol for campari, you get the point if you are lacking an ingredient you can sub in something you may even prefer. So be creative and enjoy, Cheers.
The Negroni
2013-10-25 11:15:56
Serves 1
A simple classic
Ingredients
1 oz Gin
1 oz Campari
1 oz Sweet vermouth
Ice
orange peel for garnish
Instructions
Add 1 oz Gin, 1 Oz Campari and 1 oz sweet vermouth to a mixing glass
Add large chunks or cubes of Ice
Stir till ingredients are properly integrated and chilled
Strain into a chilled coupe glass straight up
Or strain into an old fashioned glass filled with ice
Garnish with an orange peel
Now sit back and enjoy, or better yet make another to share.
Cheers.
Notes
When using peel for garnish make sure to remove the pith (white flesh inside the skin) it is quite bitter and will alter the flavour. Also be sure to lightly squeeze zest over the drink to release oils before dropping in or setting on the rim of the glass.
eathalifax http://eathalifax.ca/