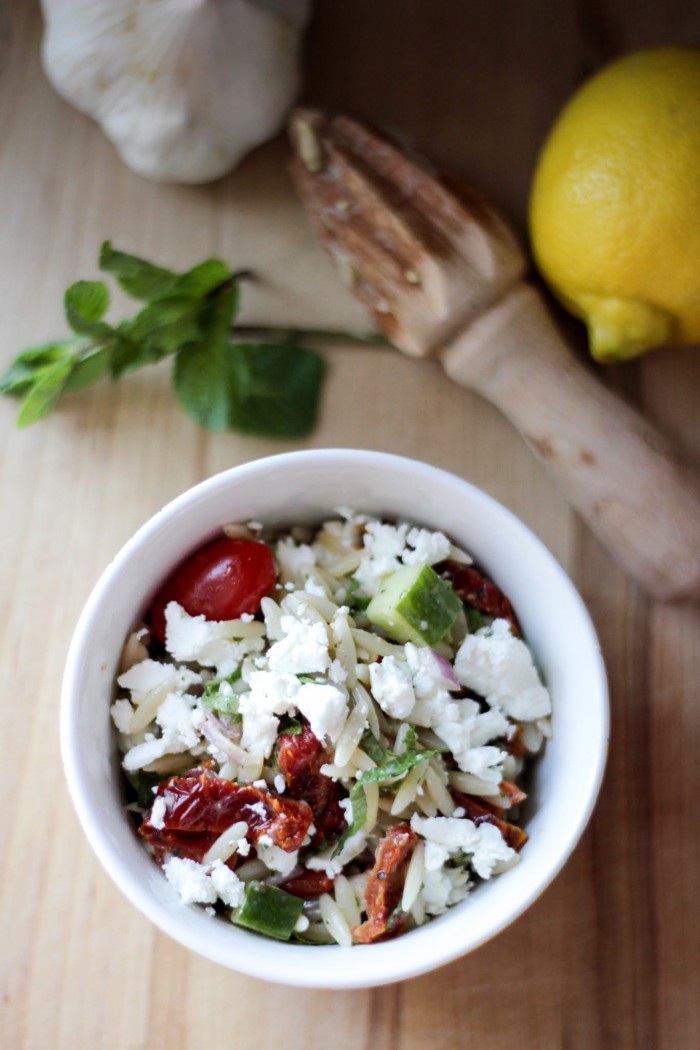 Whoever said salad had to be a pile of limp iceberg sprinkled with a few sad tomatoes and drenched in some random Italian vinaigrette totally led us all astray. Ditch the garden salad of the 80s and get some Summer into ya.
Tender orzo gets mixed with fresh and dried tomatoes, cucumbers, red onions, and goat cheese then hit with a dressing of minty awesomeness in this updated pasta salad. It's the perfect Summer salad to showcase the incredible variety of local cherry tomatoes and use up the mint that's going nuts in the garden. It's also wicked adaptable. Swap out the mint for basil and viola, a whole new experience. Or substitute feta and oregano for a Greek inspired salad. No orzo? Let any pasta or even quinoa take it's place. There really is no messing this up.
orzo salad with sun dried tomatoes, goat cheese & mint
2013-10-20 21:18:11
Serves 2
Ingredients
1 1/2 uncooked orzo
1/4 red onion, diced
1 small cucumber, diced
1/2 cup cup cherry tomatoes, halved
1/3 cup sundried tomatoes packed in oil, sliced
2 tablespoons fresh mint, thinly sliced
140 g goat cheese
salt and pepper
Dressing
3 tablespoons olive oil
2 tablespoons red wine vinegar
1 tablespoon fresh lemon juice
1/4 cup fresh mint
1 teaspoon honey
1 clove garlic
Instructions
Get a pot of water on to boil and salt it up. Once boiling, add the orzo and cook until al dente or your preferred doneness. Drain. Cool or rinse under cold water.
To easily make the dressing, add everything to a small bowl food processor and process til combined. You could also just chop the mint and garlic and whisk together the ingredients.
Combine all the ingredients and season to taste with salt and pepper.
eathalifax http://eathalifax.ca/