I just had to go and say it was Spring didn't I. Once again, Mother Nature has a different plan. With the city once again covered in snow, it's the kind of weather you want to stay in bed for. At least today's recipe is the hearty stick to your ribs kind. I'm kind of wishing I didn't send Brent with the leftovers.
Though I'm a full on porkavore now, I remember a time when I didn't fancy the sausage. No not that kind. Minds out of the gutter people. In fact, I found it a little revolting. But then again I guess my exposure was all mild Italian and breakfast sausage. To this day, breakfast sausage and I don't get along. Unless of course it's homemade with fennel and maple and slapped on a breakfast sandwich dripping with egg yolk. Oh, that recipe is coming soon. Somewhere along the way, in this culinary journey, I fell in love with sausage. Pork has done a good job seducing me alright.
It's the chorizo that has held my affection for some time now. Full of spicy goodness, I can't get enough. There's even several kinds to tempt me, most notably Spanish chorizo seasoned with smoked paprika available both fresh and smoked as well as the Mexican variety full of chilli. I'll take all of it though I am rather partial to the spicier Mexican. Lucky for us Haligonians, many local producers squeeze out the chorizo with abandon. I'm looking at you Sweet William's, Storehouse, Getaway Meat Mongers, and of course our charcuterie shop Ratinaud.
Unlike plain old ground pork or beef, sausage adds tons more flavour to whatever you're making. Since I had some Meat Monger's ground pork in the freezer, I decided to try my hands at making the stuff myself. No intestines in sight, this was sausage without the work. Don't get me wrong, the first attempt was good but it had nothing on my go to Ratinaud. If you're looking to try it out for yourself, there are a load of recipes out there. When I have it nailed, you'll be the first to know.
So, what do you do with chorizo? The answer: pretty much anything. Soups, tacos, frittata, you name it. Chorizo and potatoes are a classic combo. The Chorizo con Papas recipe from Saveur is probably a good place to start. You may also remember I even won a little sausage recipe contest.
The best idea, however, is to get yourself some chorizo and step out of your spaghetti comfort zone. A hit at my cooking classes, this recipe is mad easy and more flavourful than your average tomato sauce. In fact, I'm not really a tomato sauce girl, never have been. So, I like to throw in spicy chorizo instead of the usual ground beef, give it a touch of smoke with paprika and add a kiss of sweetness to balance all the acidity. Then to take it way over the top, I add either tangy goat cheese or creamy ricotta plus a bunch of cilantro. This is my kind of pasta.
Because we've been getting back to scratch cooking, we also made the fettucini ourselves. If you haven't tried making your own pasta, I can't tell you enough how easy and rewarding it is. It is literally flour and eggs. Though the pasta roller makes light work of it, a good old fashioned rolling pin does just fine. Then once you have that nailed, you can add in things like spinach, beets, sweet potatoes, herbs, really anything. I don't know about you but it feels pretty amazing knowing how much food we can make ourselves. Soon sourdough but that's another post entirely.
Stay warm out there people. I promise not to mention the S word again.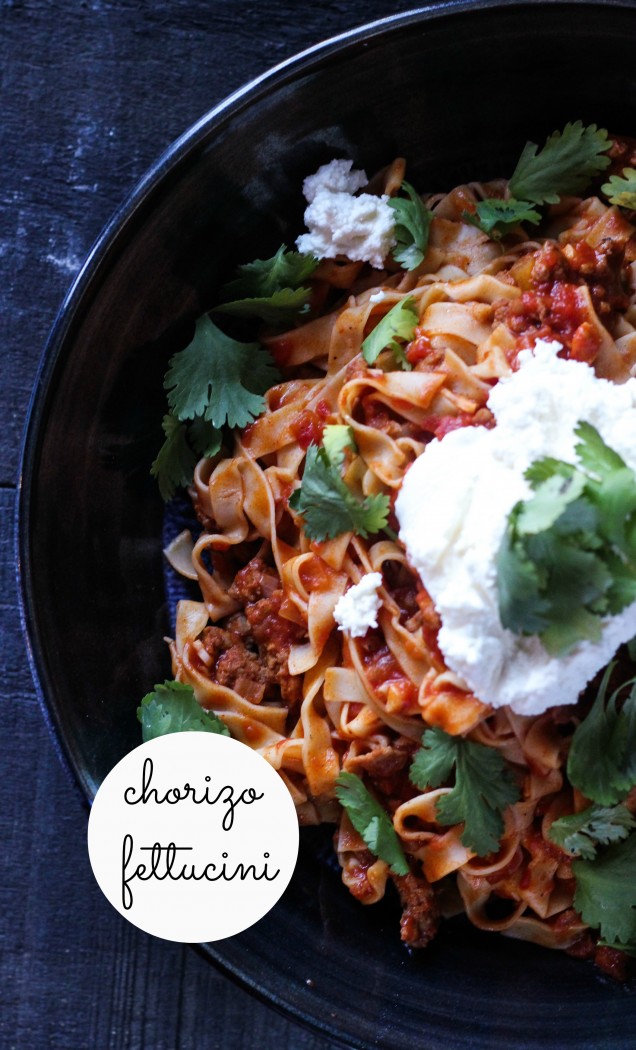 chorizo fettucini with ricotta and cilantro
2014-03-10 21:44:01
Serves 4
Ingredients
3/4 lb (12 oz) dried fettucini
1 teaspoon olive oil
1 shallot or small onion, diced
3 cloves garlic, minced
2 chorizo sausages, casing removed or 2 cured chorizo sausages, sliced
1-2 tablespoons vodka, wine, sherry or vermouth
1 28 oz can good quality crushed tomatoes
2 teaspoons smoked paprika
2 teaspoons brown sugar, optional
salt and pepper
1/2 cup (about 140 g) ricotta or goat cheese
handful cilantro, roughly chopped
Instructions
Put a large pot of well salted water on to boil. Cook pasta according to package directions until al dente. Drain.
In a large skillet or saucepan, heat oil over medium heat. Add shallots, garlic, and sausages. Cook until the sausages are cooked through, about 3-5 min. Add liquor of choice to deglaze the pan. Add the tomatoes, paprika and brown sugar. Simmer uncovered until thickened and flavours develop, about 20 min. Add pasta to the sauce, tossing to coat. Serve topped with cheese and cilantro.
Notes
If you don't have liquor or prefer not to use it, simply omit it.
If you like your sauce chunky, diced tomatoes will work as well.
If you like a meatier sauce, go ahead and add another sausage.
eathalifax http://eathalifax.ca/