We're keeping it short and sweet today folks. Literally.
With Spring on the horizon, trees around the province have been tapped. You know what that means. Bring on the maple syrup. Around here we love the stuff. There is no imitation, corn derived syrup in our fridge. We wouldn't think of putting it on pancakes let alone mixing it in a cocktail. There simply is nothing that can replace sweet, sweet maple syrup.
Once again I'm taking inspiration from PDT. We just so happen to be reading their book right now. Based on The Applejack Rabbit, the Spring Jacket is certainly sweeter and more bitter with the addition of both Aperol and Peychaud's Bitters. Using locally produced apple brandy from the folks at Ironworks Distillery in Lunenberg, local maple syrup and fresh citrus, this is the kind of cocktail to welcome Spring. It's bright and citrusy with just the right amount of sweet.
I also need to give a shout out to the gang at 2 Doors Down. Their Autumn Sweater with Rye, Campari and maple syrup provided the perfect inspiration for naming the cocktail. If you get a chance to try it, it is awesome. Sweet, bitter, boozy and absolutely delicious.
It's time to put away that Winter coat and get out the Spring Jacket. Well soon I hope…
Cheers.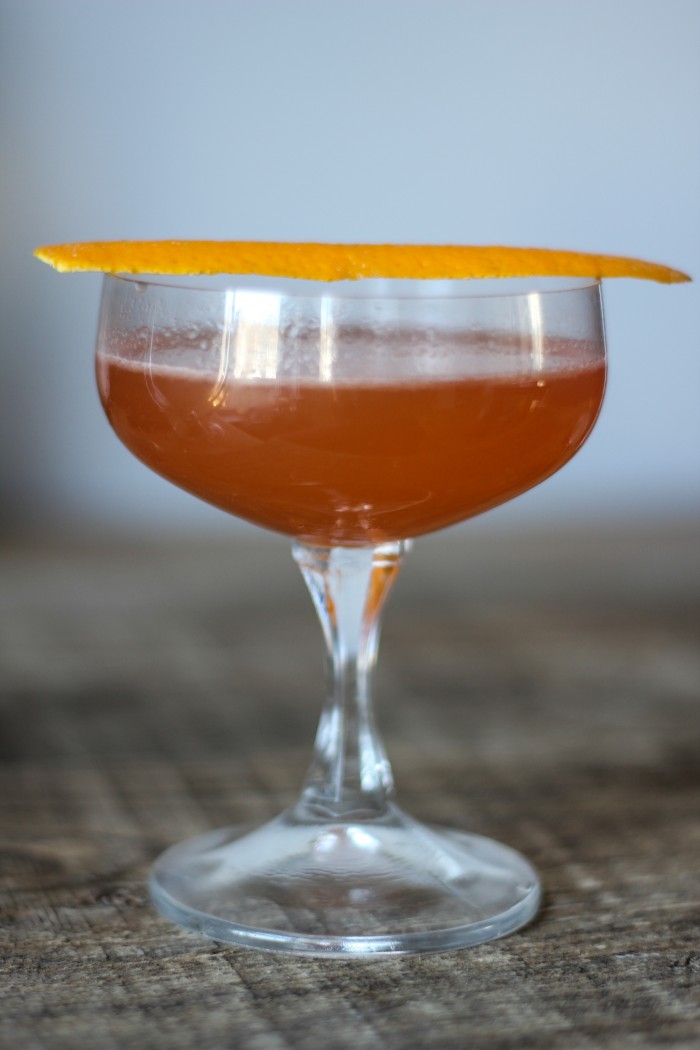 Spring Jacket
2014-03-14 17:16:36
Serves 1
Ingredients
1 1/2 ounce Ironworks Apple Brandy
1/2 ounce Aperol
3/4 ounce freshly squeezed lemon juice
3/4 ounce freshly squeezed orange juice
1/2 ounce maple syrup
dash Peychaud's bitters
ice
orange peel, to garnish
Instructions
Add liquors, juices, maple syrup and bitters to a cocktail shaker. Fill with ice.
Shake until the tin frosts over.
Double strain into a coupe glass. Squeeze the peel over the drink to release oils. If desired, rub the peel along the rim of the glass. Garnish with the peel.
Notes
If you fancy a sweeter drink, add 3/4 ounce of maple syrup. It really makes the maple shine though is sweeter than we like to imbibe.
eathalifax http://eathalifax.ca/