In it's third year, Halifax Burger Week is once again igniting a celebration of everyone's favourite food. Good for me since this baby wants nothing but burgers. And maybe poutine which is weird because in my 36 years I've never once ordered the stuff. Oh, and carbs. Pancakes, bread, donuts, pasta, gimme all that.
So today, despite the lack of sidewalks, towering snow banks and city wide parking ban, the people, they came. Apparently, nothing will stand between Haligonians and their burgers. Even we crossed the bridge to get our fix. And that was after the third round of shovelling.
So while I'm very obviously a fan of all things burger, this week isn't about stuffing as many burgers as possible into my pie hole. I'm not a fan of feeling like a bag of crap and I certainly do not need to carry around more weight then the ever growing baby taking possession of my body. In addition, I'm a purest when it comes to burgers. I don't want ten toppings. I don't want some sloppy hot mess. I certainly don't want several different kinds of meat in addition to the patty unless of course we're talking bacon. Bacon is its own food group anyway. Instead, I simply want a delicious burger where you can actually taste you know, the burger. I also appreciate knowing where my meat comes from so burgers made with local meat are the only ones that make the cut.
Maybe it's just me but I happen to think burger week is really about braving the March weather to support local businesses. Trust me, this Winter has been hard on them and they need all the support they can get. It's also about raising much needed funds for Feed Nova Scotia. Yes, some burgers are a steal at 5 bucks but those other more expensive burgers come with a side of a Feed NS donation. Some folks aren't fortunate enough to afford a $5 burger let alone groceries. Think about that for one second. How can you say no to helping out those less fortunate while enjoying a deicious burger for a few extra bucks? It's a no brainer.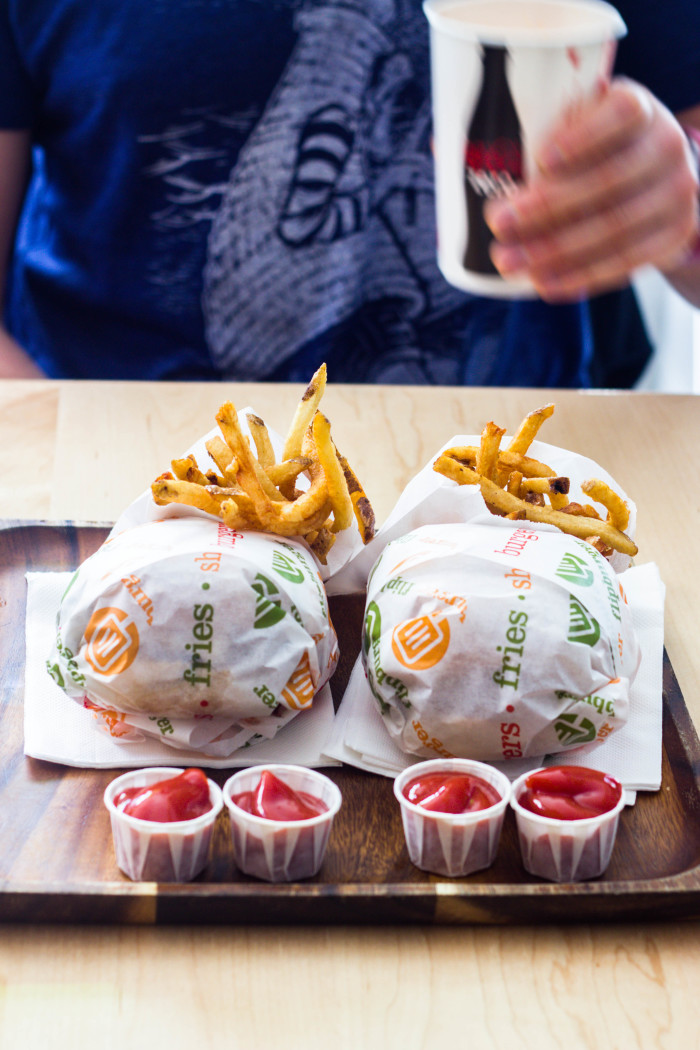 Because we were limited in terms of parking and what was actually opened, we chose The Big Smoke at Flipburger to kick off burger week. We are big fans of all things smoked and this local patty with grilled onions, oven smoked tomato, smoked gouda, Oulton's double smoked bacon and hickory smoke-infused mayo didn't disappoint. Though compared to similar options based on house made, local ingredients like Ace and 2 Doors Down, the price seemed a touch steep. Then again some combos around $20 are among my top picks. Hey, at least that's $2 in the hands of Feed NS and money spent in the local economy.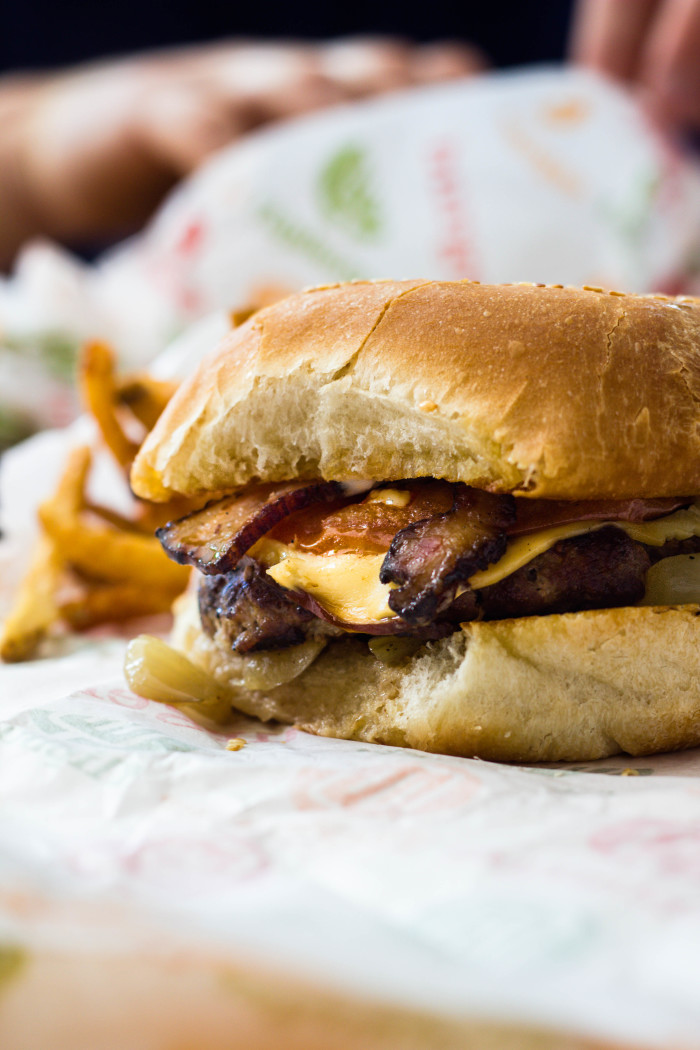 I might as well give you my top picks while we're at it. In no particular order, your Halifax Burger Week plan of attack:
1. 2 Doors Down – Listen, both the Ol' School and Smokehouse cheeseburgers at 2DD are the stuff dreams are made of. Literally. I dream of them. No doubt the Steakhouse will be bad ass.
2. Chives – I am beyond stoked Chives is participating since there isn't one thing that comes out of their kitchen that's not incredible. This Steak Tartare Burger will be no different. Plus, I have it on good authority that it's freaking amazing.
3. Ace Burger Co. – I know you can get the Classic any ol' day but it's just so damn good that chances are I'll be hitting up Bearly's this week. The Jughead available at the Gus location is also legit. It's the perfect old school bacon cheeseburger.
4. Krave Burger – One word. Bacon jam.
5. La Frasca – PEI beef tenderloin burger on a sweet onion brioche with Granny Smith pine nut relish, whiskey oak pork belly, fried cambozola, arugula, and pommery aioli just sounds awesome.
6. Stillwell – A trip to Stillwell is worth it for the Tokyo fries alone. Besides if you've had either the Diner or Fancy burger, you'll already know the Schmancy II should be at the top of your list.
7. EnVie – I'm not simply adding a veg option to be well rounded. Their vegan take on a Big Mac genuinely interests me. They sold out by 6 pm today so apparently I'm not alone.
Wow, that's one a day so I better stop there. But I'm also crushing on Seasons by Atlantica's Long Yard lamb burger, The Stubborn Goat's Hell Fire burger (though there is no way the baby is letting me eat that!), and the Korean BBQ burger at the Armview. So.Many.Burgers. And that's only 1/6th of the list.
There you have it. A week of burger indulgence with the added bonus of helping those in need. For the complete list of participating restaurants, full descriptions and all the Halifax Burger Week 2015 details hit up the official site.
And maybe remember that Feed NS and local businesses deserve your love year round. You can even order a burger.