If there was one item that could keep me off the vegan train and no it's not bacon. Wait, come to think of it it is bacon. Though I was thinking cheese. Milk round here is used exclusively for cappuccinos and baking. Cheese on the other hand makes it's way into everything. Breakfast, lunch, dinner, even dessert sometimes.
Lucky for this cheese lover, I've been fortunate enough to work on a few great cheese projects with Dairy Farmers of Canada. I also happen to know one Michael Howell, local chef, Slow Food NS powerhouse, Devour Film Fest exec and, if that isn't enough, Mr. Cheese himself. Reppin' DFC, he's recently travelled the country from one end to the other spreading the love for Canadian cheese, most notably Canadian Cheese Grand Prix award winners. Yes, there's a cheese Grand Prix. Since 1998, cheese experts across the country have gathered to judge our world class cheeses made from 100% Canadian dairy. Talk about dream job.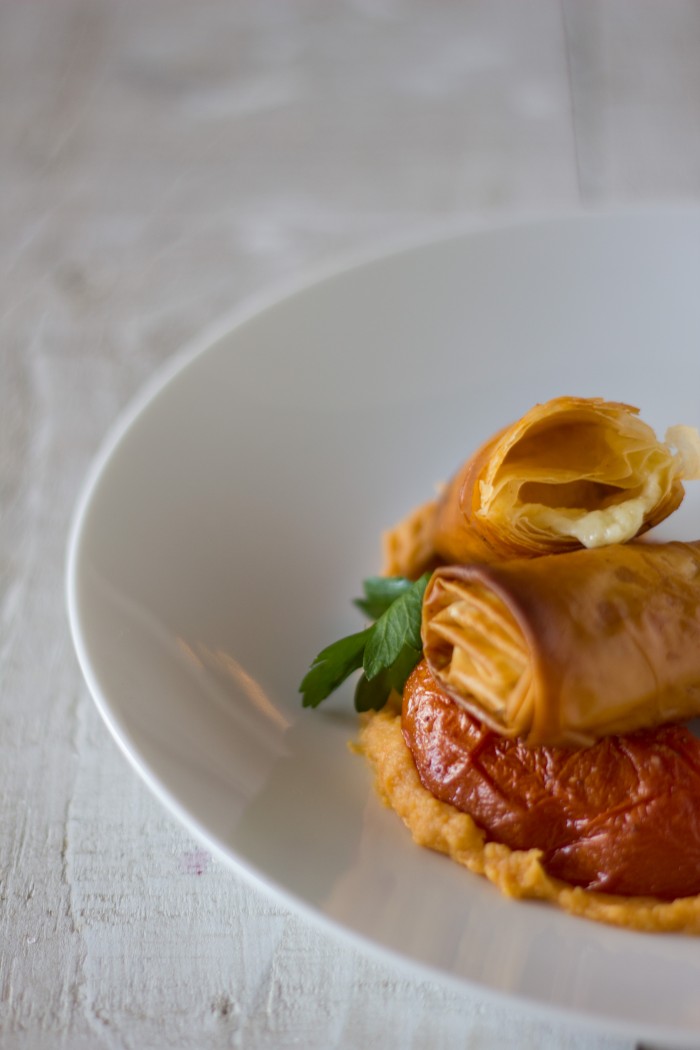 Most recent – ok, it was December- all the ingredients to cook up a recipe inspired by one such winner was dropped off right to my doorstop – a crispy, buttery aged cheddar feuilleté atop creamy sweet potato purée and roasted tomatoes. Yes, yes, incredibly spoiled. Literally cheese wrapped in phyllo, the sharp aged cheddar was truly the star. A whole world better than that orange cheese you've been eating, Avonlea Clothbound Cheddar is rich and sharp, everything you want a cheddar to be. Cooked up by the folks at Cows in PEI, this aged cheddar is a local fav, even gracing restaurant menus around the Maritimes. I can't help but feel proud.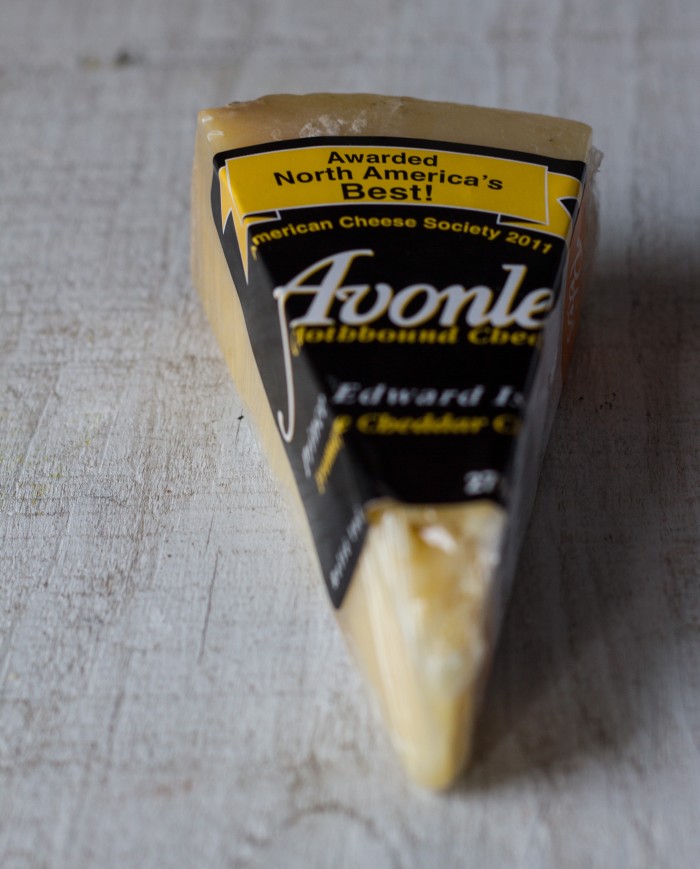 Though the complete recipe makes an impressive albeit labour intensive appetizer, it seems more at home on the dinner table. Otherwise, skip all the roasting and mashing and simply go for the cheese. The feuilleté is also asking for more: to be dipped in some delicious jam or chutney or stuffed with any number of delicious ingredients. I tried the sweet potato purée right in the roll and, no surprise, delicious. When isn't sweet potato delicious? Better yet, add cooked bacon, green onions, thinly sliced apples or hell, all of the above. I happen to think a sharp cheddar can pair with just about anything. Besides, if you're already getting your phyllo on, might as really knock it out of the park.
For more recipes including award winning Canadian cheese, get yourself to allyouneedischeese. Because, honestly, all you need IS cheese.
aged cheddar feuilleté with sweet potatoes and roasted tomatoes
2014-01-15 18:08:27
Serves 8
Ingredients
4 cups sweet potatoes, peeled and diced
1/2 onion, chopped
1/2 cup butter
1/2 tsp chili powder
Fresly ground pepper
4 plum tomatoes
2 cloves garlic, coarsely chopped
8 sheets of phyllo dough
8 oz (225 g) Avonlea Clothbound Cheddar, cut in 8 slices
3 tbsp fresh basil, chopped
Fresh basil leaves for ganish
Instructions
In a saucepan, cook sweet potatoes with onion in boiling salted water for 20 minutes.
Preheat oven to 425.
Melt butter in a small saucepan and add chili powder and pepper.
Quarter tomatoes and place in an oven-safe baking dish. Add 2 tbsp spiced butter and garlic cloves.
With a brush, butter each sheet of phyllo and fold in half. Place a slice of cheese at the end and butter the edges. Fold each edge over the cheese and roll up the phyllo starting at the cheese end to seal the cheese inside. Brush with butter.
Place feuilletés on a parchment-lined baking sheet and bake in oven, along with tomatoes, for 15 minutes.
Crush sweet potatoes with a pestle or process in a food processor to make a purée. Season with pepper and add basil.
Serve feuilletés hot over sweet potato purée and garnish with tomatoes and basil leaves.
eathalifax http://eathalifax.ca/