Though I have yet to have little ones running around, I'd like to think cooking would remain a big part of my life. The feel of a kneaded dough, the basics of a salad dressing, the confidence to adapt a recipe; these are the things I want to pass on. I can't imagine a life without cooking. I am fortunate enough to teach adult cooking classes regularly but there is something so special about teaching children. This past Fall I was grateful to help a local school harvest the last of their garden and prepare a pasta meal for the entire school. These were kids who knew where food came from. They were connected to their food in a way you rarely see. Even if those kids chopped but one onion for that pasta sauce, the pride in their little eyes was inspiring. It was an experience I will never forget.
I could not be more excited to be teaming up with Sobey's for Canada's Biggest Potluck Challenge in support of the global day of action to keep cooking skills alive, Food Revolution Day. "Sobeys is on a mission to help Canadians eat better and feel better and we know cooking skills are an important element of that. It's why we've partnered with Jamie Oliver who is so passionate about sharing his food knowledge and inspiring people of all ages to get cooking."
How important are cooking skills? This past February Sobeys conducted over 1000 online interviews with a sample of Canadians between the ages of 18 and 80. The results are alarming.
There exists a large generational gap in those confident in the kitchen. Isn't it a huge wake up call that two thirds of young adults lack the skills and confidence to cook for themselves?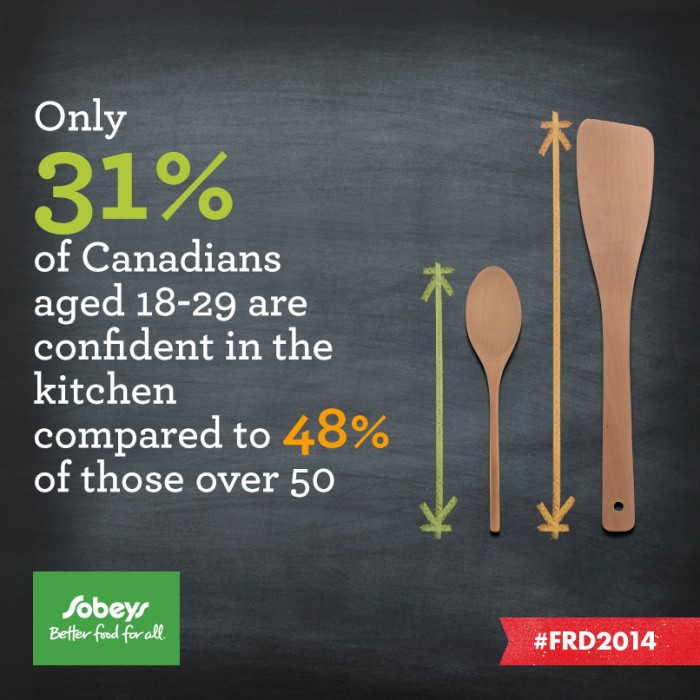 The majority of Canadians are not even cooking one meal a day but rather consuming a diet high in processed food. Considering the link between the elevated levels of sugar, salt and fat in processed food and obesity, this represents a huge public health crisis.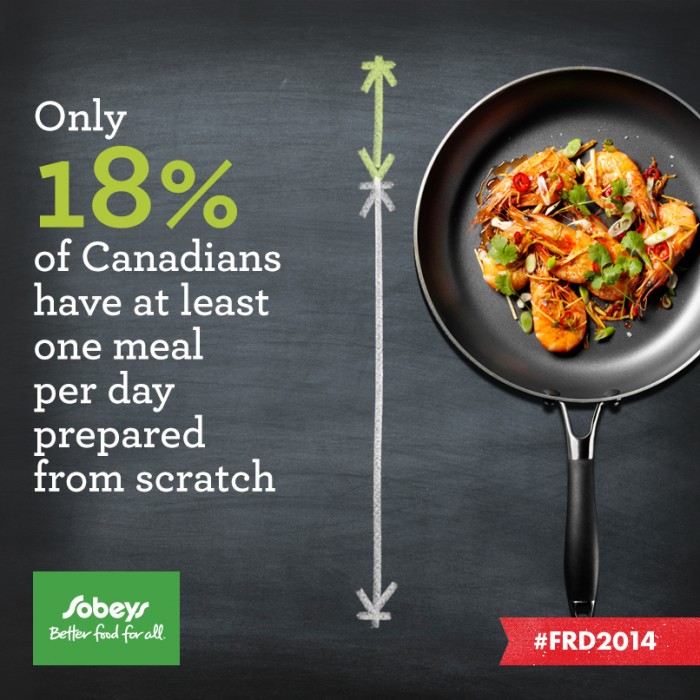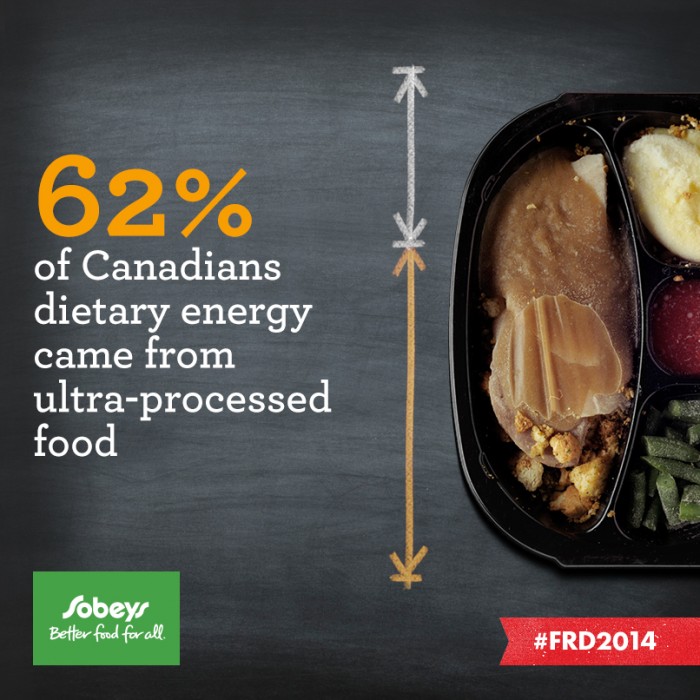 A love of cooking and the desire to share that love with others is born out of passing down cooking skills from generation to generation.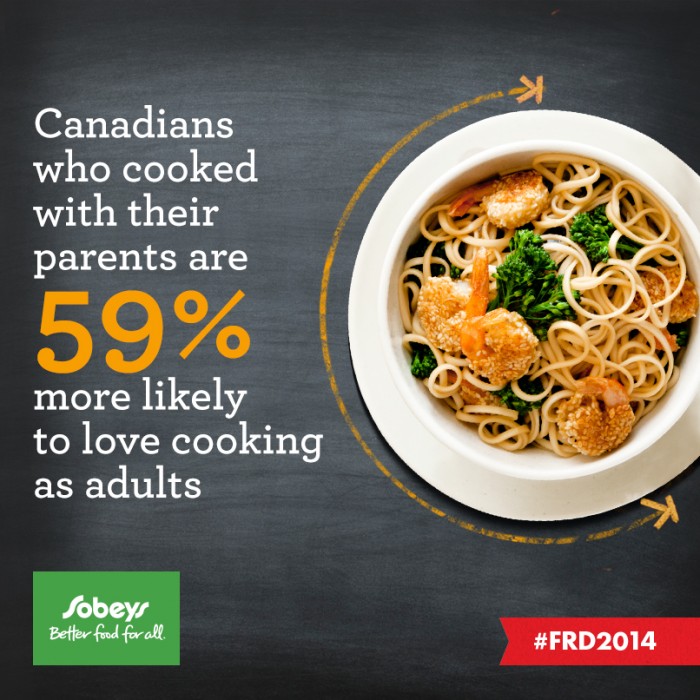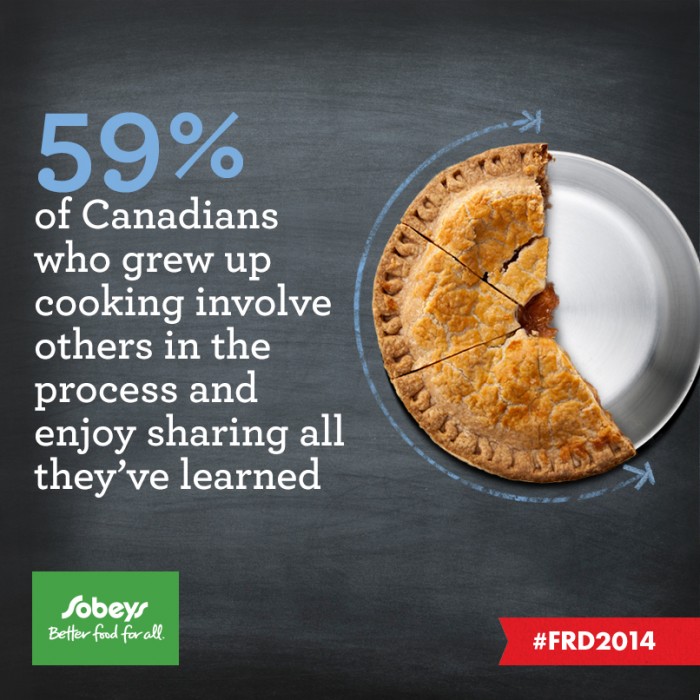 Those who love to cook know that delicious and healthy food can be both affordable and quickly prepared.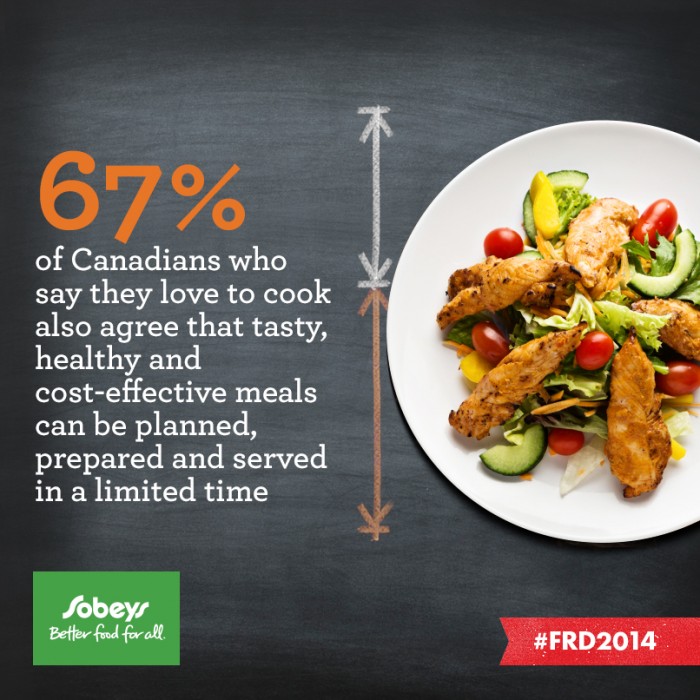 So, how do we change the numbers? We join in.
As Jamie Oliver explains, "Food Revolution Day is all about cooking from scratch and sharing cooking skills and food knowledge. Sobeys' research proves it – not enough Canadians have cooking skills to pass down. I'm excited to be working together to change that." We must celebrate the joy of cooking. We must share our cooking skills with family and friends. We must understand the importance of cooking in leading happy and healthy lives. We must equip future generations with the knowledge and confidence they need to cook healthy food for themselves. We must get kids excited about food.
It starts with us. I couldn't be more thrilled to be hosting a potluck with friends and an entire group of bloggers passionate about food and cooking. You too can join in by hosting your own potluck anytime between now and Food Revolution Day on May 16th. It doesn't have to be complicated. In fact, those are my favourite potlucks. No theme, no designated courses, just real food and friends sharing in their collective love of cooking.
But it gets better. For every photo with the hashtags #potluckchallenge and #FRD2014 posted to twitter and instagram from April 31 to May 16, Sobeys will donate $1 to the Cooking Toward Independence Project. The new initiative run by the Children's Aid Foundation will provide cooking skills and create access to healthy food for youth leaving Canada's child welfare system at age 18. Celebrating with friends around a spread of incredible food, helping share the love of real food and cooking AND helping youth gain valuable cooking skills as they start their lives as adults. That's a win win right there.
If you're looking for tips on hosting your own potluck, look no further than Sobeys Potluck Inspiration. Can't decide what to make? The official Food Revolution Day recipes are a great place to start. You could also find inspiration from your favourite cookbook. In deciding what to make for my potluck, I was reminded of this amazing dessert in one of my go-to cookbooks, Jamie at Home. It should be no surprise to any of you that I'm quite the Jamie Oliver fan. His approach to cooking – simple, affordable, from scratch, seasonal, where food looks like food – helped form the basis of my own cooking philosophy.
This was one of his recipes that quickly won me over. We've even made this planting. I can't remember how many eggs we used that day but the thing was huge. Slathered with pears, chocolate, hazelnuts, whipped cream and orange zest, it was mesmerizing. It also just so happens to be a perfect potluck dish. An absolute stunner, it's the kind of dessert you bring right to the table to blow everyone's mind. I imagine it would also be magic to a child; the incredible transformation of four egg whites into a thick shiny meringue that bakes into a giant crunchy cake. Plus, how fun is decorating a meringue so freely with dollops of cream here and drizzles of chocolate there. That Jamie Oliver is on to something.
Once you make one meringue, it's a little hard to stop. It has everything going for it: it's crazy economical, gluten free, and lighter than the typical cake while being every bit as decadent. It's also super versatile. Meringue can become cookies, covered with a mountain of fresh fruit, sandwiched between layers of lemon curd or even – when it breaks apart as you're taking it out of the oven – a beautiful eton mess.
Looks like you already have a great idea for your dish, so when's your potluck?
meringue with hazelnuts, dark chocolate, and orange
2014-05-08 23:15:20
Ingredients
4 egg whites
1 1/4 cup raw sugar
pinch salt
1 cup + 2 tablespoons whipping cream
1 tablespoon icing sugar
1 teaspoon vanilla
5 ounces dark chocolate
1/3 cup hazelnuts, toasted, skins removed and coarsely chopped
zest of 1 orange
Instructions
Preheat oven to 300.
In a stand mixer with the whisk attachment, beat the egg whites til light and fluffy. Add in the salt and then gradually add in the sugar, about 1/4 cup at a time. Continue beating on high about 8 minutes until stiff peaks form and the meringue is smooth and glossy. Spoon the meringue onto a large parchment lined baking sheet. Bake for about an hour until the exterior is crisp but the inside remains slightly sticky. Remove from oven and let cool.
Melt chocolate in a bowl set atop a pot of simmering water or in the microwave. Use the extra tablespoon or two of cream to thin it out slightly.
With a whisk, beat the cream with the sugar and vanilla until it forms smooth, soft peaks. You'll be surprised how easy this is by hand.
To assemble, place the meringue on a cool serving platter or rustic board. Drop tablespoonfuls of cream over the meringue. Drizzle the chocolate all over, followed by the hazelnuts and orange zest.
Notes
The raw organic cane sugar I used gave a hint of molasses flavour to the meringue. Regular sugar will also work fine. A brown sugar could also be used, resulting in a meringue with a nice deep caramel flavour.
To toast the hazelnuts, place on a baking sheet in a 375 oven for about 8 min or toast in a hot skillet til golden brown. To remove the skins - and don't be worried about removing them all - roll the hazelnuts in a tea towel. Alternatively, Jamie says to put those hazelnuts right in the oven with the meringue and let them slowly get golden brown.
I omitted the canned pears from the original recipe but it is just as delicious with them.
Adapted from Jamie at Home
eathalifax http://eathalifax.ca/
Discloser: I have been compensated for promoting the Potluck Challenge. Spreading the love of cooking and real food is a cause I am proud to be part of.