December 2nd. Just like that. With Santa throwing up all over town and Christmas tunes assaulting you wherever you go, there's no denying the holiday season is upon us. You know what that means?
Time to make the lists, plan the parties, and get ready for the big holiday feast. But most of all, it's time to ditch that canned cranberry sauce for good. No food should look that much like a can or make that disgusting schloop sound when poured into a bowl. I know, I know. It makes you all nostalgic and shit. Listen, I get it. I've been working on Brent for years. He prefers the gelatinous, mad sweet canned crap to my homemade cranberry sauce. Somehow we're still together.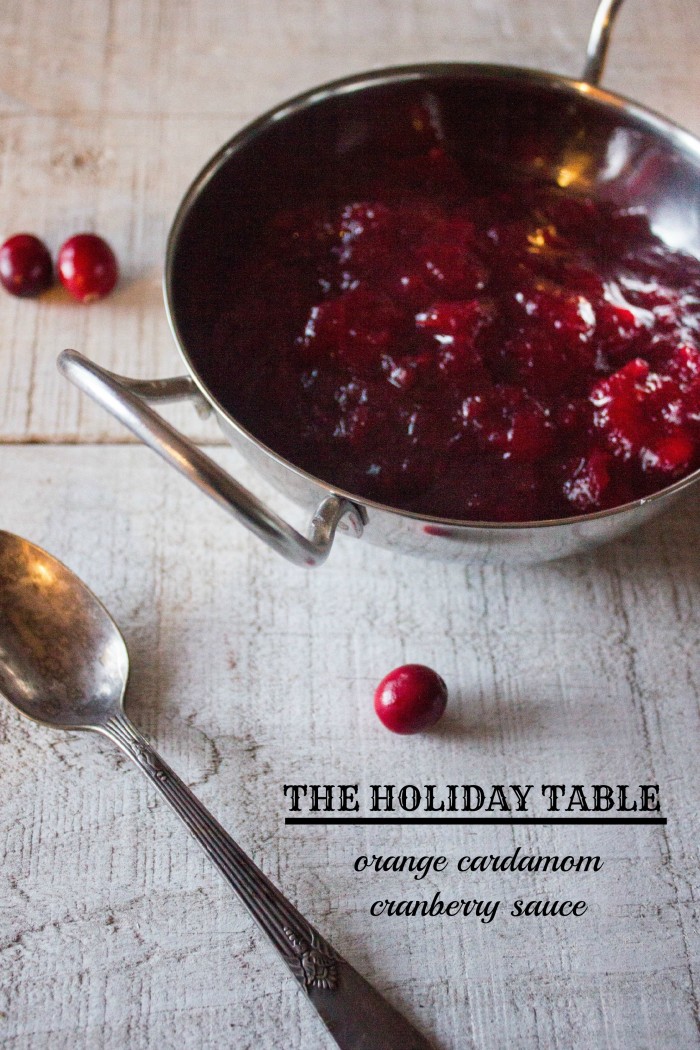 Slowly, with every holiday that passes, I get him closer to the real thing. It helps that I repeatedly conveniently "forget' to buy the canned stuff. Real cranberry sauce is not only only ridiculous easy, it can be seasoned a million different ways. This version that graced a Sunday dinner recently was full of cardamom and orange goodness. Other times I hit it with some ginger and lemon then sometimes I go old school and let the cranberries shine all on their own. With local cranberries in full bloom here in Nova Scotia, there's no reason not to. Do yourself a favour this holiday season and whip up the real thing. Your guests will thank you.
Stay tuned all month long for locally inspired recipes to help make your holiday table shine.
orange cardamom cranberry sauce
2013-11-25 06:15:09
Ingredients
2 cups fresh cranberries
1/4 cup fresh squeezed orange juice
1/4 cup water
1/2 cup + 2 tablespoons sugar
1/2 teaspoon cardamom
2 teaspoon orange zest
Instructions
Add all ingredients except the zest to a small sauce pan. Bring to a boil then reduce heat and simmer until the cranberries burst, about 10-15 min.
Remove from heat and let cool. Stir in orange zest. Refrigerate until use.
Notes
Unlike other recipes, this only makes a little over a cup. If you're looking for leftovers, double it up.
eathalifax http://eathalifax.ca/