If you're a huge fan of mushrooms like we are, you've probably been seeing a slew of mushroom and beef recipes hitting the web lately. Originally a partnership between Mushrooms Canada and Ontario Beef, the Blend & Extend project aims to boost nutrients on your plate by replacing a portion of beef with mushrooms. No only does it add that savoury umami flavour, decreases the calories and saturated fat plus increases our vegetable intake, it also extends our food dollars. It's no shocker that meat can easily break the grocery budget so anything to get more bang for your buck is something we can all appreciate. Besides, mushrooms and beef are a match made in heaven so it's no wonder the Blend & Extend recipes look so delicious.
But could the same be said for seafood? When tasked with the challenge of creating my own Blend & Extend recipe for Mushrooms Canada, my mind immediately went to our beloved Atlantic lobster. Could mushrooms be blended with lobster to create a more nutritious, more economical dish without sacrificing that amazing rich lobster flavour?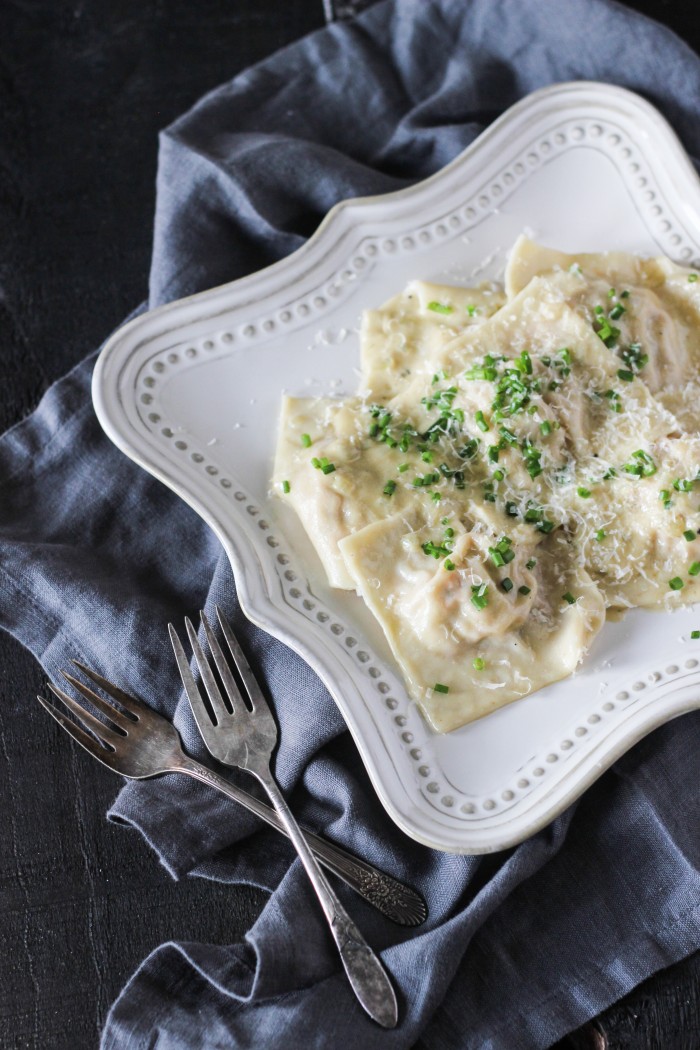 This lobster mushroom ravioli surprised even me. Not only did we make a decadent dinner for four with but two small lobsters, the shitakes added a whole world of umami to the ravioli, complimenting rather than overshadowing the rich lobster. Though this recipe is certainly labour intensive, it is worth every single minute. Blend & Extend, we got this.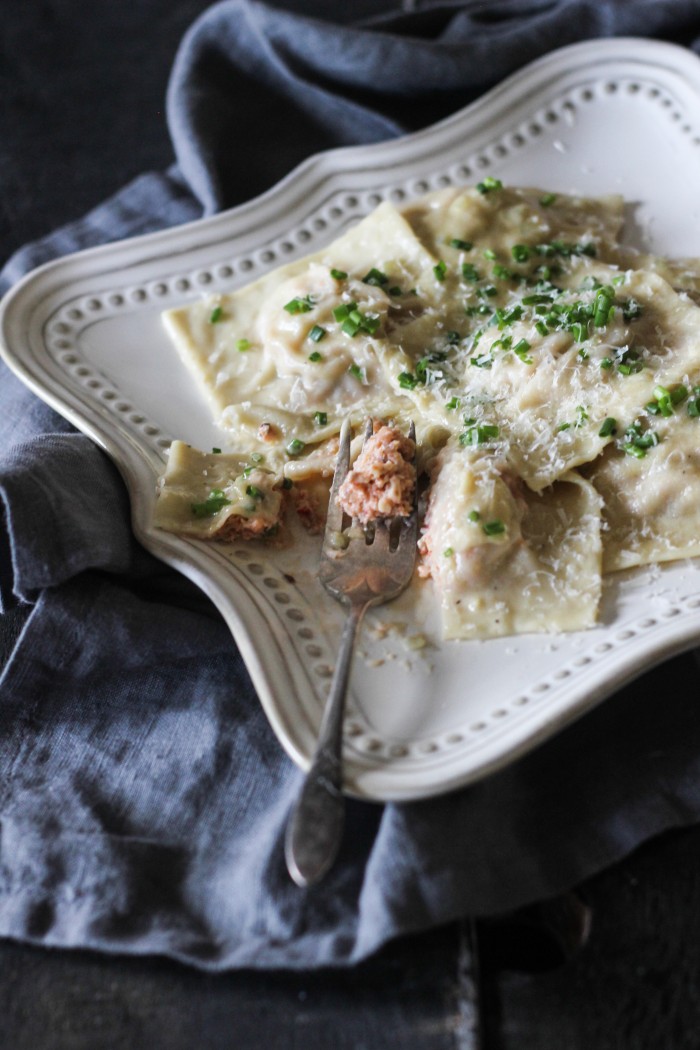 Disclaimer: I was compensated by Mushrooms Canada for my participation with their Blend & Extend project.
lobster mushroom ravioli
2014-10-28 21:28:00
Serves 4
Dough
400 g flour
4 eggs
Filling
2 1-1.25 lb live lobsters (or ½ lb lobster meat)
2 tbsp butter
200 g shitake mushrooms, chopped
2 large shallots, finely diced
3 cloves garlic, minced
3 tbsp dry vermouth (or white wine)
½ tsp packed lemon zest
1/3 cup grated Parmesan
½ cup ricotta
salt and pepper, to taste
Sauce
3 tbsp butter
2 large shallots, finely diced
½ cup lobster stock
2 cup whipping cream
1 tsp truffle oil
salt and pepper, to taste
grated Parmesan, to serve
chopped chives, to serve
Instructions
For the dough, mound the flour on a work surface. Make a well in the center of the flour and add the eggs. With a fork, beat the eggs. Gradually pull in flour from the sides towards the center. The dough will soon start to take shape. With a bench scraper or your hands, work the dough, adding a drop of water if the dough is too dry or more flour if too wet. Knead the dough until soft and elastic, about 8 minutes. Cover the dough with plastic wrap and let it rest while you prepare the rest of the dish, about 20 minutes.
Put a large pot with 2 inches of water on to boil. Add the lobsters and cover. Steam for 10 minutes. Remove and place in an ice bath to stop the cooking. Over a bowl, remove the meat from the tails and claws, reserving the liquid. Return the shells, bodies and liquid to the pot and bring to a boil. Reduce the heat and simmer uncovered while you prepare the ravioli. When the liquid is reduced by half, strain the shells and set the lobster stock aside.
In a skillet, melt the butter over medium high heat. Add the shallots and mushrooms. Cook until tender, about 8 minutes. Add the garlic, cooking another minute. Deglaze the pan with vermouth. Add the mushroom mixture to a food processor along with the lobster meat, lemon zest, Parmesan, and ricotta. Pulse until combined, stopping before it becomes a paste. Season to taste with salt and pepper.
Instead of writing out the process of making ravioli, I suggest the above link to the recipe with photos from The Food Network. I couldn't find my pasta wheel so I simply cut mine into squares using a knife. Bring a large pot of salted water to a boil. Add the ravioli. Cook until al dente, about 3-5 minutes. If necessary, cook the ravioli in two batches.
For the sauce, heat the same skillet used to cook the mushrooms over medium heat. Cook the butter while whisking until it starts to brown. Add the shallots and cook another two minutes. Add the lobster stock and cream. Simmer until thick and reduced. Season with truffle oil, salt and pepper. To serve, toss the cooked ravioli with the sauce. Serve garnished with fresh chives and grated Parmesan cheese
Notes
As a time saver, skip the homemade pasta and use wonton wrappers. If you don't have access to live lobster, simply use lobster meat and substitute the lobster stock with white wine or sherry.
eathalifax http://eathalifax.ca/