God damn it Winter. Ya know I get that's it's April Fool's and all but that freezing rain and snow just isn't funny. And those wet feet I got tramping through all the slush to get to my cooking class, that was a big joke too right?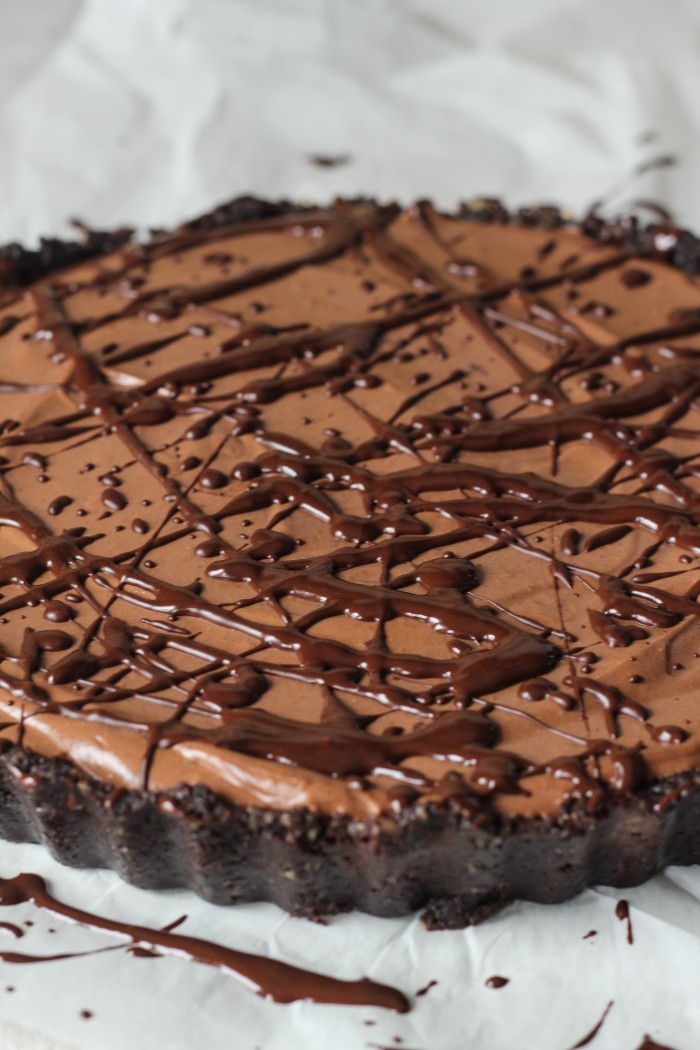 At least coming home to this spicy chocolate tart made it all melt away. This is decadence at it's finest. A soft dark chocolate crust, a smooth chocolate mousse seasoned with just the right amount of cinnamon and spicy cayenne then drizzled with more dark chocolate and sea salt. Oh, and it's vegan and gluten free. You're expecting me to say April Fools aren't you?
While I know I post many recipes full of butter, refined flour and sugar, I also love experimenting with more healthful ingredients. I simply love baking. I've always been good at it. Wait, that's a lie. There are tales of a certain chocolate chip cookie so hard it could kill you with one quick hit. I doubt I'll ever live it down. But with years of practice baking for all those tree planters, I'd like to think I've become one with baking. I'm certainly at home with sugar and butter. In moderation of course.
When some folks here me say that, they contend that if you have to eat it in moderation, it can't be good. On the contrary. I happen to believe eating real food is the key. Yes, to me bacon and butter are both real. So although I'm not going to label them unhealthy or bad, I certainly don't eat them every meal. I think that such labels have even become part of the problem. Butter is bad but yet chemical laced, one step away from plastic is good? Take any packaged food that reads ' natural ' or 'a source of essential nutrients'. You know what's natural and a source of essential vitamins and minerals? Surprise, surprise. Real food.
Lately I've been thinking a lot more about health and have been turning to a whole array of ingredients. So instead of mixing up a butter laden, sugar filled chocolate tart, I challenged myself. Honestly, it wasn't that hard. I've been hip to the ways of the vegan desserts for some time now. Nuts and dates do make a simple crust baked or left raw. Silken tofu blended til smooth can become anything – a chocolate mousse, a creamy smoothie, even savoury dips and dressings. Real food, from bacon to tofu, is simply delicious.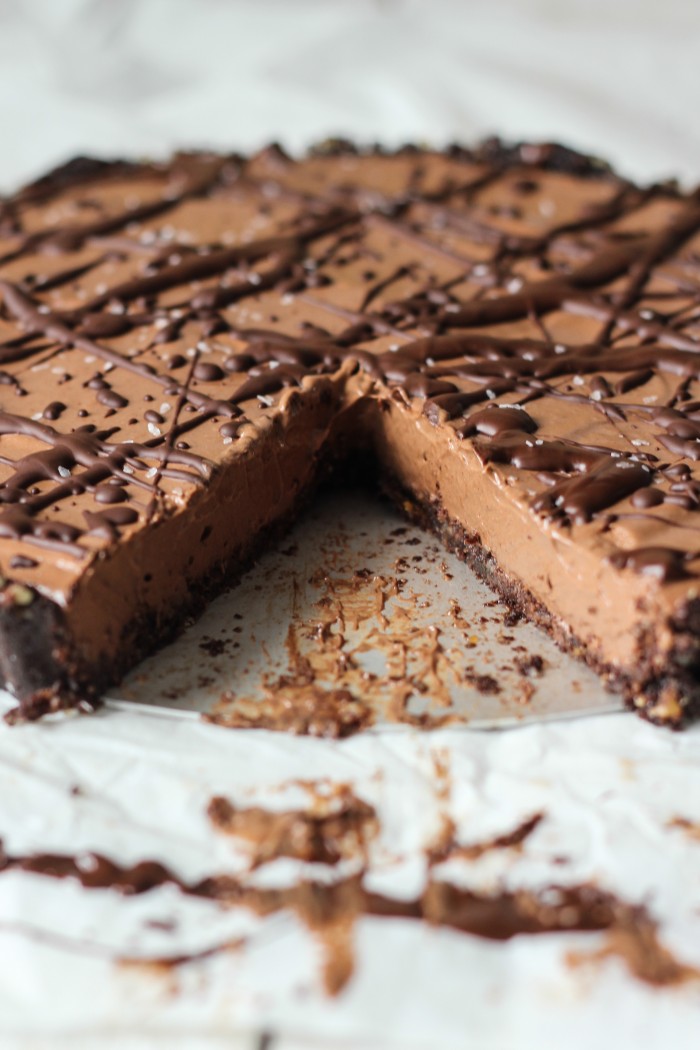 I'm not going to label this healthy but it does contain healthful fats, natural sugars, and protein. But c'mon a dessert is a dessert. It's full of calories – though nutrient dense calories are better than the alternative – but I'll be damned if I'm ever going to feel guilty for enjoying a piece of cake vegan or not.
Have your cake and eat it too I say. Just make sure it's the real deal and made with love.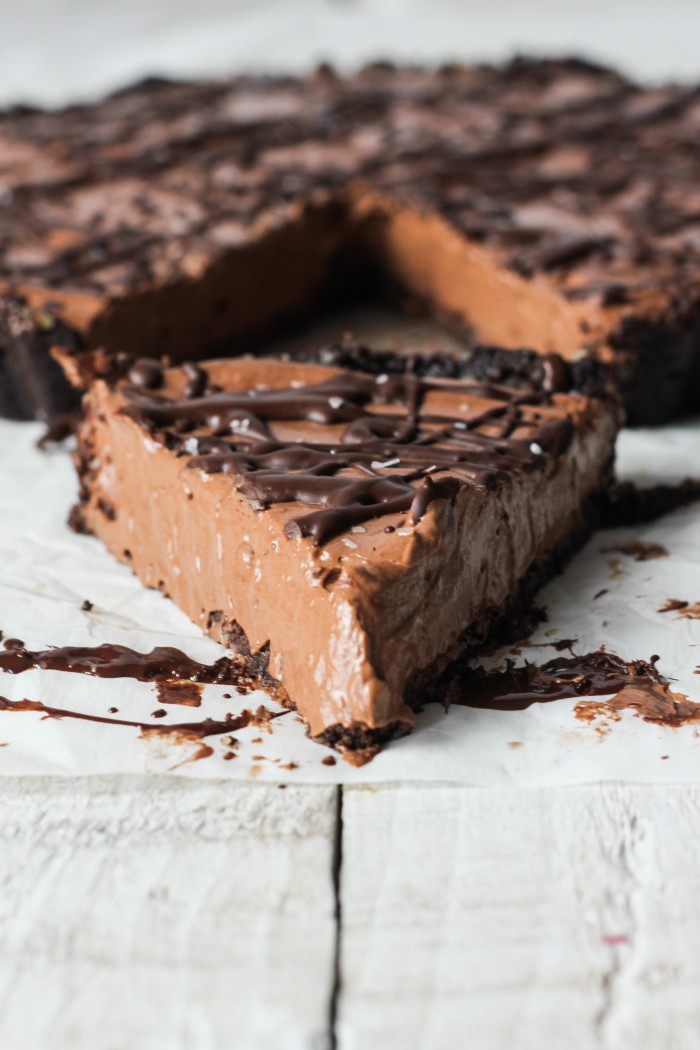 If you're looking to expand your mind further, I had a little chat with the folks at enVie about veganism which you can find over at Eat North. You've all been cheering on Lauren Marshall in this season of Top Chef Canada right? She's pretty much kicking ass and taking names not to mention challenging everyone's misconceptions about vegan cuisine. I happen to think this tart will do the same. Go ahead, prove me wrong.
Looking for more posts like this? Throw a vote my way and I'll keep the good stuff coming.
spicy chocolate tart
2014-03-08 15:01:39
Yields 1
crust
1/2 cup dates
1 1/4 cup walnuts (or other nut)
1/4 cup cocoa
3/4 teaspoon cinnamon
pinch salt
filling
8 ounces dark (50%) chocolate
1 container silken tofu
2 tablespoons cocoa
2 tablespoons PURE chipotle lemongrass maple syrup
3/4 teaspoon cinnamon
1/4 teaspoon cayenne
1/4 teaspoon salt
1 teaspoon vanilla
ganache
2 ounces dark chocolate
1 tablespoon cocoa
2 teaspoons coconut oil
sea salt
Instructions
Soak the dates in hot water until soft, about 15 min. Drain. In a food processor, blend the dates, walnuts, cocoa and cinnamon until thoroughly combined and sticky. Press into an 8" tart pan. Refrigerate.
For the filling, melt the chocolate in a double boiler (aka a bowl set atop a pot of simmering water). Let cool slightly. In a food processor, blend tofu with remaining ingredients until smooth. With the motor running, pour in the melted chocolate. Blend until thoroughly combined. Pour into the prepared tart shell and refrigerate until set, at least 2 hours.
For the ganache, melt coconut oil in a small sauce pan. Add chocolate and cocoa, whisking until smooth and melted. Drizzle over the tart and sprinkle with sea salt.
Notes
Keep this guy in the fridge. You can even freeze it for a firmer texture.
The PURE maple syrup is a locally produced infused product. Substituting regular maple syrup will do just fine.
eathalifax http://eathalifax.ca/