It's time. Time to shed the layers, to replace heavy Winter coats with breezy Summer jackets. It's time for greens and asparagus and fiddleheads and rhubarb and all those things that make us excited for things to come.
It's been a long hard Winter on the East Coast. Finally, FINALLY, we're starting to see the signs of Spring. Radishes, onions, micro greens, and a variety of greens are leading the way for the incredible variety of Nova Scotia produce we'll see this season. It's an exciting time.
And Spring's first harvest means but one thing: bring on the salad. How else can you let those new vegetables shine? A salad of peppery radish – local black radish who knew? – crunchy micro greens, and creamy avocado was the perfect dish to usher in the season. It was all so earthy and fresh. A perfect balance of crunchy and creamy. Odd that I not so long ago hated radish. It was one of those vegetables – like celery – that I always thought I hated. Man, was I wrong.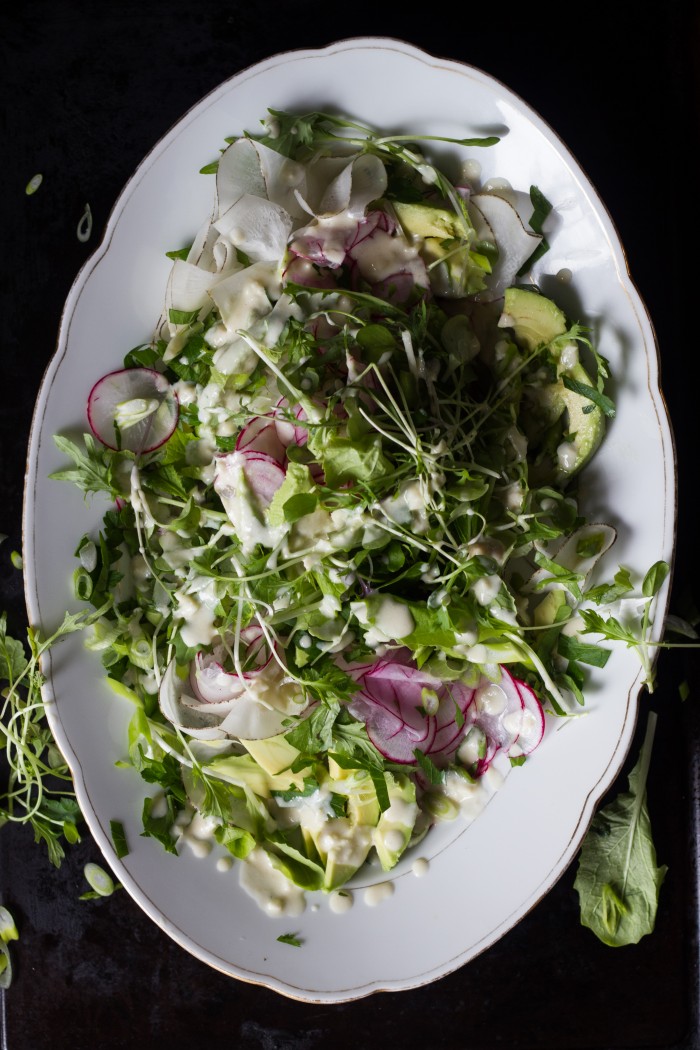 This really is as simple as a salad gets in our house. A little slicing and dicing made all the more easy with the help of our trusty mandolin then a few simple ingredients get shaken together for a quick dressing. Sometimes I forget just how easy it can be to get fresh veggies into our bellies. Though put avocado with pretty much anything and I'm game.
The dressing is also crazy simple, adding just the right amount of citrus, creaminess and garlic bite. It's a dressing I've made a bunch of times though generally never the same twice. It's the perfect recipe to build on; add fresh ginger, more lemon, toasted cumin seeds, sesame oil, whatever your heart desires. Besides I know you've all had a bottle of tahini in your cupboard for months now. It's one of those things I always forget about which is weird because I used to eat that stuff on toast with a drizzle of honey. It works.
Sometimes the tastiest things, the most memorable, are the simplest. I'm hoping to remember that as I wait patiently for the rest of Spring to arrive week by week at at the local market. I want to take the time to taste the season, to slow down and relish it. I sometimes get carried away with all the food blog inspiration out there that I'm always looking forward and forgetting about what's in front of me. Hell, even Pinterest is full of popsicles right now. Slow down people. It's only May.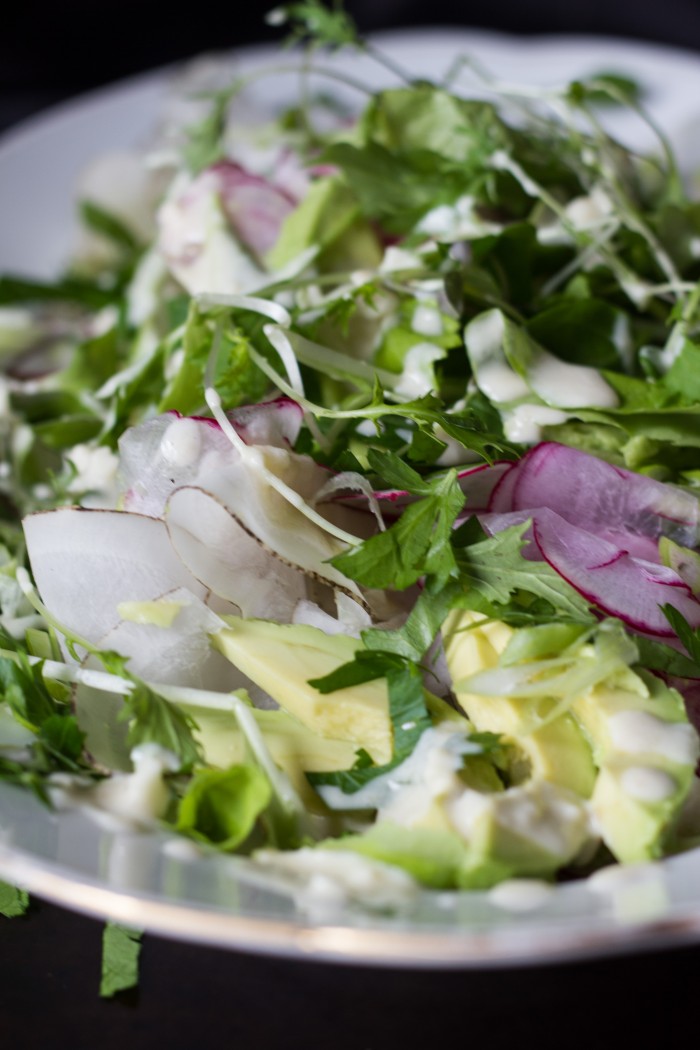 radish and avocado salad + lemon tahini dressing
2014-05-01 13:21:31
Serves 4
Ingredients
1 medium black radish, sliced thin
5 red radishes, sliced thin
1 avocado, sliced
a few sprigs flat leaf parsley, chopped
2 green onions, sliced
handful microgreens
lemon tahini dressing
1 clove garlic, minced
2 tablespoons tahini
1 tablespoon lemon juice
1 teaspoon honey
1-2 tablespoons hot water
Instructions
In a jar, shake together the dressing ingredients, adding more water to reach the desired consistency.
Layer radish, avocado and micro greens on a platter or bowl. Sprinkle on parsley and green onions. Drizzle with dressing.
Notes
When I say sliced thin, I mean paper thin, made possible with a mandolin or some sweet ass knife skills. But thicker slices or even wedges would be rad too.
If you don't have parsley, mint also works wonderfully.
Also, this is just enough dressing for a lightly dressed salad. Double if you must.
Two of us gobbled this down for a bright Spring lunch but it's certainly a side for 4.
eathalifax http://eathalifax.ca/