I know the rest of the country is still braving the frigid temperatures, but out here on the East Coast, dare I say, Spring is in the air. The weekend brought sunshine and warmer temperatures. The snow's all but melted. It's the smell that gets me however. That muddy earthy smell signaling the thaw, the time to get seeds in the ground.
Even with snow in the forecast this week, I am hanging on to the notion that Spring is here. That's not to say I'm not still enjoying all the local produce available throughout the Winter. Roots are still front and central on our table. One of our favourites, year round in fact, are sweet potatoes. They replace potatoes in many a dish. They are right at home in chilli and soup. They make breakfast exciting. It's no surprise they'd eventually show up in dessert.
Is coffeecake breakfast or dessert? Either way, count me in. I've been making variations of coffee cakes for years now, starting of course in that kitchen bus I made my home all those years ago. Planters loved the stuff. I mean it's goddamn cake for breakfast. Whether it was traditional cinnamon streusel or mocha or blueberry, there'd rarely be a crumb left.
This Pumpkin Spice Coffee Cake from White on Rice Couple caught my eye back in the Fall and I instantly knew coffee cake would make it's reappearance someday soon. If you have yet to become acquainted with Todd Porter and Diane Cu, now's the time to remedy that. They even recently released the cookbook Bountiful which is right at the top of my list of books to buy. All about bringing people together through food, it's no surprise I'm a big fan.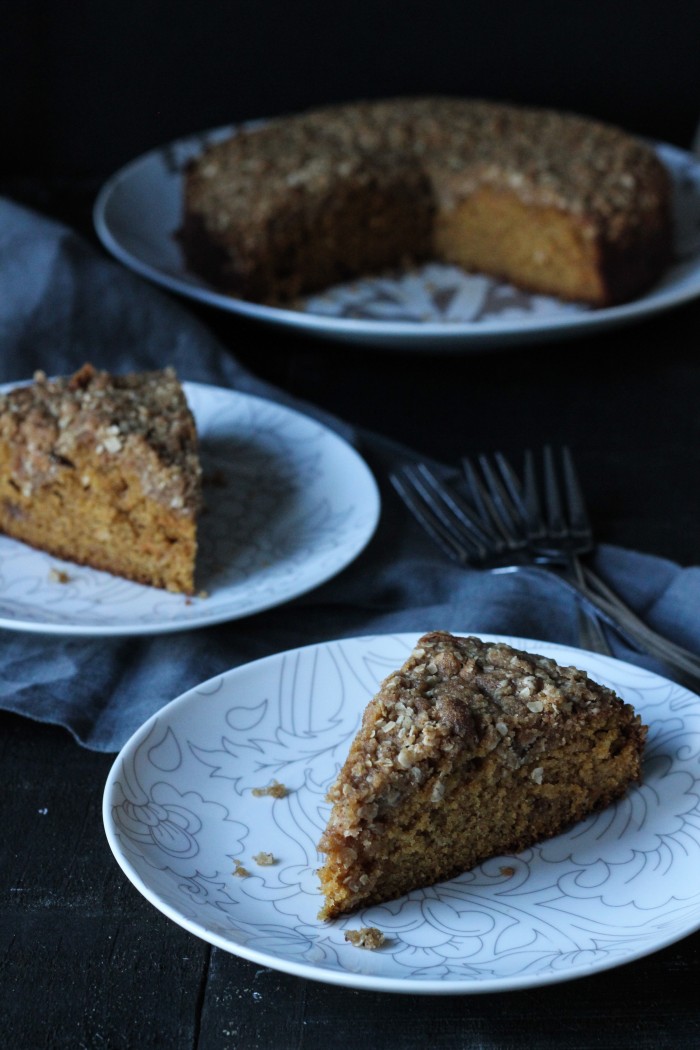 My version replaces the pumpkin with sweet potatoes that I simply baked in the oven. Any leftover mashed sweet potato will do even if they're already lightly spiced with cinnamon, nutmeg, vanilla or orange. The topping though an extra step is totally worth it. I brown butter on the regular over here. Once you start, you can't really stop. It lends a sort of nuttiness to the topping. Overall the crumble adds texture and a saltiness that brings it all to a whole new level. If salty isn't your thing, you can substitute with unsalted butter.
Whether this cake is bound for the breakfast table or meant for a refreshing change from chocolate cake for dessert, I can't imagine, like those ravenous planters, that there'd be anyone turning down a slice. I know I won't. In these last few days of Winter, cake for breakfast is exactly what I need.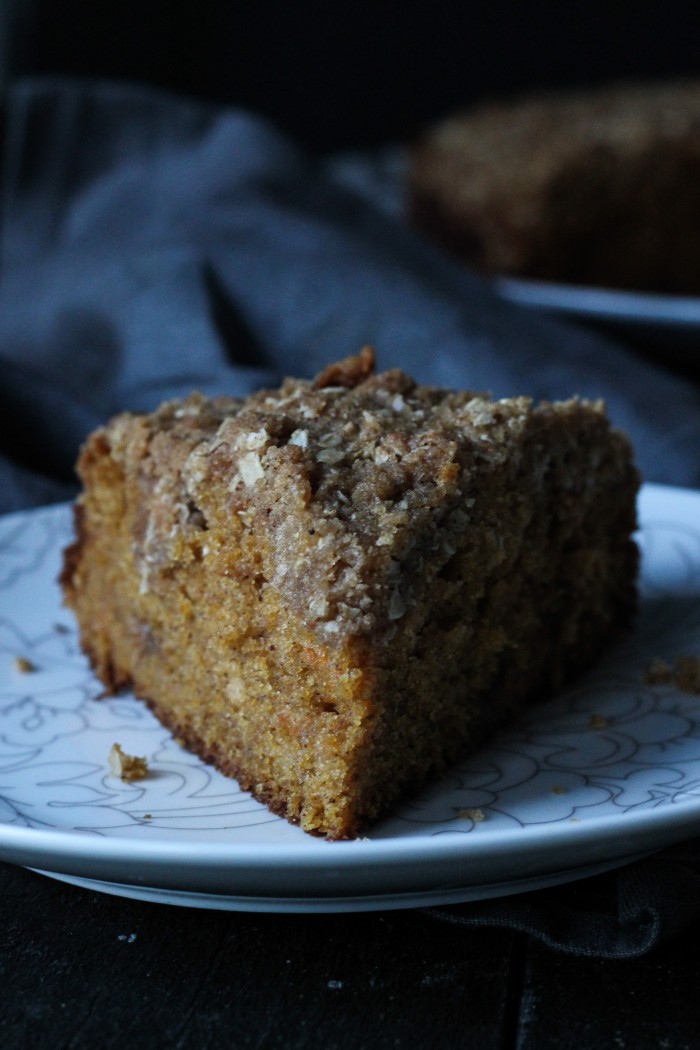 sweet potato coffee cake with brown butter crumble
2014-02-19 20:57:09
brown butter crumble
1/3 cup butter
1/2 cup brown sugar
1/3 cup flour
2/3 cup oats
1/2 teaspoon cinnamon
1/4 teaspoon nutmeg
cake
1 1/2 cups all purpose flour
2 teaspoons baking powder
1/2 teaspoon baking Soda
1 teaspoon cinnamon
1 teaspoon freshly grated ginger
1/2 teaspoon freshly grated nutmeg
1/2 teaspoon sea salt
1/2 cup butter
1 cup brown sugar
2 eggs
1 teaspoon vanilla
3/4 cup sweet potato puree, about 2 small sweet potatoes baked or boiled and pureed
1/2 cup yogurt
Instructions
Preheat oven to 350. Grease a 9" springform pan. I like to put the base upside down so that the cake can easily be removed.
For the crumble, heat the butter over medium high in a small saucepan until brown bits appear on the bottom and it smells nutty. Remove from pan and place in the freezer to cool. When solidified, mix with brown sugar, flour, oats, and spices until crumbly.
For the cake, sift together the dry ingredients. Using breakers or a stand mixer, whip the butter and sugar til light and fluffy. Add in the eggs one at a time, continuing to beat. Mix in the sweet potato puree, vanilla, and yogurt. Fold the wet into the dry ingredients just until combined. Pour into the prepared pan. Top with crumble.
Bake until a toothpick inserted into the centre comes out clean, about 45-50 min.
eathalifax http://eathalifax.ca/