While that was no White Juan, today we are digging ourselves out of one huge dump of snow. Here I thought with that recent sunshine, we were home free. Apparently Mother Nature had other plans. Guess it's back to the filling comfort food. Enter sweet potato & kale empanadas.
Warm savoury fillings tucked inside the perfect flaky dough. Is there anything better? I mean every culture does it. Indian samosas, the calzones of Italy, those bright yellow Jamaican patties, Eastern Euporean perogies, even meat and potato filled English pasties. There is no end to our love of – dare I say it – the hot pocket. Though I wouldn't be caught dead noshing on an actual Hot Pocket. Pep n' cheese not to mention the crap load of preservatives just ain't my thing. I'm pretty sure I haven't eaten one ever. But homemade hot pockets, giddy up.
Originating in Spain, the empanada is typically filled with sardines, chorizo or tuna but like many foods, the pastry crossed borders to Brazil, Indonesia, the Philippines, and soon the entire world. Now regional varieties are endless. From the spicy chilli pepper and tuna pastels of Indonesia to the Chilean pino with beef, onions, raisons, black olives, and a hard boiled egg, anything and everything can be nestled inside the warm dough. Even the dough is varied. Corn flour, wheat flour, baked, fried or deep fried, the empanada knows no bounds. Hell, there's even sweet empanadas. Call them hand pies, call them whatever you want, next time I'm throwing down sweet for a perfect hand held dessert.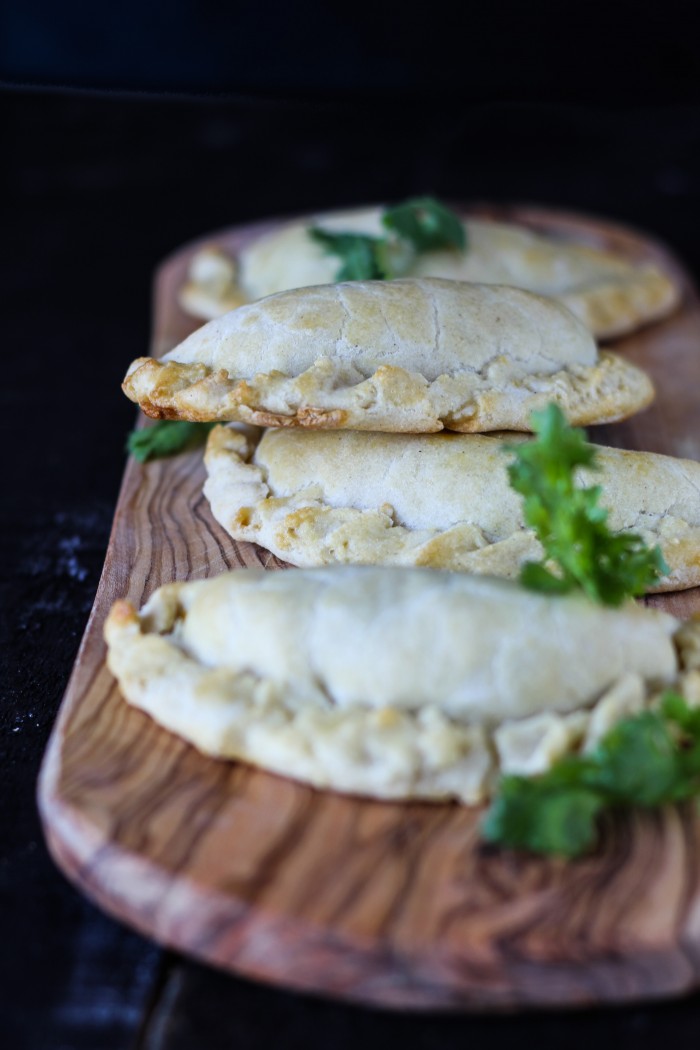 We're still stuck on the Winter sweet potatoes here in the East and luckily a few markets still have kale. Yes, you're all sick of the kale hype. You know what? Kale IS awesome. Of all the bitter dark leafy greens, it's the best. So there. It's bitterness was the perfect compliment for the sweet potato filling. Lightly seasoned with some of my favourite spices – cumin, coriander and fennel – the filling gets kissed with lemon juice then wrapped inside the best empanadas dough I've ever tried. Flaky and crisp due to the addition of corn flour and milk, it comes together easily and is a breeze to roll out. Besides, after the tenth one, you'll be feeling like a pro too. Though there ain't nothing stopping you from rolling it all out into a pie either. Technically, still an empanada.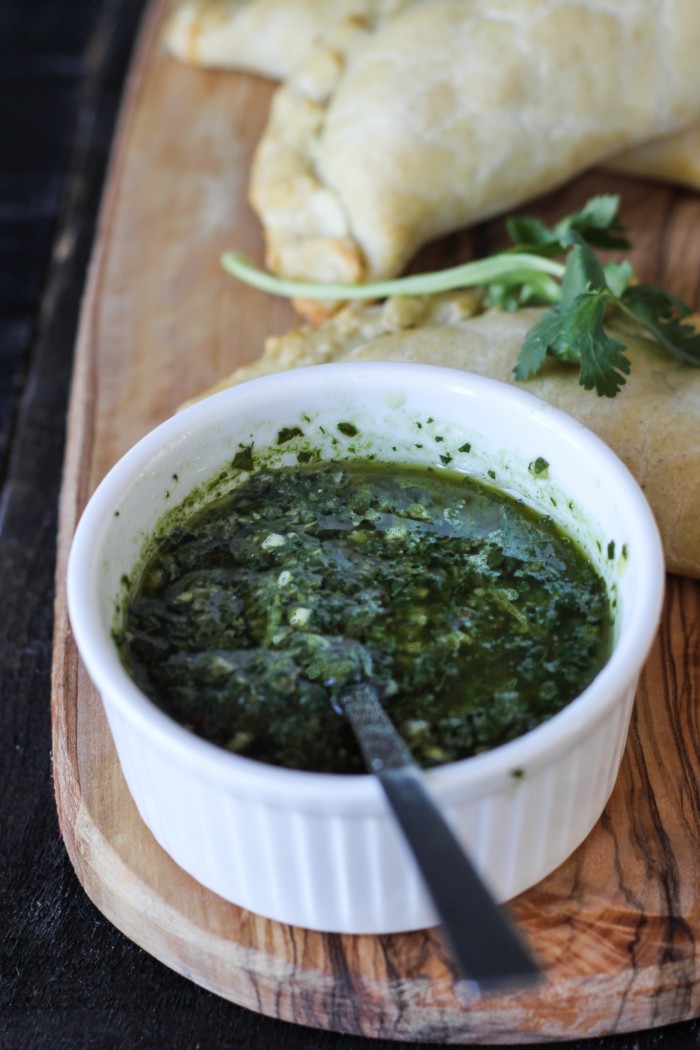 The chimichurri is also a must. Traditionally made with parsley, my version of the Argentinean pesto-like sauce replaces the main ingredient with cilantro. Add a little mint and parsley and you have a condiment worth swooning over. I want to bathe in the stuff. While I'm eating it by the spoonful, you may want to use it on meat, seafood, tacos, sandwiches or even as a salad dressing.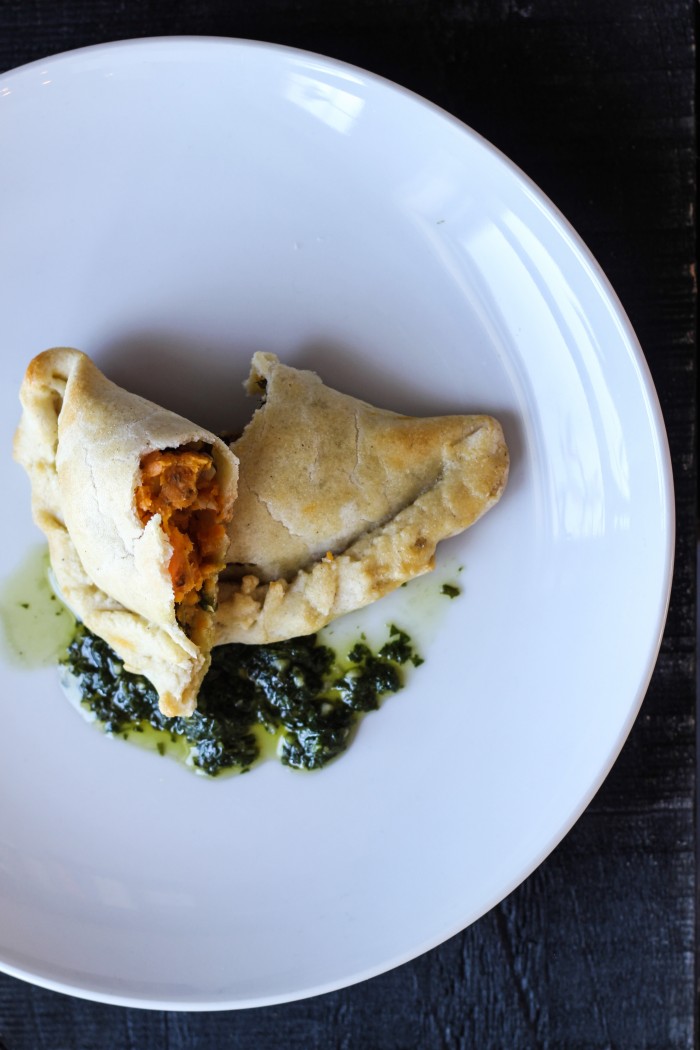 Whatever way you decide to fill 'em, let's take back our food shall we? I for one want to know what's in my hot pockets. Especially if it's packed with nutritious local vegetables. Oh, and if you're wondering. That lack of golden brown colour? That's called hangry.
sweet potato & kale empanadas + cilantro chimichurri
2014-03-27 12:55:08
Yields 10
cilantro chimichurri
1 cup cilantro
2 tablespoons parsley leaves
3 tablespoons mint leaves
3 cloves garlic
2 tablespoons red wine vinegar
1/4 teaspoon (or more) salt
pinch red pepper flakes
1/2 cup olive oil
dough
1 cup corn flour
1/2 cup flour
1/4 teaspoon salt
1/4 cup cold butter, cut into cubes
1 egg yolk (reserve white)
1/2 cup milk
empanadas
1 large sweet potato, peeled and cubed or 1 cup cooked mashed sweet potato
1 teaspoon corriander seeds
1/2 teaspoon cumin seeds
1/4 teaspoon fennel seeds
1 tablespoon coconut (or other) oil plus more to grease pan
1 onion, diced
1 bunch kale, destemmed and chopped
2 cloves garlic, minced
1/2-1 teaspoon salt
1/3 lemon, juiced
1 egg white (reserved from the dough)
1 egg, beaten
Instructions
For the chimichurri, chop herbs or pulse in a food processor along with garlic. Stir in vinegar and oil. Season with salt and red pepper flakes. Set aside. This can be stored in the refrigerator for a few days and is even better the second day.
For the dough, combine flours and salt in a food processor. Add the butter and pulse to combine. Add in yolk and milk, pulsing until the dough becomes crumbly. Remove from food processor and form into a ball. Wrap and refrigerate until use, at least 30 min.
Begin by cooking the sweet potato until soft either boiling, baking or microwaving. Drain and mash roughly. Toast the seeds in a hot skillet until fragrant, about 3 min. Crush in a mortar and pestle or a spice grinder. Set aside. Heat oil in the same skillet over medium heat. Sauté onions til softened, about 5 min. Add kale and garlic, cooking until wilted. I like my kale a bit crunchy so I cook it less. Add in the mashed sweet potatoes and the ground spices. Season with salt and lemon juice.
Preheat oven to 400. To assemble, divide the dough into 10 small balls. One at a time, roll each one on a lightly floured surface into a small circle, about 5 inches in diameter. Keep covered while you repeat with the remaining dough. To form the empanadas, spoon a few tablespoons of filling into the centre of each dough circle. Wet edges with the reserved egg white. Fold dough over the filling, forming a half moon shape. Pinch edges together however you like. Repeat with remaining empanadas.
Grease a baking sheet with oil of choice. Place empanadas on the tray and brush with the beaten egg. Bake until browned, about 20 minutes. Serve warm with chimichurri.
eathalifax http://eathalifax.ca/