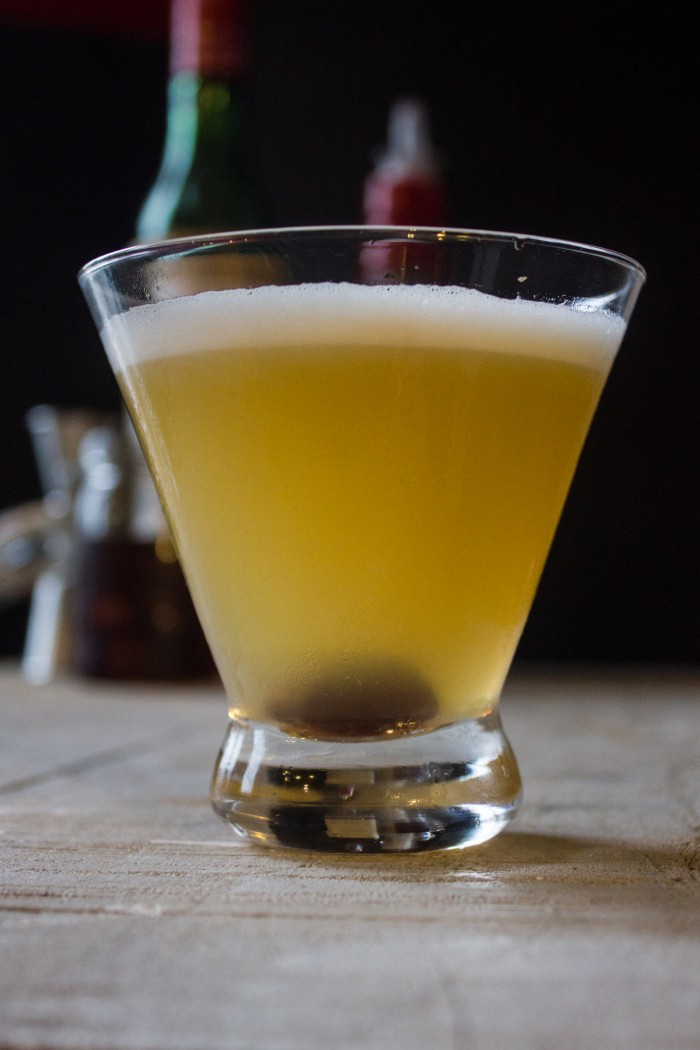 The sour; mother of many cocktails, simple to mix and easy to drink. This cocktail is a true crowd pleaser and my take on it is one of Kathy's favourites. A basic sour is no more than three ingredients: spirit, sour and sweet but many variations exist like the New York sour with a few bar spoons of red wine floating on top or the more well known Amaretto sour, sidecar, margarita and daiquiri. I'm a huge fan of bourbon, usually with several on hand. So, for me the quintessential sour is a bourbon sour but feel free to use your favourite whiskey, rye or heaven forbid that bottle of 18 year scotch in the coveted section of your bar.
Simple to mix and easy to drink.
The sour is a shaken drink and many like to include an egg white in the mix to add a velvety texture to the drink. I throw in two other ingredients to my bourbon sour, maraschino liqueur as well as a few dashes of cherry bitters, both of which can be easily omitted as can the egg white. Behold the Bourbon Cherry Sour. When using egg whites in cocktails it is important to first dry shake the drink (omitting the ice) in order to emulsify the egg. Emulsions happen much faster when ingredients are at a warmer temperature. Some bartenders will even add the spring from a hawthorn strainer to expedite the process.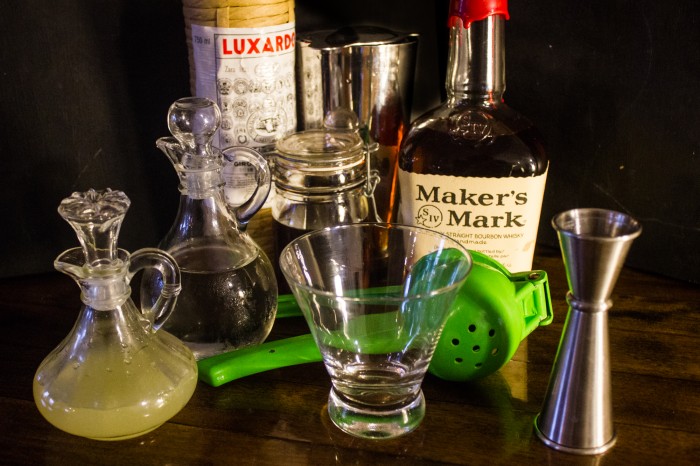 Here is what you will need: Bourbon, Luxardo maraschino liqueur, a lemon or freshly squeezed lemon juice, simple syrup, cherry bitters, a maraschino cherry, a cocktail shaker, a jigger or other bar measurer. Grab what you need and let's get going. Cheers.
The Bourbon Cherry Sour
2013-11-07 13:07:46
Serves 1
Ingredients
2 oz Bourbon
1 oz fresh squeezed lemon juice
1/4 oz simple syrup
1/4 oz luxardo Maraschino liqueur
1 egg white
3 dashes cherry bitters
Cherry for garnish
Instructions
Add 2oz bourbon, 1oz lemon juice, ½ oz simple syrup, ½ oz luxardo and egg white to shaker.
Dry shake vigorously till egg white has emulsified
Fill shaker with ice
Shake again until properly chilled
Strain sour glass or lowball glass of choice
Add 3 dashes cherry bitters and cherry garnish
cheers
Notes
Simple syrup: 1 part sugar dissolved in equal parts water (either shake together or simmer briefly in a pot).
For easy maraschino cherries simply pit fresh cherries and soak in luxardo cherry liqueur for up to 12 months.
eathalifax http://eathalifax.ca/