So it's Wednesday again and we all now what that means: time for another Winter storm. Granted we have had the last few weeks off on the storm front but this one is sure to make up for it. With a forecast of gale force winds and up to 40cm of snow here in Dartmouth, might as well curl up and enjoy a tropical favourite like the Mai Tai. That's right people. This week we're going tropical. My way of saying goodbye to Winter. "Listen, we're no longer friends so piss off. We are already a week into Spring. Did you not get the memo?" The only good thing this Winter has offered me is really consistent surf, some of the best I've seen since moving here. But I am sick of suffocating in a 6mm wetsuit so let's get warmed up around here. Why not pretend it's about 3o degrees hotter than it actually is.
I have to admit what drew me to this cocktail wasn't the amazing Summer flavours. It wasn't even that Mai Tai literally means 'out of this world'. Rather, it was one of it's fundamental ingredients: orgeat, the cornerstone of many tiki drinks. As I have been venturing down this rabbit hole of cocktails, I have realized many of the ingredients that are required for many classic and even modern cocktails are either not commercially produced or are simply unavailable locally to me. So I have been trying out lots of recipes for syrups, shrubs and infusions. One I have been looking into for a while now is orgeat, an almond infused syrup that incorporates the botanicals of orange blossom. It sounds kind of complicated but it's really not. Most of the recipes and formulas I encountered consisted of soaking almonds twice, once to soften them up and a second long soak to extract the flavour. Then throw in your orange blossom water and sugar and you have orgeat. Others required heating the liquid, blending the almonds, straining everything through muslin or cheesecloth. All of that seems fine and well until I stumbled across a blog with a recipe for "blasphemously easy orgeat". The recipe calls for organic almond milk, sugar, orange flower water and a bit of almond extract. Indeed it is dead simple and in comparing results between it and the double soak cooked method the flavours are totally comparable. I adapted the recipe a bit for my own uses, incorporating cane sugar instead of plain old white sugar to add more depth to the sweetness. I also added more almond extract and orange flower water to pack a little more punch plus a splash of vodka to help keep it longer. The results are delicious.
On to the cocktail! The Mai Tai is said to have originated at a restaurant by the name of Trader Vic's in Oakland, Califarnia circa 1944. Victor Bergeron the proprietor of Trader Vic's mixed one up for some visiting guests from Tahiti. When one of them exclaimed "Mai Tai-Roa Aé", the name stuck. The Mai Tai consists of Jamaican rum or a blend of dark and light rum, orange liqueur, some lime, orgeat and a little simple syrup. We were sent some Appleton Estate Jamaica Rum V/X recently and it would make the perfect base to the cocktail. The result is a dubiously refreshing summer drink, usually leading to more than just one. If a Mai Tai isn't your thing or you want a few other drinks to throw your orgeat in, check out a Scorpion, a Japanese cocktail or a Trinidad sour.
And if you like what you taste be sure to give us a vote over at The Coast for best food blog.
Cheers.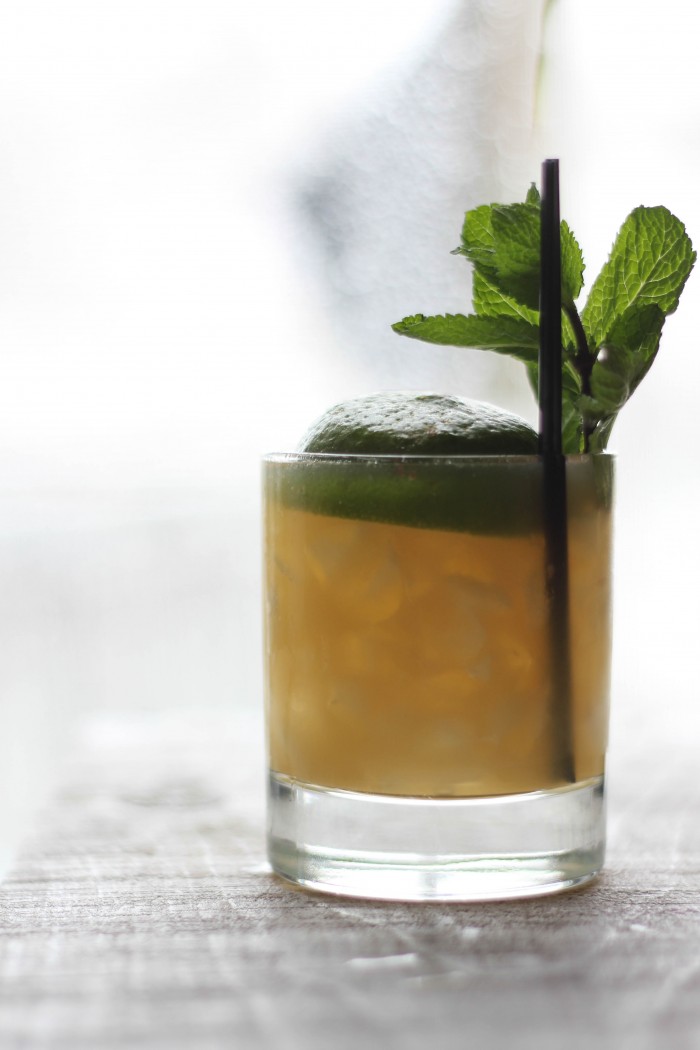 Mai Tai
2014-03-26 10:55:48
Serves 1
Ingredients
2 oz aged rum or 1oz dark and 1 oz light rum
½ oz triple sec or ½ oz orange curaçao
1 oz lime juice
½ oz orgeat
¼ oz simple syrup
Garnish: ½ lime and a sprig of mint
Orgeat
1 cup organic almond milk
½ cup turbino or cane sugar
¼ tsp almond extract
6-8 drops orange blossom water
½ oz vodka
Instructions
For the orgeat, combine almond milk, sugar, almond extract and orange blossom water. Shake or stir until all the sugar has dissolved.
For the cocktail, add the rum, triple sec, lime juice, orgeat and simple syrup to a cocktail shaker.
Add ice and shake until tin is frosted over.
Double strain into a rocks glass filled with crushed ice.
Garnish with a half a lime and a sprig of mint.
Enjoy.
Notes
Feel free to use the spent lime for the garnish. The idea is that it looks like an island with a palm tree floating in the drink.
eathalifax http://eathalifax.ca/