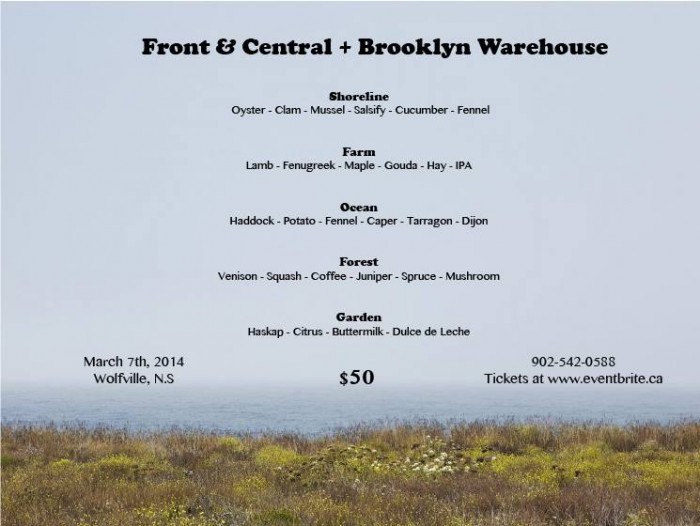 In the fourth of a series of collaborative chef pop up dinners at Wolfvile's Front & Central, Chef Mark Grey of Brooklyn Warehouse teams up with resident chef Dave Smart for a forage into local cuisine.
With a menu creatively designed around where we source our food – the shoreline, farm, ocean, forest, and garden – the five course dinner is not only shaping up to be incredibly delicious, but will open your mind about how we view local food.
If you've dined at either of the above restaurants , you'll know you're simply not going to get a piece of locally raised meat on some seasonal mash. These chefs look at food differently, even differently than my food obsessed self. They see flavours where others wouldn't, techniques that could turn an ordinary food into something novel; they get excited in showcasing rarely used local foods like hay or spruce. This is local food reimagined.
While I may have the inside scoop, rest assured this will look like nothing you've ever before eaten in Nova Scotia. Add that to the affordable $50 price tag and that's reason enough to get out of the city for an adventure in local dining.
Tickets are sure to sell out soon, so what are you waiting for?