Well, here we are. A whole 15 or so months later.
And boy, has life changed. That slightly pregnant lady become one very pregnant lady, giving birth to a baby boy a whole 13 days late.
Fast forward 10 months. New house, wedding on the horizon, and a very busy 10 month old. Oh, then there's work. While I maintain my weekly column, develop recipes and style for the Occasions magazine, cooking has sadly become more of a chore than a passion. Though it's been crazy exciting introducing food to the little man. He's quite the ravenous beast that will devour pretty much anything. But cooking for me? It's a sad state of affairs.
While I work on getting my mojo back – which may include a new blog – there are opportunities to get in the kitchen that I just can't pass up. Take these bad boys developed for the PC Summer Insiders Collection. Chewy, sweet granola nut bar meets crunchy, salty peanut brittle. It's a match made in snacking heaven. Your next road trip just called. Sweet and Salty Brittle Bars or bust.
So while I figure out the future of eathalifax and find some balance in this crazy life, I'll just be sitting here eating these. I had a hard time not eating the entire pan. Well, ok fine. I may have eaten most of them. Think you could do better?!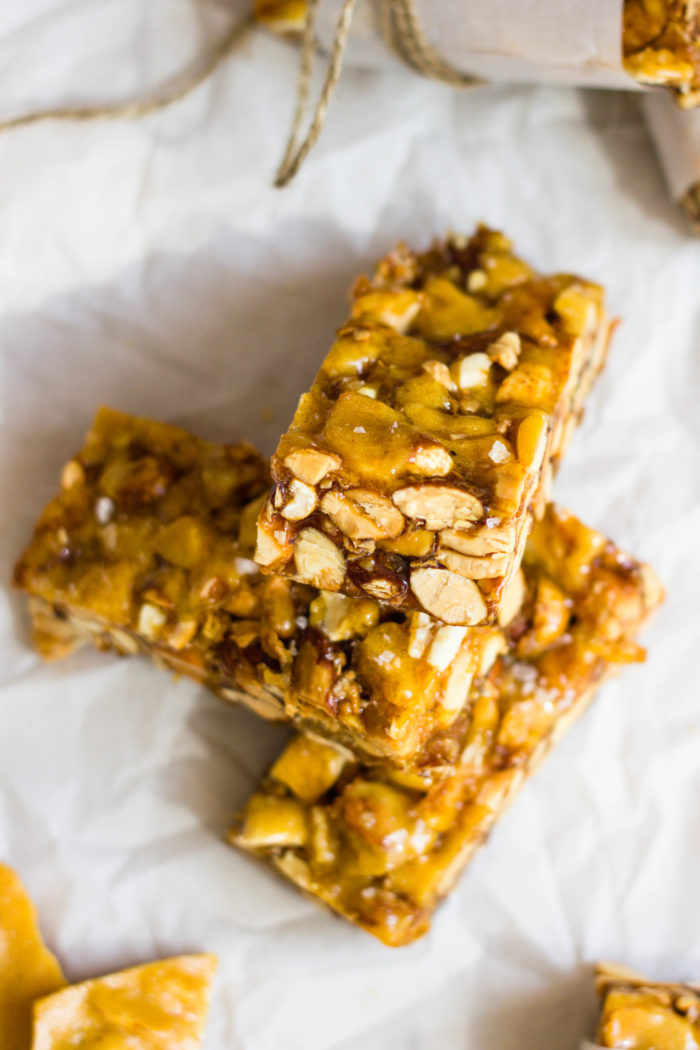 Sweet and Salty Brittle Bars
2016-06-27 12:08:30
Yields 12
Ingredients
1 cup PC Dry Roasted Almonds
1 cup PC Organics Whole Natural Cashews
1 cup PC Dry Roasted Lightly Seasoned Peanuts
1 cup oats
1 cup honey
2 tbsp. butter (or coconut oil)
1 tsp. vanilla
1 pkg. PC Sea Salt Peanut Brittle, roughly chopped
½ - 1 tsp. flaked sea salt
Instructions
Preheat oven to 350°F. Line an 8x8" pan with parchment so it hangs over the edge. Grease with butter or coconut oil. Stir together the oats and nuts. Add to the prepared pan.
In a small saucepan, bring the honey and butter to a boil. Boil gently for 3-4 minutes. Remove from heat and carefully stir in the vanilla. Pour over the nut mixture. Stir lightly to combine and press into the pan. Bake 25 minutes until deep golden brown. Remove from oven. Place brittle evenly over the top and press into the bars with a piece of parchment. Sprinkle with sea salt to taste.
Allow to cool. Cut into 10-12 bars. Best packed individually.
Notes
Try adding 2 tbsp. of PC Organics Black Chia Seeds or PC Organics Milled Flaxseeds to boost the nutrition.
eathalifax http://eathalifax.ca/