National Coffee Day, you say. Well, it's one day late but I worked a double yesterday so get off my back. It would have been the perfect day to tell you all about our exciting coffee adventure this month. Let's get one thing straight before we start; we are not your average coffee drinkers. Tims, the so-called Canadian coffee icon, is but a necessity on those long road trips to Montreal when the need for a caffeine fix trumps taste. There is no venti or grande in our vocabulary. Hell, we don't even own a drip coffee maker. But we weren't always so snobby with our beans. A couple years ago we made plans for our own cafe so it wasn't long before an espresso machine and commercial grinder made it's home on our kitchen counter. Then Brent began working as a barista and it was all downhill from there or rather uphill depending on how you look at it. Since then we've upgraded a couple times not to mention acquired a whole slew of brewing equipment none of which is a traditional coffee perk.
"We're finding the best local coffee roasters in Canada, and delivering their hand-crafted beans to you faster and fresher than anyone else. We believe in keeping things simple and telling the real version of every story. And we're here to help you brew better coffee."
Needless to say, life with a barista is pretty damn sweet. We had talked about a coffee series on the blog for some time now but life….well you know how that goes. So we were stoked when Food Bloggers of Canada offered up the chance to review the monthly coffee subscription service from Parachute Coffee. Founded by fellow coffee lovers Michael Potters and Jake van Buskirk, Parachute brings a new locally roasted (as in Canadian) craft coffee right to your door each month. It's even roasted and shipped the same day. That's how serious they are about your morning or afternoon or, let's be real, your evening cup.
Damn cool, am I right?
Besides the super cool branding and enclosed brew tips there was even a personalized hand written note from the owners themselves. I mean c'mon. Brent was also pretty excited when we opened our Parachute drop to find this Costa Rican Finca Don Chepe from Toronto's Pig Iron Coffee Roasters. We've enjoyed Pig Iron espresso at Le French Fix, a local patisserie, but had yet to sample any of their drip offerings. With Josh Tarlo of Pig Iron coming 3rd at the 2013 World Coffee Brewers Cup, we knew we were in for some great cups of coffee. Plus, notes of Oreos and dried raspberries people. With a house full of brewing options, we figured we might as well try the Pig Iron several ways: a full immersion Clever dripper, an Aeropress and the Kalita wave. And we might as well get Brent to do the talking. Because after all, he's the one grinding, weighing, brewing, and cupping. I'm just the one drinking all the coffee. I will warn you however, shit's about to get real.
<Brent> With a two minute extraction time and a minute and a half drawdown, the Clever dripper gives a really clean cup with a slight emphasis on some of the deeper undertones. Always an impressive simple cup of jo. The Aeropress, our travel brewer whenever we hit the road, has a fast extraction time and bombproof design and makes a mean full bodied cup in under two minutes. Finally, the Kalita wave is dead sexy and brews equally sexy cups of coffee. A 45 second bloom and a slow steady pour makes this method one of my favourite ways to make the juiciest cups of coffee.
On to the nitty gritty. All of these methods require a paper filter but rinsing with boiling water helps remove any papery taste. It also preheats all our brewing devices. For the Clever we ground 19g of the Finca Don Chepe at a medium grind, bloomed with 45g of water for 30 sec then topped it up to 330g of water, making sure all the grounds were evenly saturated. When the timer hit 2 min, we gave it a quick stir, threw this sucker on our cup and watched the magic happen.
Next up we ground 16.5g on a medium fine setting and got the Aeropress in on the action. Adding 40g of water to bloom for 30 sec we stirred up this slurry and topped the press up to 250g of water. After a final stir, we let it sit for another 60 sec then gave it a slow press into the cup.
Lastly we rocked the Kalita wave with 24g of Don Chepe on a medium course grind with a 45 sec bloom of 40g of water. We then slowly poured an additional 340g of water in a slow controlled pour, letting the final draw down do its thing till it hit about three and a half minutes.
The Aeropress provided a nutty, full bodied cup bringing forward lots of chocolate and nougat notes. The Clever was a well rounded cup with tons of dried fruit notes particularly dried figs but still some of that lovely chocolate and maybe even a lil' marshmallow. The Kalita also opened with a fruity bouquet plus a raspberry or blackberry finish on the sip. Of the three methods we both agreed that the Clever was our favourite cup. It had the most emphasis on the fruit notes but surprisingly slightly more acidity than the Kalita, something I'd like to see more of from this coffee. All in all we really enjoyed this roast from Pig Iron; it would make a great daily drinker and, while it wasn't blowing our minds with loads of fruit like a Yirgacheffe nor did I find any Oreos in the bottom of my cup, it was incredibly well balanced. I'd suggest this coffee in a heartbeat and have really enjoyed every sip since we opened the bag.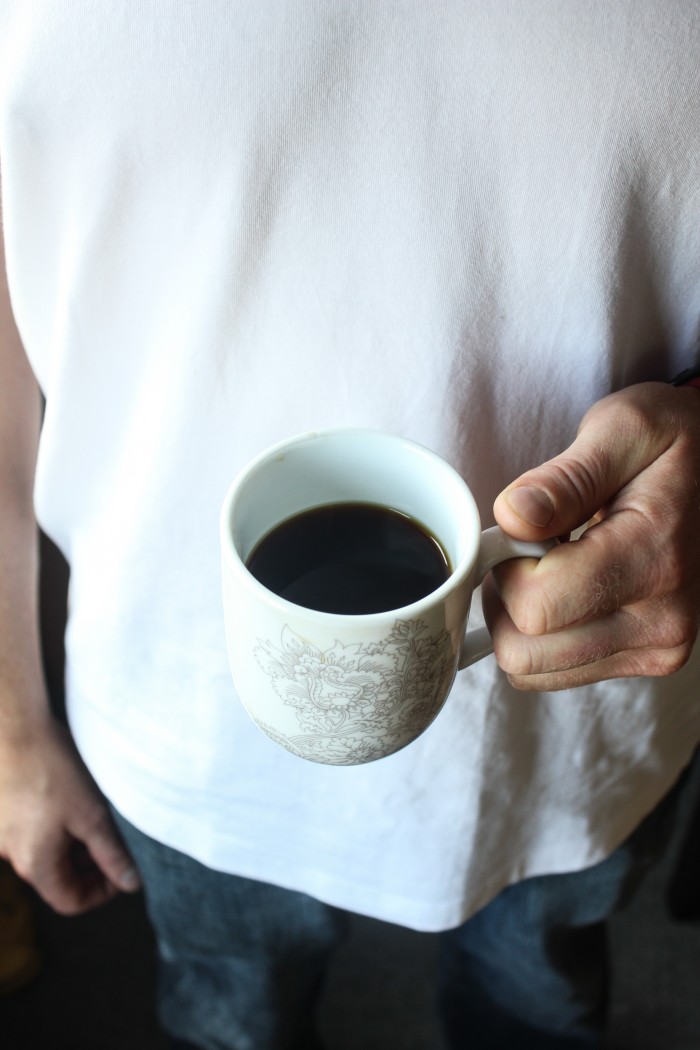 <re-enter Kathy> Not only he is the sickest of models, but Brent really knows his shit. If you ask me, that was one delicious cuppa; fruity with subtle chocolate and just the right amount of acidity for my palate. But hell, what do I know. Whatever your brew method, I'm sure the Pig Iron would do your coffee cup proud.
If you want to get in on the monthly coffee action, get in touch with Parachute on Facebook, Twitter or Instagram. Better yet, hashtag it #parachutecoffee and see what other bloggers had to say. There's even cake. Coffee and cake, now that's a breakfast of champions.