Oh, Argyle Street in the Summer. What I would give for a cold one on a patio right about now. I don't care what that groundhog saw, this Winter seems never ending. Sure, the days are finally getting longer and the 30 below temperatures are behind us but the snow. THE SNOW! I'm not sure it will ever stop.
At least this city of ours has a few tricks up it's sleeve to get us through the last nasty bits of Winter. If I was you, I'd come out of that hibernation and celebrate the last 17 days til sweet, sweet Spring arrives.
See you later Old Man Winter.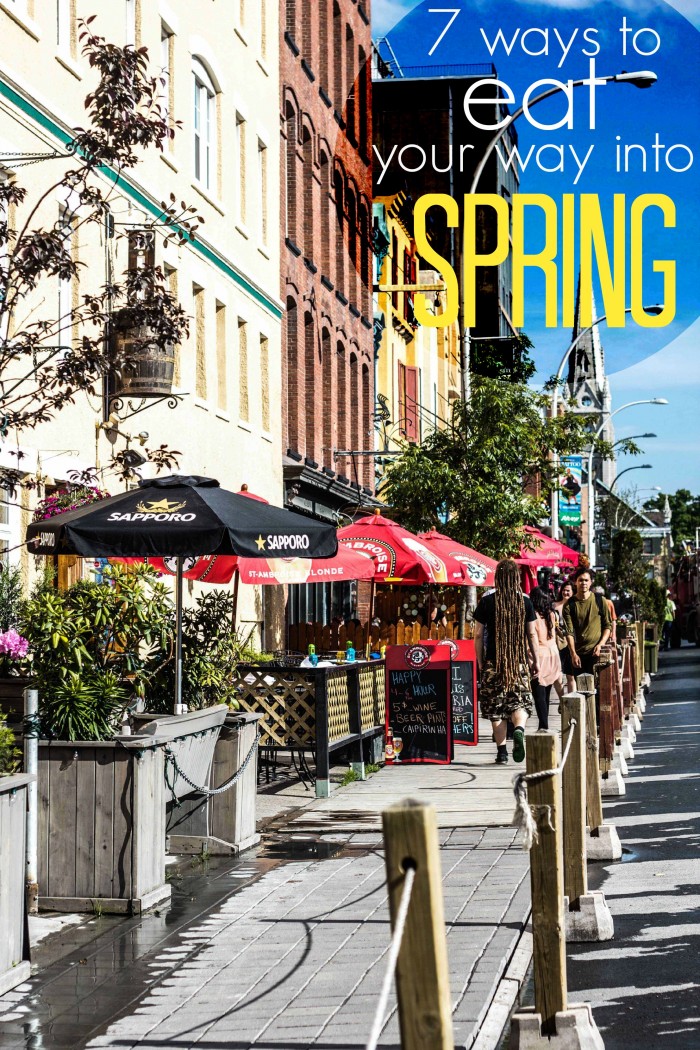 1. Eat everything at the Savour Food & Wine Show
Go big this month and get a ticket to the Savour Food & Wine Show, hitting the Cunard Centre Thursday. Like I've said before, with over 75 vendors in one room- local restaurants, liquor distributors, local wineries and breweries – it's pretty much a free for all. To me, Savour represents a chance for the city to show us all what they got. Hopefully, this year it'll mean less sliders and a world more creativity.
2. Head to Wolfville for the Front & Central + Brooklyn Warehouse Pop Up Dinner
I've already made my thoughts pretty clear on this one. Believe me when I say: when these two chefs get together, madness ensues. The affordable five course meal will no doubt seduce us with sous vide this and smoked that. It will undoubtedly be a unique – and delicious- look at where our food comes from. If you consider yourself a foodie, or whatever you call it, this is the exactly the kind of table you want to be sitting at.
3. Take a pastry classes at Le French Fix
Think you've got what it takes to master French macarons or fondant chocolate? Let Le French Fix's Chef Chevallier show you the ways of the butter. I can't imagine a more delicious way to say farewell to the cold days of Winter.
4. Take advantage of the Stimulus Package
Even though the ridiculous deal is on through til April, I kind of feel like we'd be stupid not to take Brooklyn Warehouse up on their offer. Monday & Tuesdays they're offering up a 5 course prix-fixe dinner for the price of 3. That's $35 for five plates of chef inspired local cuisine in case you missed it. It's like they're giving it away. Add to that evening specials on boards and beer Monday through Wednesday plus free corkage on Wednesdays to round out the sweetest of deals. Why wait til Friday for a night out?
5. Get your wine on
Bishop's Cellar regularly hosts fun tastings every second Friday. It's about time you put down that Apothic red and expand your wine repertoire. Did I mention there'd be food?
6. Let someone else feed your hangover
With brunch in the city on fire right now, you'd be mad not to get your hollandaise fix at one of our city's best. Obviously, Coastal Cafe – who by the way recently added a brunch menu – ranks one of the highest for me with their creative take on eggs and bacon. Lately, however, several new restaurants are joining the brunch game. Check out Edna, Agricola Street Brasserie, the Stubborn Goat, 2 Doors Down, and enVie for you vegan folk.
7. Go on a Burger Week binge
The second annual Burger Week takes over the city from Mar 20-26th. Offering up a ton of creatively designed burgers – some too much in my opinion – Burger Week celebrates everyone's favourite hand held meal in the name of fundraising for FEED Nova Scotia. If you needed a reason to feel better about all that grease, that's it.
If we missed something you're stoked about this month, let us know. The more we can do to flip Winter the bird, the better. Oh, and look, it's snowing.