With the root vegetables taking over market stands across the province, it's time to get up close and personal.
Meet celeriac. This gnarly fella, otherwise known as celery root, is in my opinion the best of celery. It has a great subtle flavour that's perfect mashed, roasted, fried, even pureed in soup. Pretty much any way you'd eat a potato. Though raw celeriac, shaved thinly, is quite nice too.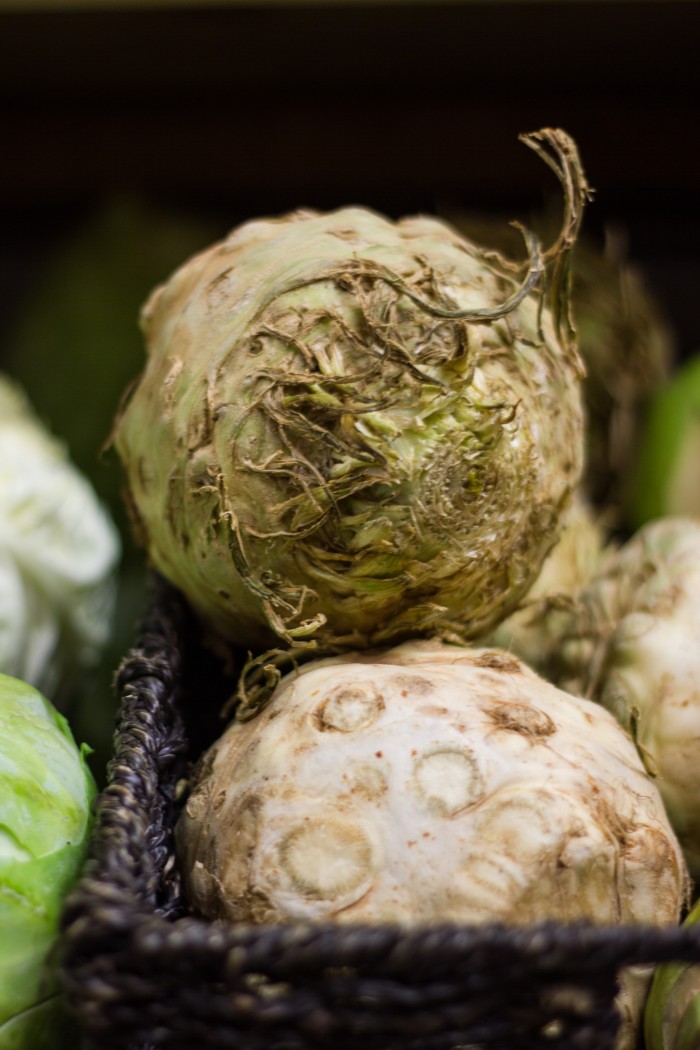 I don't know about you but I love me some latkes. Who doesn't love golden brown, crispy fried potato pancakes? With more flavour than the traditional potato, these latkes are crazy easy especially since celery root is much less starchy. The batter comes together quickly with but an egg and a few tablespoons of flour. I didn't think I could love celery root anymore but man, was I wrong.
Though perfect on their own, these celeriac latkes could also handle a good dollop of sour cream, even ketchup if that's your thing. I decided on a remoulade, a classic French condiment much like tartar sauce though way tastier. Usually made with mayo and a handful of delicious ingredients, that thick Greek yogurt wouldn't stop staring at me every time I opened the fridge. The great thing about condiments like remoulade is that they can handle whatever you throw at them. My thick yogurt version was bursting with sweet gerkins, crunchy shallots, salty capers and the brightness of lemon zest. It may be my new favourite condiment.
These latkes make a great side for virtually any meal but if you really want to nail this, poach a couple of eggs like we did and make a brunch of it. Does #putaneggonit ever get old? Never.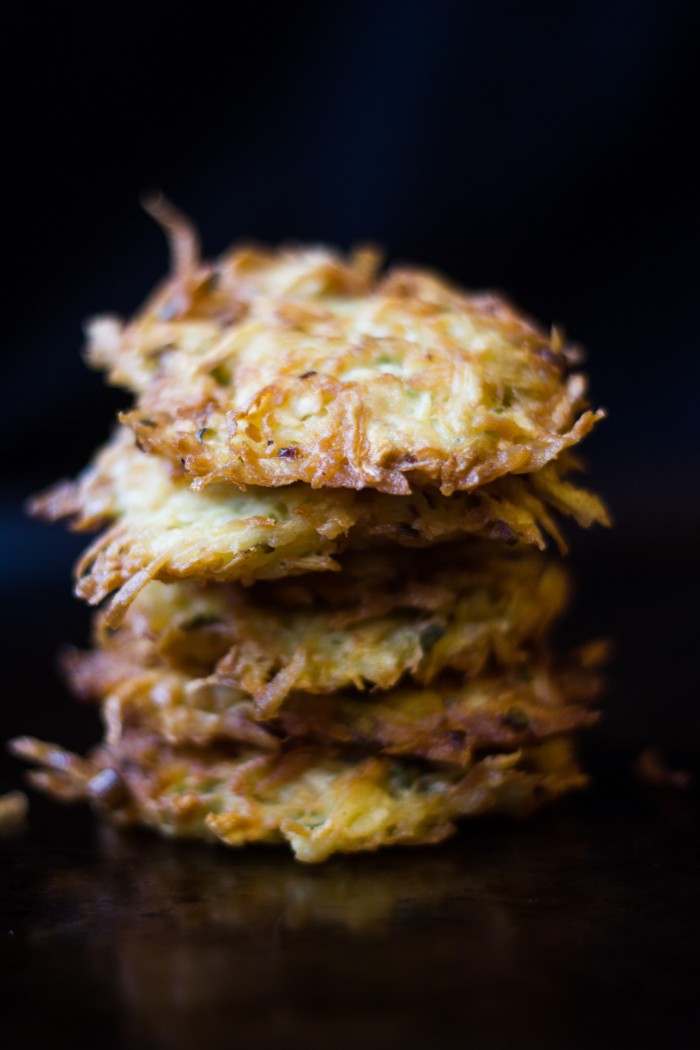 celeriac latkes & yogurt remoulade
2013-12-04 07:50:05
Yields 8
Ingredients
1 medium celeriac, shredded
3 green onions, finely chopped
3 tablespoons flour
1 egg
salt and pepper
vegetable oil for frying
remoulade
2/3 cup yogurt
1 shallot, finely diced
6 gerkins, finely diced
1 tablespoon gerkin brine
1 tablespoon capers, finely diced
1 teaspoon Dijon
1/8 teaspoon paprika
1 teaspoon lemon zest
Instructions
For remoulade, combine all ingredients. Refrigerate until use.
Heat about 1-2 inches of oil in a large skillet or pot over medium high heat.
Combine grated celeriac, green onions, flour and egg. Season with salt and pepper. My advice is to season, fry a test latke then adjust accordingly. Form into thin patties. Working in batches, fry the latkes until golden brown and crisp on both sides. Remove latkes to a paper towel lined baking sheet and keep warm. Serve immediately with remoulade.
Notes
Celeriac vary in size. The batter may need more flour or an extra egg depending on the size you choose.
Serves 2-4 though I could have easily eaten all of these myself.
eathalifax http://eathalifax.ca/