It's no surprise to anyone following along, our bar is rather stocked. That's putting it lightly. Fully stocked is more like it. Rows of bitters, many acquired from a recent trip to Montreal, and bottle after bottle fill the shelf and bar, overflowing even into the cupboards below. Needless to say, there is no shortage of inspiration when in comes to shaking up the newest cocktail.
While I have my favourites – some not even available in Nova Scotia – there is one bottle I'd highly recommend. It will open your mind to the new age in cocktails. Enter St. Germain.
Made with fresh, hand picked elderflower blossoms, St. Germain is easily one of my favourites. The floral aromatics, subtle melon and pear notes and balanced sweetness pair so well with everything. It works, not only with champagne as in the French 77, but also most other spirits from gin to tequila. It turns an ordinary gin and tonic into a breath of fresh Summer air, a boring white wine spritzer into the best you've ever had. It's even incredible served simply with soda and a wedge of lime. It's that good.
In thinking of what to shake up today while the cocktail guru isn't home, I really didn't need to look any further than the fridge. Some local thyme and pear would be the perfect compliment to the St. Germain, subtle enough to let it shine. I also fancy my St. Germain with gin, the floral bouquet balancing out the woodsy juniper. In trying to find a name for this delicious drink, I came across the Vieux Mot or rather "old world" from the famous NYC bar PDT. Though the proportions are slightly different, it was close enough. If you are still not yet convinced that your palate can handle a 2 ounce cocktail, add soda and make it into a delicious twist on a Tom Collins.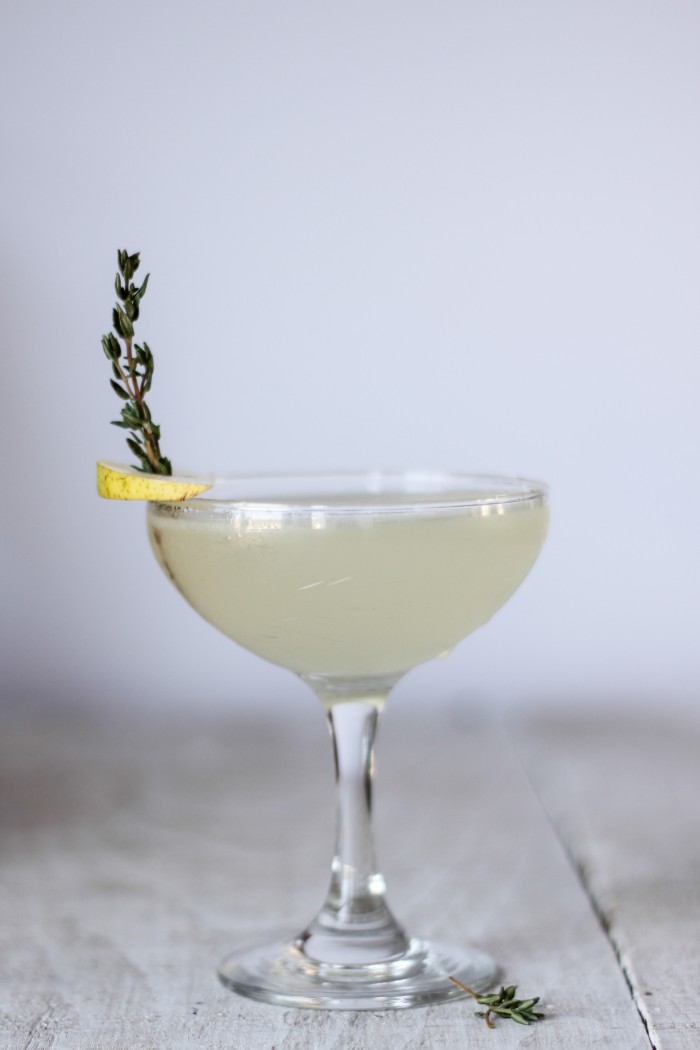 With the sun teasing us with its warm rays today, this is the perfect Spring chaser. If you close your eyes, you can almost feel it.
Cheers.
pear thyme vieux mot
2014-03-07 11:52:29
Yields 1
Ingredients
1 1/2 ounce gin
1/2 ounce St. Germain
1 ounce lemon juice
3/4 ounce pear thyme syrup
ice
thyme and sliced pear, to garnish
pear thyme syrup
1 small pear, diced
4 sprigs thyme
1/2 cup water
1/2 cup sugar
Instructions
To make the syrup, combine ingredients in a small sauce pan. Bring to a boil then remove from heat. Allow the syrup to sit until the flavours have infused. Strain and allow to cool. Makes about 2 ounces.
Combine the gin, St. Germain, lemon juice and simple syrup in a cocktail shaker. Fill with ice. Shake until the tin frosts over. Double strain into a coupe glass. Garnish with thyme and a pear slice.
Notes
Alternatively, you can simply make thyme syrup by omitting the pear. Some fresh pear muddled in the shaker will instead give a fresher, uncooked pear flavour. So, I was told when He returned home.
eathalifax http://eathalifax.ca/