Happy Valentines Day everyone. OK, now that that's out of the way let's get down to business. Today we are going to play around with something I haven't mentioned before here on eatHalifax. We are talking shrubs and no I don't mean the kind that's growing in your front yard. A shrub is simply a different kind of infusion. It's dead easy to make and can really bring a whole other level of complexity to a cocktail which might otherwise be lacking in some flavor clarity. Allow me to elaborate; a shrub consists of a base flavor, sugar and an acid namely vinegar. Seeing as it's Valentines Day and all, I figured what better way to go than a deep red cocktail full of some lovely summer flavors.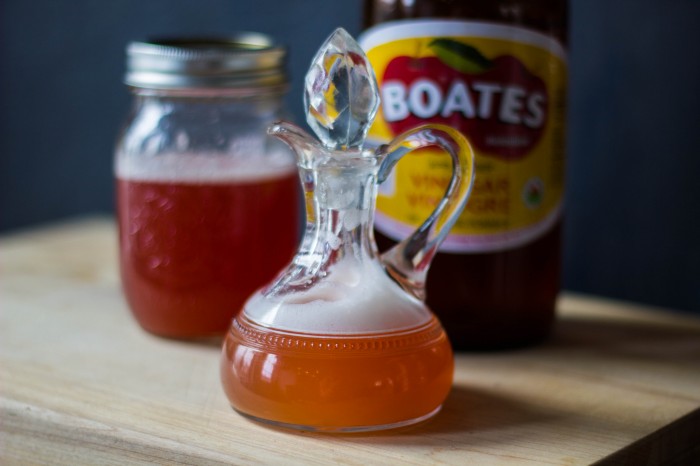 So, first things first, we need all our ingredients for our shrub, in this case equal parts granulated sugar and apple cider vinegar plus a few rhubarb stalks finely chopped. I chose to use Boats cider vinegar because it happens to be local and delicious but feel free to use whatever is available to you. To make the shrub, you coat the chopped rhubarb in sugar. Feel free to mash the rhubarb a little as the firm texture can make it difficult to really extract the juices. Let the mixture macerate at least overnight, or better yet 24 hours, then fine strain the solids out. Add the vinegar and a shrub is born. Let it sit again at least overnight so that all the flavours begin to incorporate. Lucky for me I had some rhubarb syrup I canned back in the late summer to make a quick shrub. If rhubarb is unavailable, any berry will do. Raspberries, strawberries, and juniper berries all work really well. Once your shrub's ready to go, we need to prepare one more thing, honey syrup. It's stupid easy to make. Just shake together equal parts honey and water and we are ready to roll. I find using warm water helps to incorporate the honey a lot faster. Let the syrup cool then add it to a sprayer.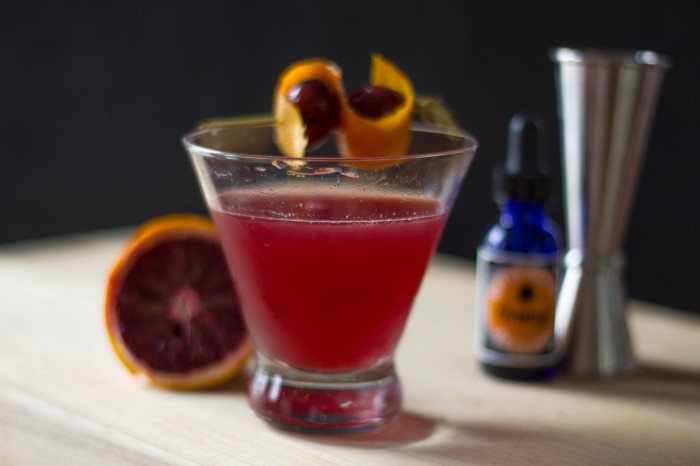 On to the cocktail. For the Love Shrub, we are going to be using Gin. I like Citadel with its heavy floral notes and beautiful juniper finish. We're also using Dubonnet, a French aperitif that's wine based. It contains a mix of herbs and spices namely quinine, a bittering agent derived from the bark of the cinchona tree. Next, we add the rhubarb shrub we prepared earlier then freshly squeezed blood orange juice. They're apparently in season somewhere now and what says I love You more than a little blood on your hands. Finally, we throw in a few dashes of rhubarb bitters, a dash or so of orange bitters, and shake things up. Double strain into your favorite cocktail glass, spray on a little honey water, garnish with orange zest and a few maraschino cherries, and just like that love is in the air.
Cheers.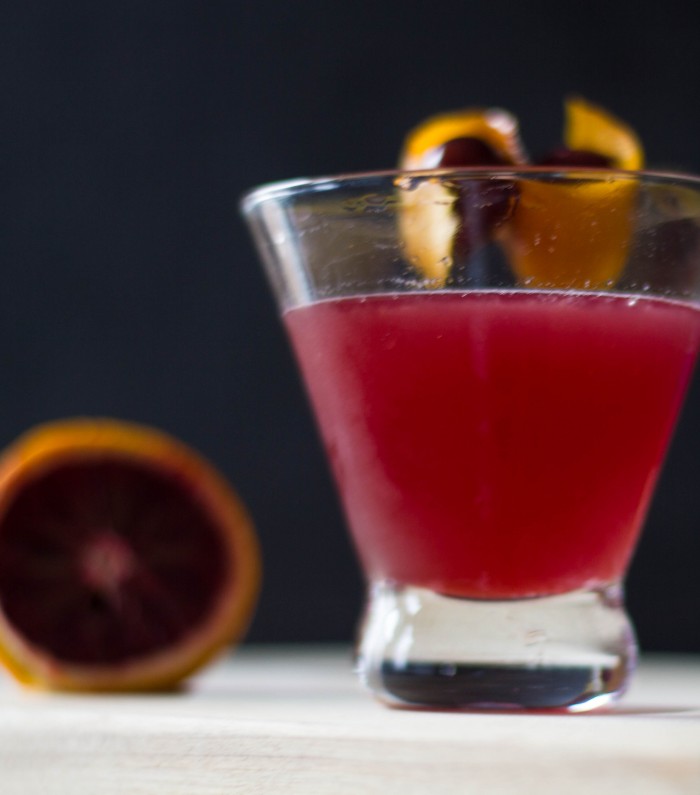 The Love Shrub
2014-02-14 15:45:09
Serves 1
Ingredients
1 ½ oz Citadelle gin
3/4 oz Dubonnet
3/4 oz rhubarb shrub
3/4 oz blood orange
3 dashes Fee Brothers rhubarb bitters
half a dropper Bittercube orange bitters
a 2 sec spray of honey syrup
orange zest
maraschino cherries
rhubarb shrub
2 cups chopped rhubarb
1 cup sugar
1 cup apple cider vinegar
honey syrup
1/3 cup honey
1/3 cup warm water
Instructions
For the shrub, mash the sugar and rhubarb and let sit 24 hrs. Add the vinegar and let sit another 24 hours.
For the honey syrup, shake or stir together the honey and water. Let cool.
For the cocktail, add the liquor, shrub, juice and the bitters to a cocktail shaker.
Add ice and shake until tin is frosted over.
Double strain into a chilled cocktail glass or an ice filled rocks glass.
Garnish with an orange twist, maraschino cherries and a 2 sec spray of honey syrup.
eathalifax http://eathalifax.ca/